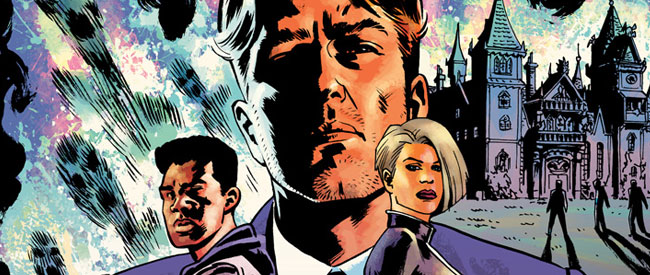 On sale next week from Image Comics is Ghosted, a five-issue miniseries about Jackson T. Winters, a criminal mastermind who's locked away in jail for good, until some rich bloke breaks him out. And because there's no such thing as a free lunch, Mr Money wants something in return from our bad guy: to capture a ghost in a haunted house to add to his infamous collection of desired objects.
Leading Jackson through the front door and into the dark rooms – no pun intended – are series architect Joshua Williamson and artists Goran Sudzuka (interiors) and Sean Phillips (covers).
Image bills Ghosted as Ocean's 11 meets The Shining, but it can just as accurately be described as Supercrooks meets B.P.R.D.
"In comics terms that sure works," agrees Williamson. "Ghosted is a bit more like Fatale; a more grounded supernatural tale. It's a supernatural crime thriller paced like a heist movie with the thrills of horror, taking the troupes of the crime film and twisting them with a classic haunted house movie. It's not a slasher flick, but it will have its fair share of blood and guts. We've always aimed for Oceans 11 in a haunted house instead of a casino."
BROKEN FRONTIER: You've stated that this book is 'gritty'. How is that conveyed through both the writing and the art?
JOSHUA WILLIAMSON: "Gritty" has become a buzz world in a lot of ways, but it really is the best way to describe Ghosted. Our story is a bit rough around the edges and definitely a dark ride. For me this was easily some of the darkest stuff I've ever written. There was a time I'd get notes saying it was too dark.
With Goran doing the art, it's gritty, but also fun and twisted. One thing that I love is that you'll notice as the story goes on that the inks start to get a bit harsher and darker to mirror what what's happening in the book.
Between Goran and Sean you've got yourself an art team capable of putting a 'Vertigo'/edgy twist on a book. Is Ghosted a book with a Vertigo flair that happens to be published by Image?
It's no secret that I'm a big fan of Vertigo. They're responsible for nearly all of my favorite comic series and I see any and all comparisons as a compliment. Vertigo for sure publishes the kind of books I love. But so does Image comics. Look at The Walking Dead, or Saga, or Haunted, or Fatale. And at the end of the day this is very much a Skybound/Image Comics joint.
Presumably, most of the action over the five issues will take place at the haunted house where the ghost 'lives', once Jackson Winters has been sprung from jail?
Yup. MOST of it. The team has a short field trip for something they need to steal the ghost, but for the most part the series takes place in the haunted house. That's where all the fun is… The Trask mansion. The Trask Mansion is the site of countless mass murders and brutal slayings. Lots of ghost fuel.
How did Jackson end up in jail in the first place?
Jackson along with his old team tried to steal from a casino in New Mexico and it went really sour. His whole team died and Jackson was the only survivor. What happened that fateful night is part of what haunts Jackson in the series.
Who are the, quote/unquote, fortunate chaps his the team?
Robby Trick: The magician. Anderson Lake: the muscle who breaks Jackson out of prison. Markus Screchkin: the man who hires Jackson to steal the ghost. Jay and Joe Burns better known as the Burns Boys: Our reality show Ghost Trappers. Edzia Rusnak, the psychic and Oliver King, the skeptic.
It's a ragtag mix of experts who don't always get along. They've all been a blast to write. They each have such a distinct personality that was hard killing some of them off. Oh wait, did I say too much?
Do you have any particular interest in the paranormal or supernatural outside of writing this story?
Oh you bet. I've always found the supernatural to be very interesting. Honestly, I'm torn on in if I truly believe in ghosts. It's one of those things where I believe but as soon as someone tells me a "true story" I'm the first skeptic in the room.
However, I still love a good ghost story and I like spooking myself. I've always been a bit obsessed with haunted houses and the sort of romantic gothic feel of old homes that have a story to tell. There is so much unexplained in our world, it's always fun to imagine that it's a bit more on the supernatural side.
One of things that I liked about Ghosted was creating a world that was grounded with its own set of rules that still played with the supernatural. Who doesn't love a good haunted house story? Hopefully people feel the same way when they read it.
Ghosted #1 goes ships July 10 from Image Comics with a cover price of $2.99.