It's Wednesday, and you know what that means: a fresh load of comics and graphic novels! With so many publications hitting your local comics store or digital storefront, the BF staff is here to lead you through the woods with our weekly staff picks. Satisfaction guaranteed.
Comic of the Week
Harrow County #1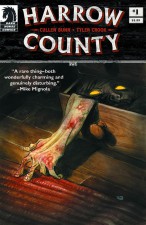 This week, Cullen Bunn (The Sixth Gun, Magneto) and Tyler Crook (Petrograd, BPRD) reunite for what the solicitations call a "gothic southern fairy tale". Although this isn't the first time the pair have teamed up (Crook filled in on a couple of issues of The Sixth Gun), Harrow County represents their first long-term collaboration.
When the folk of Harrow County take drastic steps to protect their loved ones, their deplorable actions have unforeseen consequences for their ancestors generations later. The woods around their homes are now haunted by all manner of despicable creatures, from ghosts and haints to witches and zombies. When local girl Emmy turns eighteen, she discovers that the remarkable bond she shares with Harrow County's haunted landscape runs a lot deeper than she could ever imagine.
Showcasing the wonderful creative synergy only hinted at in their prior collaborations, Harrow County allows Bunn and Crook to explore their singular storytelling abilities together, fully and completely. The results are nothing short of breathtaking, with Crook matching Bunn's robust narrative voice stride for stride with his lush, haunting visuals.
Crafty, charming, and ultimately disturbing, Harrow County showcases both creators to startling effect and may just represent Bunn's best work to date, thanks in large part to Crook's art. If you're a fan of either creator, don't miss out on the opportunity to watch these two in action!
Cullen Bunn (W), Tyler Crook (A) • Dark Horse Comics, $3.99.
– Jason Wilkins
Flood! A Novel in Pictures HC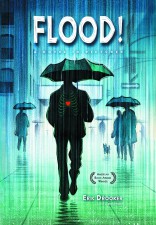 Comprising three linked stories completed over a seven-year period, Eric Drooker's Flood! was in the avant garde of the 'literary' graphic novel when it was first published in 1992. And as it reappears in a new hardback edition, with a striking new cover, an in-depth interview with Drooker and bonus artwork, it soon becomes clear that the almost 'silent' work hasn't dated one bit.
For the history-conscious panelologist, Flood! represents a callback to the early twentieth century and the woodcut "wordless novels" of Frans Masereel and Lynd Ward. For the more general reader, it's a compelling narrative formed of stunning and often unexpectedly beautiful monochrome images. Drooker uses the subtractive medium of scratchboard to create a vivid and claustrophobic vision of urban life, alienation and creativity that has lost none of its social relevance.
This new edition from Dark Horse offers a welcome opportunity to revisit an important but surprisingly overlooked work in the history of the ninth art
Eric Drooker (W/A) • Dark Horse Comics, $24.99
– Tom Murphy
Night Nurse #1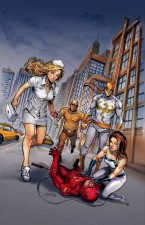 Rosario Dawson's "Night Nurse" portrayal on Daredevil brought new attention to Marvel's brief foray into the medical soap opera genre (now there's a sentence I never thought I'd be writing). It makes sense, then, that the publisher has collected the 1970s miniseries in its entirety (along with Daredevil #80) in this new volume.
Jean Thomas's deliberately paced scripts share a kinship with the maturing tone in Marvel's other titles from the era. Even today, though, it's easy to imagine how these stories (featuring a non-superpowered trio of women working the night shift at a New York hospital) must have seemed to readers at the time.
Artist Winslow Mortimer is better known today for his run on the Superman strip in the 1940s. He takes to these melodramatic scripts with flair, offering up a treat for fans of classic romance comics and timeless New York stories.
Jean Thomas & Brian Michael Bendis (W), Winslow Mortimer & Alex Maleev (A) • Marvel Comics, $7.99
– Paul Mirek
Injection #1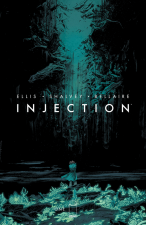 Warren Ellis takes the next step in his 'comics comeback' with another series for Image, this time reuniting with the collaborators who made the return of Marvel's Moon Knight a hit last year – artist Declan Shalvey and colourist Jordie Bellaire. This time they're joined by Fonografiks, who have brought their design and lettering chops to a series of stylish and provocative books.
Dealing with the aftermath of a catastrophe – the 'Injection' of the title – the book's description suggests that after the stunning work of Supreme Blue Rose (with Tula Lotay) and Trees (with Jason Howard), Ellis has lost none of his appetite for ambitious comics narrative on an epic scale.
Its publisher promises that Injection will form "a serialised sequence of graphic novels about how loud and strange the world is getting", dipping its generic toes into sci-fi, horror, weird crime, techno-thriller and ghost story. Now tell me there's nothing there that tickles your fancy?
Warren Ellis (W), Declan Shalvey (A), Jordie Bellaire (C), Fonigrafiks (lettering and design) • Image Comics, $2.99
– Tom Murphy