It's almost Wednesday, and you know what that means: a fresh load of comics and graphic novels! With so many publications hitting your local comics store or digital storefront, BF is here to lead you through the woods. These are the books that need to be on your pull list this week.
Comic of the Week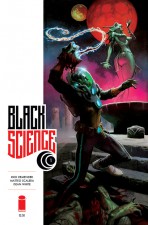 Black Science #1
Rick Remender and Matteo Scalera, formerly the creative team on Secret Avengers, reunite this week for a reality-warping science-fiction adventure from Image Comics. Having broken the barriers of our universe and ventured into the other-dimensional realms beyond, scientist Grant McKay and his team are adrift in a vast alien wilderness. Facing off against otherworldly creatures, uncertain laws of physics, and undiscovered terrors beyond their wildest imaginations, the team of scientists have only one goal: to make it back to Earth in one piece.
Black Science is a beautifully illustrated adventure comic in the vein of old-school sci-fi, crafted by a pair of top-notch creators, and if you don't like the sound of that, you should probably get yourself checked.
Rick Remender (W), Matteo Scalera (A) • Image Comics, $3.50
– Evan Henry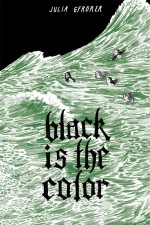 Black is the Color
Growing up as a stoical Brit, you're often taught to look on the bright side with the mantra 'Worse things happen at sea'. In this slight but surprisingly affecting story, originally published online by Study Group, Julia Gfrörer shows what a few of those things might be.
Black is the Color documents the fate of two sailors cast adrift from their ship as the vessel's food supply runs low. Powered by Gfrörer's trademark baroque cartooning, it's a gentle, almost musical tale of loss and longing that blends some deeply touching moments with splashes of humour (courtesy of some hipster merfolk). Lovely stuff.
Julia Gfrörer (W/A) • Fantagraphics, $14.99
– Tom Murphy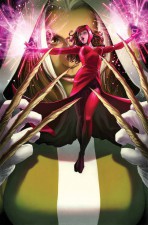 Uncanny Avengers #14
All week Rick Remender has been teasing… something… huge on Twitter. He compares Uncanny Avengers #14 to his Dark Reign: The List Punisher tie-in book from a couple years ago when Daken decimated Punisher, leading to the infamous FrankenCastle arc. Needless to say, some big changes are coming in this weeks issue of Uncanny Avengers, and Remender expects quite a few fans to be angry about it.
As if that hype weren't enough, Steve McNiven joins the book with this issue. He will draw the scattered team of mutants and Avengers facing off against not only the Apocalypse Twins, but also their Horsemen (comprised entirely of resurrected heroes or villains who have a history with some members of the team).
This book has been a great mix of a Claremont-style soap opera and the kind of big action Remender's Uncanny X-Force was known for. Check it out on Wednesday before the internet spoils you.
Rick Remender (W), Steve McNiven (A) • Marvel Comics, $3.99
– Levi Hunt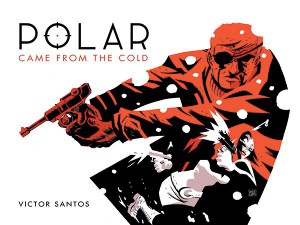 Polar: Came From The Cold
Dark Horse has a habit of turning webcomics into printing gold, from Penny Arcade and Axe Cop to Sin Titulo and the upcoming The Guns of Shadow Valley. Joining that list this week is Victor Santos' Polar: Came From The Cold, collecting the Mice Templar artist's espionage adventure, which has been rescripted for this hardcover publication.
Told in black, white and select bits of deep orange, Polar is the story of Black Kaiser, a spy ten times less pretty than James Bond in his Sean Connery days, but ten times as lethal. For whatever reason, a professional assassination squad attempts to put him in the ground, and Kaiser's going to stop them by any means necessary.
If Mice Templar was Victor Santos' breakout hit, then Polar: Came From The Cold is the cherry on top of the cake.
Victor Santos (W/A) • Dark Horse Comics, $17.99
– Frederik Hautain
Life on the Clarke doesn't resemble the "glass half full" transmissions they've sent home across more than 100 million miles. And now the ship has no power and is rapidly headed for the alien installation. Newly elected President Blades receives a facilities tour of Project Monolith, a secret research project designed to create superweapons to repel the inevitable alien invasion.
Issue #2 of Soule and Alburquerque's political/sci-fi thrill ride should reveal that while the characters thought they were ankle-deep in trouble, it's actually more like up to their knees and rapidly approaching way over their heads.
Get caught up with the first issue and hop on board Letter 44 right now.
Charles Soule (W), Alberto Alburquerque (A) • Oni Press, $3.99
– Karen O'Brien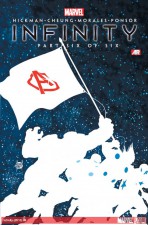 Infinity #6
Infinity, the Marvel event that closely ties in to the events and characters from the Marvel Cinematic Universe, draws to a close. One of my favorite artists, Jim Cheung, is back at the artistic helm for an extra large issue, so we know we're in for clean lines, grand action, and dynamic storytelling.
Freshly back from fighting the mother of all space battles, the Avengers come home to find that the mad titan Thanos has been running rampant on planet Earth and is close to attaining his endgame.
This universe-spanning saga is one you don't want to skip.
Jonathan Hickman (W), Jim Cheung (A) • Marvel Comics, $5.99
– Jonah Lang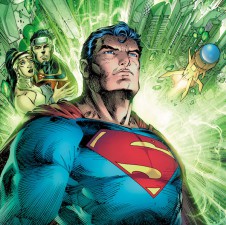 Superman: A Celebration of 75 Years HC
The yearlong celebration of Superman's 75th anniversary is just about at its end. The year that has seen a major new Superman book launch and a box office success be born in the Man of Steel will end looking back at the hero's history.
This hardcover collection celebrates some of the best that Superman has had to offer over the last 75 years. Included in the collection are the first appearance of Braniac, Joe Kelly's "What's So Funny About Truth, Justice, and the American Way?", and the original "Death of Superman" from 1961.
Various (W/A) • DC Comics, $39.99
– Levi Hunt