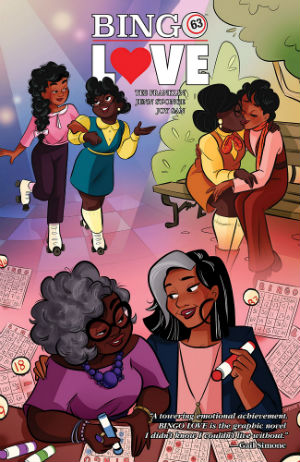 With eye-catching art by Jenn St-Onge and a heartfelt story by Tee Franklin, Bingo Love presents the tale of a lifetime of suppression and oppression.
Through St-Onge's bouncy art style, the reader is brought into the lives of Mari and Hazel; two girls who fall in love despite the anti-LGBT+ views which existed in society some fifty years ago. They first meet at church Bingo night as teenagers and form a relationship, before being separated from each other by their families, only to reunite around five decades later. The comic works in a "looped" narrative; you realise what was happening at its beginning near its end. Re-reading the story is more rewarding, as you gain greater context and feel closer to the characters as a result.
There is a heavy emphasis on wider relationships within Bingo Love. Every character, especially the two protagonists, has a family-orientated mindset, possibly as a reflection of the time in which the characters grew up in, or to mirror the comic's theme of love. Either way, it creates a sense of warmth within its pages, ensuring a joyful and sweet read comparative to a warm winter beverage.
Bingo Love certainly contains a lot of heart. There's something very soft and calm about this story despite the long-spanning time period in which it takes place. It remains rather separate from our world, partly due to the fact it is set out of our time-zone from the beginning to the end of the narrative. The narration adds further heart to events as it creates its own relationship between the reader and the characters within the story, giving it a vibrancy that is echoed in Joy San's rich colours which adorn its pages.
One of this comic's great storytelling strengths is its art. It retains a natural flow that's easy to read and emphasises the relationship between the characters. It also makes it clear for the reader to assume what ages the characters are in various points of the narrative – an extremely important aspect in this comic. The panel breaks are well-designed and help to reflect the way in which the characters see the world.
Bingo Love is an endearing and thought-provoking read. Through Mari and Hazel's story it perfectly captures the moments of emotional turmoil we experience throughout our lives as well as those happier and delightful moments that make life worth living.
Tee Franklin (W), Jenn St-Onge (A), Joy San (C), Cardinal Rae (L) • Image Comics, $9.99
Review by Holly Raidl