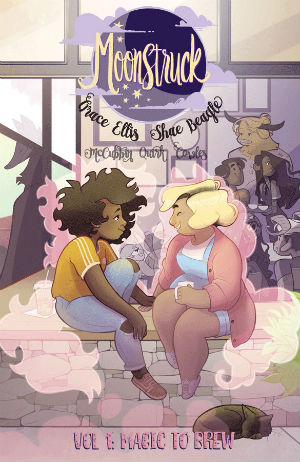 Moonstruck combines mystery, magic and friendship in a fun an engaging way. If you know anything about my taste in comics from my Broken Frontier reviews, you will be aware of my obsession with character relationships and interaction, and naturally this series carries it by the bucket load. Set around a coffee shop, this first arc follows werewolf barista Julie on a date with her new girlfriend and what happens when a magic show illusionist casts a malevolent spell on their friend Chet.
Moonstruck begins with a conversation between Julie and Chet about Julie's new romantic excursion. It's a scene that emphasises the friendship between the two as they make coffee like a well-oiled machine; the characters' interaction creating a feeling of comfort alongside the warm colour scheme used in the early pages.
There's a large and diverse cast in Moonstruck including a majority of LGBT+ characters who each have extremely definitive character traits. The comic also tackles discrimination through the characters' fantastical elements with the art style really pushing their emotions through gesture, giving the characters energy.
Frequently alongside the main story we experience the world of the 'Pleasant Mountain Sisters' a series that Julie reads often. Usually they are supplementary to the story and bring about a change of pace within the narrative. They also include a meta-commentary on the stories, making them comedic and enjoyable.
Colours (by Caitlin Quirk) and framing are also paramount to emphasising the characters' feelings. For example, when cast members Chet and Manuel stop flirting Chet is the only character not coloured in blue. The lack of colour around them emphasising how they're the focus, especially because they are placed dead-centre in the frame. This helps to create the feeling of awkwardness between the three characters.
A highlight is how the character Cassandra (Cass) is drawn. She has visions (in a similar vein to her Greek counterpart) which change her gestures significantly. When she has intense visions, her whole form is rendered in black and white, giving the reader an idea of the intensity of them. Despite being rendered in an entirely different way to the rest of the book artist Shae Beagle's style draws it together.
Filled with well-worn and tested friendships, characters gaining comfort with new lovers, a fantastical world, and a fun side-plot, there is something for everyone in the pages of Moonstruck.
Grace Ellis (W), Shae Beagle (A), Caitlin Quirk (C), Clayton Cowles (L)  • Image Comics, $9.99
Review by Holly Raidl