Lemire's craft in Royal City is subtle and underplayed but it's all the more compelling and human for just that reason.
Jeff Lemire's first book as both writer and artist since Sweet Tooth and Trillium was always going to be an eagerly anticipated affair but Royal City – his new ongoing series from Image Comics – has the added pull of being possibly the creator's most ambitious project to date and a return to the very human tales he made his name with in Essex County.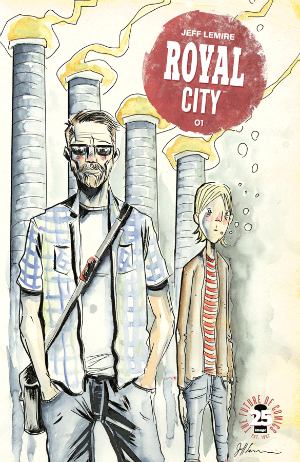 This bumper, double-sized, opening issue introduces us to the Pike family, denizens of that titular locale. Patrick Pike is a novelist whose career has seen better days, and is returning to his hometown to visit his ailing father Peter who has just had a stroke. He's also woefully behind deadline on his current novel and being chased by publisher and agent.
The other members of the Pike family are quickly revealed to be similarly troubled souls. Patrick's domineering mother Patti is riddled with guilt and a belief that she is being punished for the sins of the past. His sister Tara's marriage is in crisis as she pursues a city redevelopment project that will have serious repercussions for her husband. And his brother Richard is opting out of responsibility for himself altogether and spiralling into a pattern of self-destruction.
All of them are also haunted by incarnations of the youngest Pike sibling Tommy who drowned tragically some thirty years before…
A bold claim to stake to begin with but Lemire's first chapter of what looks to be a sprawling, epic family saga is, without a doubt, the most impressive serial comics debut of 2017 to date. As an introductory instalment Royal City #1 immediately pulls us into the lives of this dysfunctional and flawed family with a strangely morbid fascination and invites us to ask why the existences of this collection of damaged individuals are still so interwoven given their apparent contempt for each other. It soon becomes obvious, however, that what ties them together are the bonds of a tragedy that none of them can extricate themselves from…
In terms of characterisation, Lemire's greatest achievement in these pages is that he ensures from the outset that we are totally invested in a cast that, at this point, is largely unsympathetic. While we don't exactly empathise with the Pikes we do, indeed, relate to their circumstances, though. These are people tormented by the potential of where life could have taken them, of the possibilities that were lost in one pivotal moment, and who are unable to let go of the devastation of their pasts. It's a reminder writ large of the long-held regrets that can obsess us all.
Adding another layer of poignancy is the city itself; its decline reflecting the family's plight over the passage of time. Memories are bound up in environment here with the relationship between characters and location bringing an element of the psychogeographical to the thematic heart of the book. Lemire's loose drawing style, quietly powerful visual characterisation and understated colouring also combine to underline that sense of resigned loss that permeates the comic while Steve Wands' lettering style in the early sequences cleverly foreshadows the issue's major twist.
From establishing the central mystery at Royal City's core, to the gradual build-up to a final page that underlines the anticipatory power of serial comics, through to the plot-enhancing extras this is a perfectly paced and captivating opener. Royal City is not an ostentatious piece of storytelling – Lemire's craft is subtle and underplayed here but it's all the more compelling and human for just that reason.
Jeff Lemire (W/A), Steve Wands (L) • Image Comics, $4.99