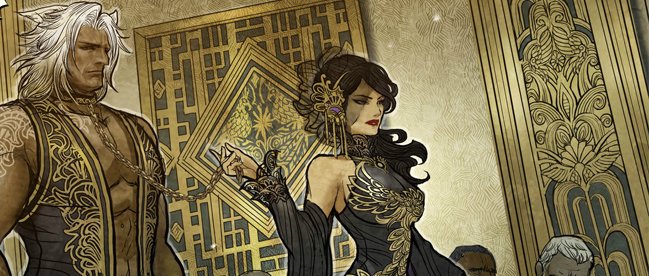 Featuring intricate, intelligent world-building and lush, detailed illustration, this new ongoing saga strikes an exquisite balance between high fantasy and hard reality.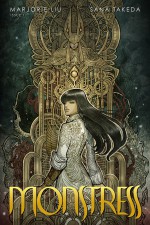 The sub-genre of hard fantasy has become a popular vehicle for escape in recent years, thanks in large part to the monstrous success of franchises like George R.R. Martin's A Song of Ice and Fire. Often characterised by themes of politics, sexuality, and highly developed magic systems, these complex works of fiction appeal to a more sophisticated audience for whom the classic conflict of good versus evil isn't so cut and dry.
Although many works of hard fantasy could safely be classified as emerging from the seemingly limitless hordes of Tolkien pretenders clogging bookshelves today, the genre is far more than a simple exercise of injecting the plot with scenes of explicit sexuality or gratuitous violence. When done well, hard fantasy – like its literary cousin, hard science fiction – seeks to explore and elevate the human condition through the application of a well-defined in-story operating system.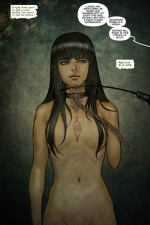 In Monstress #1, Marjorie Liu (Black Widow) and Sana Takeda (X-23) lay the groundwork for a complex and sweeping saga of magic and science, fusing the looming thematic immensity of classic Japanese kaiju lore with the eclectic contextual stew characteristic of modern Steampunk. The end result is an impressive opening salvo that reads like the first enchanting chapters of your favourite fantasy novel.
Liu and Takeda effortlessly – and instantly – transport the reader to an alternate Asia of the 1900s, where tensions are high between humans and a vast and varied assortment of magical beings collectively called "Arcanics". At the centre of this conflict is the young Arcanic Maika, whose connection to an otherworldly demon of limitless power drives her to infiltrate her enemy's stronghold on a dangerous quest for vengeance.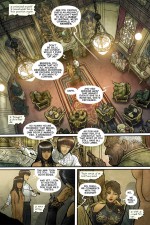 There is so much great stuff going on in Monstress that it's hard to isolate any one or two things the creative team does in this triple-size first issue to make it such a resounding success. What it comes down to is a question of scale. All of the best works of fantasy fiction have it: a feeling of operatic scale that fuses high emotion with a grandiose sense of geography and exotic locales.
Liu and Takeda enjoy a wonderful creative synergy that translates to the comics page as a unified artistic voice. This is particularly evident in the book's smooth, even pacing and overall tone. Exposition comes in tidy chunks, seamlessly interwoven into the action, helping to drive the plot forward, and delivered as much through Takeda's intricately detailed illustrations as through Liu's fierce, expressive narrative voice.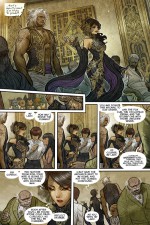 Takeda's art is highly stylized yet still capable of intense emotion. Loaded with atmosphere realized through the subtle manipulation of colour and light, not to mention wonderfully complicated design flourishes that cram her backgrounds full of hyper-realistic detail. It's a style that invites readers to linger, to explore the world of Monstress and to immerse themselves in its exotic cultural mores.
With so much visual exposition accomplished by the artist, Liu is free to take her time building fully-realized, emotionally complex characters to drive her plot forward. Protagonist Maika stands out, of course, as a fascinating blend of strength and vulnerability. Plagued by survivor's guilt, her quest is as much about exorcising her personal demons as it is about vengeance.
In a field that has been allowed to grow fallow in recent years in both print and comics, Monstress is a well-crafted, sophisticated piece of work. It transcends both genre labels and artistic media as an accomplished and intoxicating piece of speculative fiction.
Marjorie Liu (W), Sana Takeda (A) • Image Comics, $4.99.