"I'm not gonna lie to you…" There's really only one reason why you need to read The Fix: It's GOOD!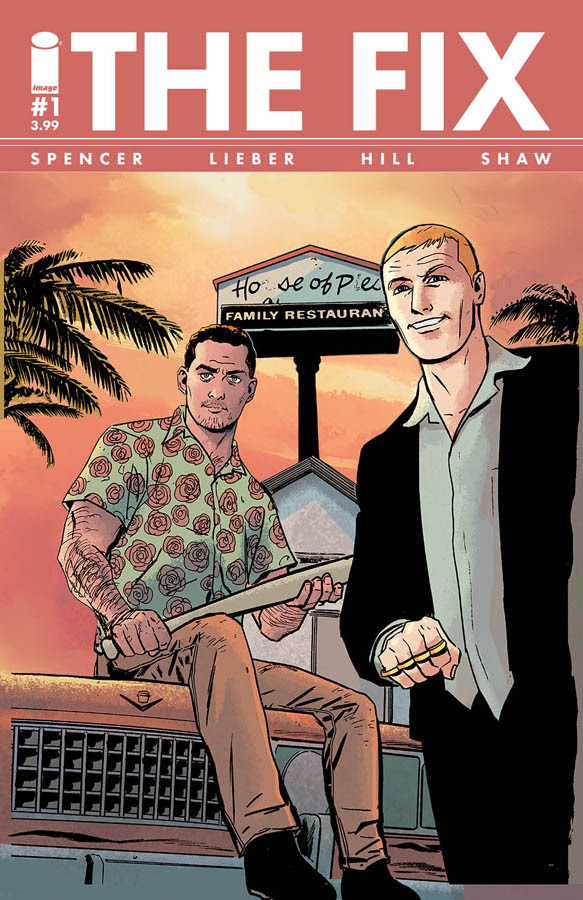 Critics and fans have been fix-ated on this new Image Comics series by Nick Spencer and Steve Lieber, the Eisner-nominated creative team behind Marvel's Superior Foes of Spider-man, since day one (and rightfully so).
Issue #2 is out now, so if your appetite has yet to be whetted, here are three more (in-depth) reasons why you should drop what you're doing and get on board this sensational series.
1. Good cop/bad cop (or, rather, bad cops/so-so criminals)
We've all had those moments of nostalgia when we acknowledge how much better and simpler things seemed in "the good ol' days". For Roy and Mac, a couple of crooks from the traditional smash-and-grab school of larceny, the good ol' days of crime were those when a PhD in computer science was not required to ply one's trade.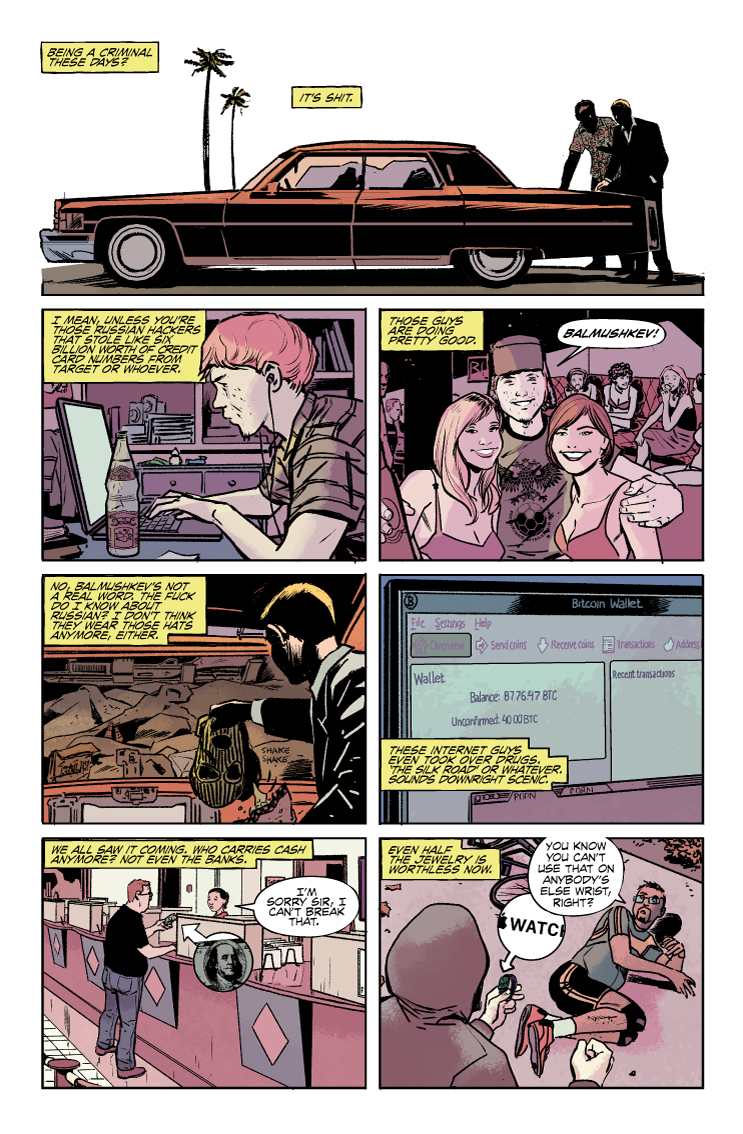 The thrill of being a criminal for these two lies in the adrenaline rush of hitting a score (for instance, a bingo game in an old-folks home), rather than sitting in the shadows using a laptop to move ones and zeroes around like a Russian hacker. Getting your hands dirty (and getting away with it) is one of the only ways to truly feel alive… and, eventually, to become filthy rich.
The kicker is that Roy and Mac also happen to be detectives for the LAPD. As Roy explains, he and Mac "are not nice guys", so they aren't exactly out to protect and serve the good citizens of Los Angeles unless there's something in it for themselves. Unfortunately, for all their double-life-leading bravura and cock-surety, these two aren't quite exceptional at either lines of work.
Thus, when they get entangled with and beholden to Josh, the half-masochistic/half-new-agey crime boss, they find themselves in one helluva "fix" indeed.
2. It's laugh-out-loud funny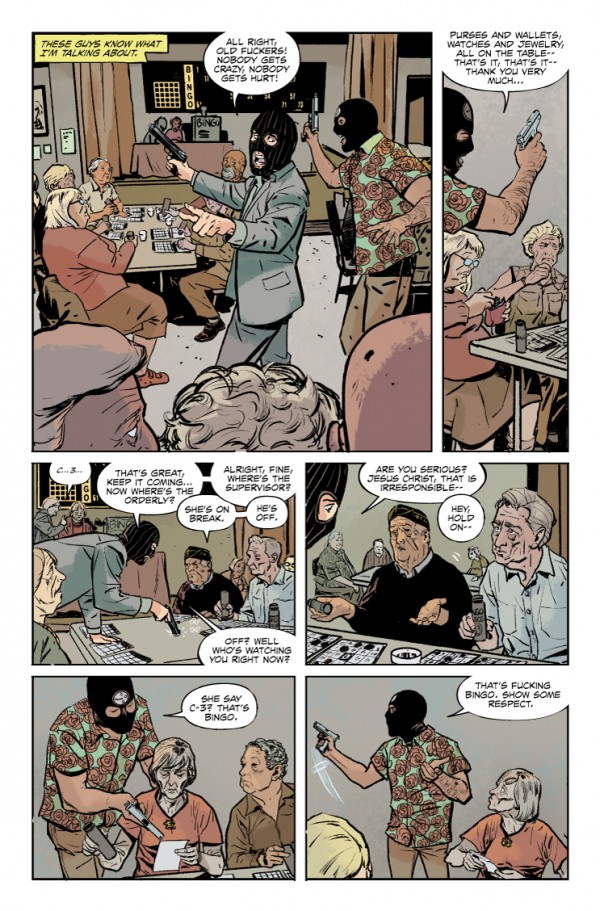 Let's be honest:  popular culture is more over-stuffed with banal procedural crime (melo)dramas than a beat cop's doughnut-laden belly. When was the last time you spat milk through your nose during an episode of NCIS? Right – never. The Fix, on the other hand, is so full of rich comedy that you'll swear the creators collaborated with Tarantino and H. Jon Benjamin to re-work some lost script from Miami Vice into a fresh new genre.
The series is purposefully devoid of the heroic archetype; just about everyone is morally corrupt in some form or another (except for Pretzels The Police Beagle, that is). This lack of an ethical high-ground opens up ample room for Spencer and Lieber to be playful with what would otherwise be stoic character types and gritty crime story tropes. The result is a continuous stream of laugh-out-loud page-turning fun, with a bit of noir, sex, and violence thrown in for good measure.
Admittedly, one person's punchline is another person's lip-purser, so the comedy in The Fix may not be suited to everyone's tastes. But, if you like your jokes mixed with a healthy dose of the lewd-and-lascivious, you'll surely see the humor in this hilarious series.
3. A twisty-turny thrillride… like going down Mulholland with no brakes
From pretty much the first panels, Spencer and Lieber let readers know that even though The Fix pays homage to the traditions of crime-lit and comedy, one should expect the unexpected. As Roy and Mac ungracefully juggle the simultaneity of being cops-and-robbers, they take one step towards the Big Score and two steps back into the thick of things.
This cleverly sets up the conditions for these partners-in-crime to try and outsmart their ever-stickier situation. Armed only with their lust for life and their dangerous disregard for the badges they carry, these guys (and we readers) are surely in for a really wild ride as the series progresses.
If the above reasons are still not enough to rattle your cage, simply investigate the artistic quality of this series. Steve Lieber's covers have been pretty fantastic thus far (issue #2 has Roy and Mac "watering" the famed Hollywood sign), and his visual style is definitely one of this series' major components.
Moreover, colorist Ryan Hill seems to have splashed the colors of the California sunset and the neighborhood fruit stand throughout the pages. For all of Spencer's crude humor and gritty lit, the overall layout of The Fix is as clean and colorful as an LA beach resort.
So, what are you waiting for? The sooner you get hooked, the sooner you can get your fix…
The second issue of The Fix is available now (Image Comics, $3.99)