It's almost Wednesday, and you know what that means: a fresh load of comics and graphic novels! With so many publications hitting your local comics store or digital storefront, the BF staff is here to lead you through the woods with our weekly staff picks. Satisfaction guaranteed.
Comic of the Week
Intersect #1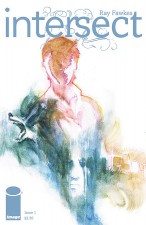 Critically acclaimed creator Ray Fawkes (Batman: Eternal, The People Inside) once again leaps into the deep end of experimental comics with a haunting, surreal exploration of the human condition in this cutting edge book from Image. To say Intersect is simply unsettling would be a grave disservice to both the work and its creator, but there are few legitimate comics being published today that come close to the disturbing brand of horror Fawkes has gifted us with this time.
Fawkes has politely refused to comment on the nature of Intersect's central concept, asking critics and readers alike to let the book fall or rise on its own merits but one thing is definitely clear: this is a creator who pours every ounce of his creative being into his projects, challenging his audience to set aside their pre-conceived notions of what comics should be.
Oddly reminiscent of Bill Sienkiewicz's classic Stray Toasters limited series in its multimedia approach with overtones of Cronenberg's The Naked Lunch adaptation, Intersect's fusion of poetry, horror, and ethereal art will haunt you for days after you turn the final page.
Ray Fawkes (W/A) • Image Comics, $3.50
– Jason Wilkins
Wonder Woman #36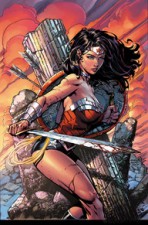 A new creative team means a bold new direction for Wonder Woman, as writer Meredith Finch and artist David Finch set her on an epic path that will finally reveal the fate of the Amazons. New characters will make their way into the storyline, including a powerful new villain.
We can expect less involvement from the Greek gods in this run and more emphasis on the Amazons and Wonder Woman's involvement with the Justice League. So if you've been craving more of Wonder Woman as a superhero rather than watching her struggle and accept her role as the God of War, this is a great point for you to jump in on this title.
This issue features Swamp Thing, and David Finch's stunning portrayal of that character sits in stark (and fabulous) contrast to his gorgeous portrayal of Wonder Woman. The preview pages released at San Diego Comic-Con already created a favorable buzz for this issue, and I'm excited to see where the creative team takes this iconic character. But let's face it, any issue including fights between Wonder Woman and Swamp Thing is not to be missed!
Meredith Finch (W), David Finch (A), DC Comics, $3.99
– Karen O'Brien
Bimba #2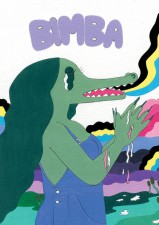 Last year's first issue of Donya Todd's Bimba anthology (reviewed here at BF) was designed as a showcase for "kick-ass female artists" (her words) and was notable for "a kind of raw in-yer-face energy and a cheeky wit" (those ones are mine!). It's taken a while for a second issue to materialise but Bimba #2 promises the same welcome mix of established small press favourites and emerging talent that made the debut issue such an engaging if idiosyncratic read.
Todd promises an issue "full of sweetness + attitude, girls up to mischief, weird adventures and willy jokes" with a subtitle of 'Witchhouse' and a theme of "witches, bitches, spells, magic, girl power and awesome UK lady artists!". With such UK self-publishing luminaries as Kristyna Baczynski, Gemma Correll, Brigid Deacon and Sammy Borras amongst the fourteen creators involved you know this is a title worthy of your patronage. The icing on the cake, though, is new work from Emma Raby, one of the most exciting up-and-coming new artists on the UK small press scene and someone you should definitely be keeping an eye out for.
Bimba #2 has an official launch party at London's Gosh! Comics on November 22nd. Full details on the Gosh! site here.
Anthology – Various creators • Bimba Girl Comics, £14.00
– Andy Oliver
Comic Book Slumber Party: Fairy Tales for Bad Bitches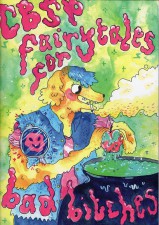 If Bimba is a showcase for largely UK women creators then the Comic Book Slumber Party crew have, to date, presented work from female artists with a more international flavour. CBSP got my lifelong admiration the second I noted that they'd published an Anna Bongiovanni strip in their Halloween anthology last year (see also my review of Bongiovanni's Out of Hollow Water here at Broken Frontier) but the slightly anarchic, noveau underground feel to all CBSP publications ensures this is a collective of creators always worth checking out.
This latest compilation of strips has a modern day fairy tale theme and we're told to expect "action, bikers and swears" in these raucous re-imaginings of classic stories. Editor Hannah K. Chapman has put together work from names of the calibre of Lucie Ebrey, Sarah Burgess, Becca Tobin, Lize Meddings, Donya Todd, Enoki and many more in these pages and the double launch of both this book and Donya Todd's Bimba #2 at Gosh! Comics in London on November 22nd seems a most fitting "team-up" of anthologies with suitably aligned mission statements.
Anthology – Various creators • Comic Book Slumber Party, £10.00
– Andy Oliver 
Arkwright Integral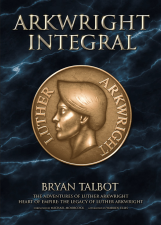 As I wrote the other week about the latest volume in his Grandville series, Bryan Talbot has compiled one of the defining bodies of work in comics over the last few decades. And, for me, the crowning achievement at the heart of that are the two volumes that make up this essential – if slightly inelegantly titled – volume.
Incredibly, it's knocking on for 40 years since the first installment of The Adventures of Luther Arkwright appeared in the British underground title Near Myths. A sci-fi thriller taking place across on almost a cosmic scale across a stunningly realised multiverse of alternative realities, it's a dazzling combination of imagination and comics craft that turns the storytelling possibilities of the medium up to 11.
At long last, one of the all-time classics of world comics – described by Warren Ellis as "probably the single most influential graphic novel to have come out of Britain to date" – is coming back in print in a large-format volume that does it justice.
Bryan Talbot (W/A) • Dark Horse Comics, $59.99
– Tom Murphy

Superman/Wonder Woman #13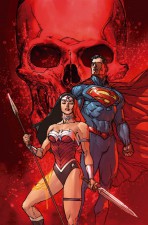 With the new story arc arriving in issue #13, a new creative team will take over for Charles Soule (who is moving over to a contract with Marvel) and Tony Daniel (who is taking over the artistic duties as writer and artist on Deathstroke).
Writer Peter Tomasi is no stranger to the DC Universe and the New 52 storylines, and he will write the new Batman and Robin in addition to taking Superman/Wonder Woman in an action-filled direction. Tomasi told Newsarama that the book will focus on Clark and Diana as much as it will on Superman and Wonder Woman, so we can expect the personal side and the superhero side of their relationship to receive equal attention.
Artist Doug Mahnke takes over these flagship heroes, and he is more than familiar with working on high-profile DC characters after doing Green Lantern and Justice League with Geoff Johns. The opportunity to put his own spin on Wonder Woman was the real attraction for him. He told Newsarama, "She's an extremely interesting and powerful character. And when you look at everything that's been done with her over the years, the variety and the different focuses on different kinds of stories, you can't help but ask, or at least I have to ask as I work on this book, is there a way to handle her that makes her even more intriguing and interesting? That's what I want to do."
Peter Tomasi (W), Doug Mahnke (A) • DC Comics, $3.99
– Karen O'Brien
Princess Ugg Vol. 1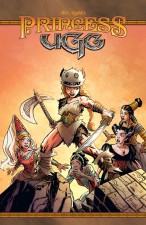 The first two issues of Princess Ugg were both staff picks of mine earlier this year. If you didn't take my advance at the time, here's the perfect opportunity jump aboard as the first four issues are collected in one volume.
The royal heir to the barbaric kingdom of Grimmeria, Princess Ulga is more comfortable riding wooly mammoths and fighting off invaders than she is dressing up or displaying proper manners. At her mother's bequest, she travels to the city of Atraeska in order to attend the prestigious Princess Academy so she can learn diplomacy and improve their relations with the other kingdoms. And while Ulga may have a lot to learn at the academy, she'll also challenge the preconceived notions the teachers and other students have about what it truly means to be a princess.
The fifth issue of this series also comes out this week so if you like what you've read in the collected edition, you can keep the story rolling into the new story arc.
Ted Naifeh (W/A) • Oni Press, $15.99
– Tyler Chin-Tanner

The Manly Boys and Comely Girls Annuals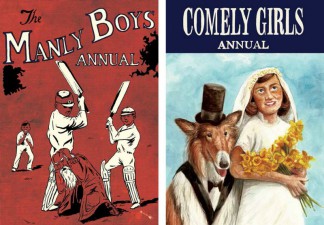 A few years back Steve Tillotson (he of the splendidly witty Banal Pig comics) and Gareth Brookes (he of the bleakly comedic The Black Project) collaborated on The Manly Boys Annual, a fondly remembered send-up of British boys' papers and hardback yearbooks of decades past. Full of deliciously sly parodies of repressed English sensibilities from another era it's one of those long out-of-print small press offerings that truly deserved to be brought to a whole new audience.
Cue the ever canny Avery Hill Publishing and their eclectic but always carefully curated micropublished output. AHP have not only stepped in to ensure a reprinting for Manly Boys but persuaded the pair to create its natural companion parody piece The Comely Girls Annual.
These two zines take a world of jolly hockeysticks, crumbling empire and casual sexism and imbue it with a biting and unrepentantly over-the-top satirical edge. Another smart publishing choice in a banner year for Avery Hill.
Steve Tillotson and Gareth Brookes (W/A) Avery Hill Publishing • £4.00 each or £7.00 as a double-pack.
– Andy Oliver