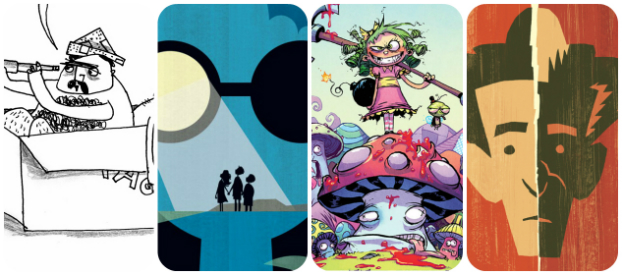 It's nearly Wednesday, and you know what that means: a fresh load of comics and graphic novels! With so many publications hitting your local comics store or digital storefront, the BF staff is here to lead you through the woods with our weekly staff picks. Satisfaction guaranteed!
Comic of the Week
Ollie & Alan's Big Move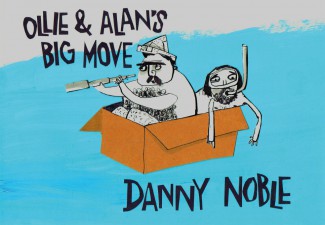 The prolific Danny Noble's Ollie and Alan characters – loosely based on actors Oliver Reed and Alan Bates – have been one of the great UK self-publishing phenomena of 2015 in their ongoing online series Was it… Too Much for You?
With a huge social media audience, Noble's deliciously witty strips have proved a hit with traditional comics fans and non-comics reading souls alike. Taking the infamous naked wrestling scene in Ken Russell's film Women in Love as her premise, Noble has spun the two thespians off into a parallel universe where they have been sharing a flat together for the last 40 years in a state of splendid unclothed disharmony.
Launching at the Lakes International Comic Art Festival this Saturday, this latest collection is entitled Ollie & Alan's Big Move and sees the hairy men-children attempting to adapt to a new home, making a new canine chum, sparring with their old nemesis the ever unseen Glenda Jackson, and generally behaving with their usual reckless abandon. You can read my full advance review here at Broken Frontier and pre-order the book online here.
Danny Noble (W/A) • Self-published, £5.00
– Andy Oliver 
The Twilight Children #1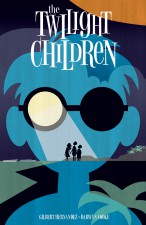 Somewhere early in the nillies, I was sent a little comics sampler celebrating Vertigo's 10th anniversary, subtitled "10 Years of Living on the Edge". What a distant memory those days are. Vertigo's edge has been MIA for a good long while now: today's best (creator-owned) comics for mature readers are published elsewhere.
This autumn, the DC imprint is trying to get the pendulum to swing back, with the launch of 12 new series by year's end. One of the most anticipated books among this new wave is undoubtedly The Twilight Children, a mini-series by Gilbert Hernandez and Darwyn Cooke. If these two can't turn more eyeballs onto Vertigo, well then… good luck.
When a group of children turn blind after touching a mysterious orb that washed up on the shore of their remote Latin American village… Ah, come on, it's a comic by the fine sequential magicianos behind Love & Rockets, Parker and DC: The New Frontier – a team-up that'll have you salivating every time you turn the page. Surely, you're not missing this. Insert exclamation mark. And a second and a third.
Gilbert Hernandez (W), Darwyn Cooke (A) • DC Comics/Vertigo, $4.99
– Frederik Hautain
Two Brothers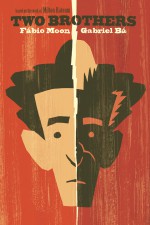 Adapting a popular Brazilian novel by author Milton Hatoum, artists and twin brothers Fábio Moon and Gabriel Bá call upon their experience as twins and storytelling masters to bring this powerful tale to a new audience.
Two Brothers is a story about a fractured family living in Manaus, Brazil. Twins Omar and Yaqub may share the same features, but they could not be more different from one another. After a brutally violent exchange between the young boys, Yaqub is sent from his home in Brazil to live with relatives in Lebanon, only to return five years later as a virtual stranger to the parents who bore him, his tensions with Omar unchanged.
Family secrets engage the reader in this profoundly resonant story about identity, love, loss, deception, and the dissolution of blood ties.
Fábio Moon and Gabriel Bá (W/A) • Dark Horse Comics, $24.99
– Tyler Chin-Tanner
 I Hate Fairyland #1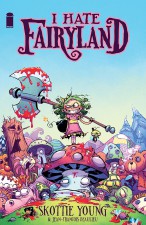 Let's be honest: axes are in this season. From unworthy, one-armed Thor to the rebooted Dr Strange, the new "it" weapon of choice for kicking ass and taking names is the double-edged battle axe. And why not?
Thus, it should come as no surprise that Skottie Young's debut title for Image Comics features Gertrute ("Gert"), a six-year-old who has spent the last 30 years trying to escape from Fairyland, wielding a battle axe with deadly precision as she hacks her way home. That's right, she's a highly disgruntled 30-something stuck in the unaging body of a little girl, complete with a bad attitude and a battle axe. What could go wrong?
Skottie Young (Rocket Racoon, Wizard of Oz) turns up the mayhem and unleashes his most chaotic character yet. Watching the events of this zany (and funny!) comic unfold could be even more fun than the exploits of Bernard the World Destroyer (which was absolutely brilliant back in 2009-10).
Cute and cuddly denizens of Fairyland, beware! Gratuitous violence abounds as Gert exercises a Tank Girl-esque affinity for wanton destruction. Gert is prepared to slice right through you to get what she wants. And sometimes all she wants is to slice right through you.
Skottie Young (W/A), Jean-Francois Beaulieu (C) • Image Comics, $2.99
– Karen O'Brien
Bouncer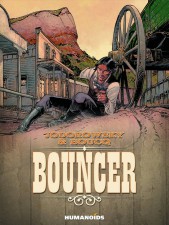 Fans of Western comics have had something of a dry spell as of late (even DC's popular All-Star Western bit the dust over a year ago). Luckily, Humanoids is offering a stunning new omnibus collection from one of the masters of the form.
Alejandro Jodorowsky's surreal cinematic take on the genre, the 1970s El Topo, is still renowned among midnight movie aficionados. In contrast, Bouncer is a more straightforward vision of America's Wild West. The "one-armed gunslinger" of the title serves as enforcer for the Inferno Saloon, bringing him into conflict with some rough-and-tumble characters for whom this town just ain't big enough.
Artist François Boucq is acclaimed for his similarly unique vision. His pencils here bring to mind EC greats like John Severin and Al Williamson, washed in a color palate so dusty you can taste the grit. Grab your harmonica and saddle up, pardner.
Alejandro Jodorowsky (W), François Boucq (A) • Humanoids, Inc, $44.95
– Paul Mirek
Blood Feud #1
In his latest release from Oni Press, C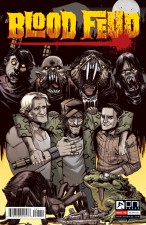 ullen Bunn (Harrow County) once again turns to the rich folklore of the American outback for the creepy tale of a supernatural blood feud between warring redneck clans. Teaming up once again with his Terrible Lizard collaborator Drew Moss, Bunn weaves a terrifying chiller of Southern-fried horror, featuring undead frog stampedes, tarantula migrations, vampires, and blue jays on Fridays (it'll make sense once you read the issue).
I've said before that Bunn likes to come at his stories from unexpected angles, letting the audience view the extraordinary worlds he creates from his unique perspective. It's his ability to assume and sustain a strong fictional narrative voice that allows him to grab readers' attention so quickly and completely.
In this latest series, Bunn and Moss slip into the roles of backwoods storytellers with startling ease, spinning out the threads of their yarn with an easy drawl, a sly wink, and genuine down-home earnestness.
If you're a fan of Bunn's previous creator-owned works, like The Sixth Gun and Harrow County (not to mention Manly Wade Wellman's Silver John cycle of stories), then you'll love this latest foray into the shadowy back country of rural America.
Cullen Bunn (W), Drew Moss (A) • Oni Press, $3.99
– Jason Wilkins
The Red Shoes and Other Tales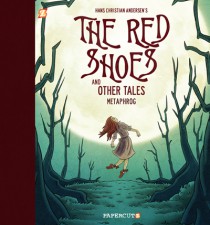 The Metaphrog team of John Chalmers and Sandra Marrs have been creating comics for the best part of two decades and have garnered a number of accolades along the way, including three nominations for Eisner awards and one for an Ignatz. Their latest offering – The Red Shoes and Other Tales – debuts this week in time for the Lakes International Comic Art Festival, where the duo will be officially co-launching the book with acclaimed Nottingham comics shop Page 45.
An adaptation of the Hans Christian Andersen classic, The Red Shoes also includes the previously self-published Metaphrog version of Andersen's 'The Little Match Girl' and an all-new short story, 'The Glass Case'. Metaphrog will also be in conversation with Melanie Gibson as part of the LICAF programming over the coming weekend.
A beautiful but haunting fairy tale brought to stunning visual life, this is a must-acquire item for those at the Lakes on Saturday and Sunday. You can see a video preview here.
Metaphrog (W/A) • Papercutz, £9.99/$12.99
– Andy Oliver
Radioactive Spider-Gwen #1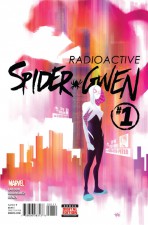 Gwen Stacy is back as Spider-Woman, in the series featuring an alternate reality where it was her rather than Peter Parker who was bitten by the radioactive spider that led to a life of web-slinging and crime-fighting.
In this latest series, a new mystery unfolds as The Lizard reappears, despite the fact that in this reality, it was Peter who became The Lizard and he died in her arms. But when a similar monster goes on a reptilian rampage, she's left with doubts not only about Peter's life, but his death as well.
As a bonus, we also get to witness the debut of the Osborns of Earth-65!
Jason Latour (W), Robbi Rodriguez & Rico Renzi (A) • Marvel Comics, $3.99
– Tyler Chin-Tanner
Batman: Year 100 HC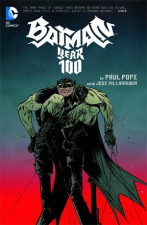 In 2006, Paul Pope's Batman: Year 100 provided the ranks of futuristic Bat-stories with a swift kick in the teeth. The four-issue miniseries took place in 2039 and was perhaps the first future-set title to portray the character as having been around since 1939. This created an engaging mystery surrounding the identity of the Caped Crusader, because he simply could not be Bruce Wayne.
With his signature dark, ink-heavy artistic style, Pope provided an unapologetic look at a Gotham that hadn't changed all that much physically down through the decades – it was still a dirty, hard town. "The Bat-man" has achieved the status of urban myth and is not believed by ordinary Gothamites to be any more real than Bigfoot.
But he is quite real. And he has a problem.
Batman was framed for a murder he didn't commit, and the story becomes an interesting examination of vigilante versus authority. Pope also explored themes of master and apprentice in the relationship between Batman and Robin, and he delved into the extended Bat-family in a manner so well-integrated into the fabric of the book that you simply accept its presence without skepticism.
Nine years later, DC is releasing Pope's iconic title in a 240-page deluxe hard-cover edition, complete with a wealth of his original sketches. This is a must-have for both die-hard Batman fans and Paul Pope collectors.
Paul Pope (W/A), Jose Villarrubia (C) • DC Comics, $29.99
– Karen O'Brien
King Tiger #3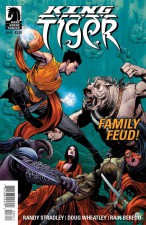 I would say, pound for pound, King Tiger is one of my favorite series of the last couple of years. Randy Stradley's masterful scripts and Doug Wheatley's jaw-dropping artwork combine to create a rousing supernatural adventure steeped in martial arts mayhem and ancient demonic horror – and it hasn't failed to satisfy yet.
In this penultimate issue, Tiger and Milo – still reeling from the family ambush — face off against the cosmic horror that is Canthastius. Meanwhile, Rikki desperately races towards the battleground in downtown Hoyo Grande, intent on saving her lover's life with nothing but a dodgy old pick-up and payload full of propane.
Month in and month out, this book's been one hell of a thrill ride, thanks to Wheatley's mesmerizing linework and Stradley's galloping pace. All too soon, the ride is coming to an end, though; next month sees the final issue hit the stands. However, hopefully Dark Horse will see the value in unleashing the Tiger again in the not-so-distant future.
Randy Stradley (W), Doug Wheatley (A) • Dark Horse Comics, $3.99
– Jason Wilkins