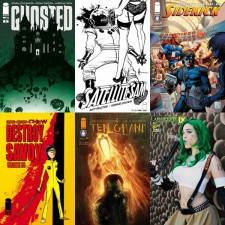 Press Release
The Image Comics/Skybound and Top Cow booths will be selling exclusive editions and variants of of ten titles, including four hardcover collections, at Comic-Con International, taking place in San Diego from July 17 to 21. These editions will be available in limited quantities only at the Image Comics/Skybound booth (#2729) or the Top Cow booth (#2629). In addition, Image Comics will be offering copies of its Image Expo variant editions for sale at their booth, as well as new T-shirts and tote bags, and a variant edition of LAZARUS #2 by Greg Rucka and Michael Lark will be available at the booths of participating retailers who are exhibiting at the convention.
Three #1 issues are among the variants, including GHOSTED #1 by Joshua Williamson and Goran Sudzuka with a cover by Matteo Scalera, a convention exclusive edition of SATELLITE SAM #1 by Matt Fraction and Howard Chaykin with black-and-white cover art by Chaykin, and SIDEKICK #1 by J. Michael Straczynski and Tom Mandrake with a cover by Whilce Portacio.
Giving some heft to Image's Comic-Con offerings are four hardcover editions released by the Image imprints Skybound and Top Cow. At the Image imprint Skybound, CLONE VOLUME ONE by David Schulner and Juan Jose Ryp, INVINCIBLE COMPENDIUM VOLUME ONE by Robert Kirkman and Ryan Ottley, THIEF OF THIEVES VOLUME TWO by Robert Kirkman, James Asmus, and Shawn Martinbrough; and THE WALKING DEAD COMPENDIUM VOLUME TWO by Robert Kirkman and Charlie Adlard will be for sale in limited quantities each day. The hardcover edition of THINK TANK VOLUME ONE by Matt Hawkins and Rahsan Ekedal will be for sale at the Top Cow booth.
Other variants to be sold at the Image booth are a special foil-cover variant of CHEW #35 by John Layman and Rob Guillory and TEN GRAND #4 by J. Michael Straczynski and Ben Templesmith. In addition to the THINK TANK hard cover, Top Cow will be selling an exclusive APHRODITE IX #3 "Cosplay" edition with a photo cover. A complete list, with images, of Image variants can be found on the Image Comics blog.
On the merchandise side, Image Comics will be selling their Image Comics logo tote bags and T-shirts, which made their debut at Image Expo in San Francisco on July 2. Also available will be the "Lying Cat" T-shirts featuring brand-new artwork of the fan-favorite character from the wildly popular SAGA by Brian K. Vaughan and Fiona Staples.
From Skybound, the four "Faction" THE WALKING DEAD T-shirts from the upcoming story arc "All-Out War" — Survivors, Hilltop, Saviors, and Kingdom — which also went on sale first at Image Expo, will be available. Skybound will have other exclusive merchandise at their booth, including a THE WALKING DEAD electric guitar, wristwatches for THE WALKING DEAD and INVINCIBLE, and Todd McFarlane Toys Governor in Riot Gear action figure, and Rick, Carl, and Negan PVC figures. A complete list, with images, of Skybound exclusive merchandise can be found on the Skybound website.