It's Wednesday, and you know what that means: a fresh load of comics and graphic novels! With so many publications hitting your local comics store or digital storefront, the BF staff is here to lead you through the woods with our weekly staff picks. Satisfaction guaranteed.
Comic of the Week
Pisces #1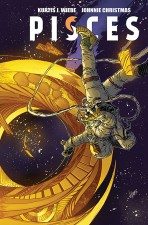 This week, Kurtis J. Wiebe (Peter Panzerfaust, Rat Queens) teams up with Johnnie Christmas (Sheltered) for a much-anticipated return to horror comics. After pushing the boundaries of the genre during the terrifyingly surreal Green Wake, Wiebe ventures into disturbing new territory with a tale of body horror, set against a backdrop of space exploration and extraterrestrial first contact.
Pisces chronicles the exploits of former fighter pilot Dillon Carpenter, who returns home after the Vietnam War only to be recruited by NASA for a top-secret space mission that will change the course of human history. Suffering from post-traumatic stress disorder, Carpenter experiences vivid hallucinations that may scuttle the mission entirely and blow any chances of a good impression during first contact with extraterrestrial beings.
Featuring stunning visuals by Christmas and delving into themes of body horror, combat-induced psychological trauma, and cultural exchange on a galactic scale, Pisces represents everything we love in our comics at BF, boldly breaking new frontiers in ways we could hardly imagine.
Kurtis J. Wiebe (W), Johnnie Christmas (A) • Image Comics, $3.50.
– Jason Wilkins
Convergence: Plastic Man and the Freedom Fighters #1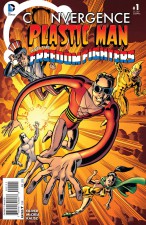 The iconoclastic Simon Oliver (writer of The Exterminators and FBP: Federal Bureau of Physics for Vertigo) makes his DCU writing debut with this fittingly odd mini, spotlighting an underappreciated group of characters from the defunct Quality Comics.
The se-tup (the robot superheroes of Future's End colliding with an alternate NYC overrun by Nazis) recalls the frenetic plotting of your Silver Age favorites as well as Oliver's high-concept creator-owned work. Artist John McCrea is also known for his boundary-pushing output, especially with collaborator Garth Ennis, and I'm confident the pair will ably represent Plastic Man's winningly surreal humor.
I'd love to see a more permanent revival of the elastic avenger and friends, but in the meantime this series serves as an unexpected bonus from DC's latest event mega-marketing wave.
Simon Oliver (W), John McCrea (A) • DC Comics, $3.99.
– Paul Mirek
Mayday #1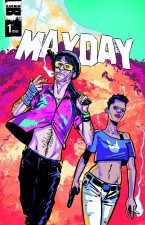 Black Mask Comics is coming on strong as a new publisher to watch out for, and they couldn't have done a better job in snatching two of the industry's rising stars for this title. Curt Pires, fresh from his success with the series Pop!, collaborates with artist Chris Peterson (Grindhouse and the upcoming Broken World from BOOM! Studios) to tell a story that cuts to the very center of Hollywood mythology and depravity itself.
A washed-up, drug-addicted screenwriter and a transgender bartender stumble onto a Satanic cult's plan to sacrifice people all across LA (geomapped in the form of a pentagram, of course) and bring on Armageddon. As our intrepid, damaged heroes embark on a suicide mission to stop the crazy cultists, even they wonder if this is all really happening or if they're just plain crazy. Probably both.
Curt Pires (W), Chris Peterson (A) • Black Mask Comics, $3.99.
– Tyler Chin-Tanner

Thomas Alsop, Vol.1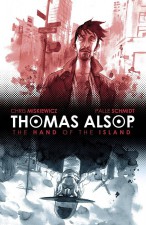 There were a lot of very stylish books last year in the comics mainstream, and one that seemed to fly under the radar a little was Thomas Alsop, a tale of urban magic that was a bit of a treat for anyone missing the old John Constantine.
The title character is the latest – and most reluctant – "Hand of the Island": a hereditary title that carries the magical ability and responsibility to protect Manhattan from the supernatural forces of evil. However, holed up in the Chelsea Hotel, the rock-and-roll mage also has internal demons to battle.
Writer Chris Miskiewicz lays his passion for New York City and its history bare, with a storyline that focuses on that city's darkest day while also looking back to its origins. However, the real revelation was the moody watercolour artwork of Denmark's Palle Schmidt, which depicts vividly the book's twilight world.
Chris Miskiewicz (W), Palle Schmidt (A) • BOOM! Studios, $14.99.
– Tom Murphy