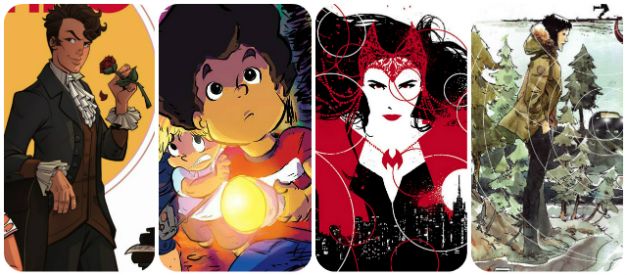 It's nearly Wednesday, and you know what that means: a fresh load of comics and graphic novels! With so many publications hitting your local comics store or digital storefront, the BF staff is here to lead you through the woods with our weekly staff picks. Satisfaction guaranteed!
Comic of the Week
Snow Blind #1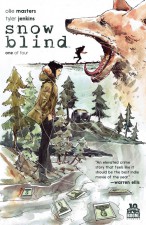 Ollie Masters (The Kitchen) and Tyler Jenkins (Peter Panzerfaust) team up for a tightly wound, suspenseful crime drama set in small-town Alaska, in this creator-owned, four-issue series from BOOM! Studios.
When Teddy's juvenile attempt to win his father's approval goes briefly viral, he discovers that his family has been living in Alaska under assumed identities provided by the federal Witness Protection Program. And you thought your family had issues…
Masters' strong narrative voice provides a solid foundation upon which to build this sleek thriller, while Jenkins beautiful, haunting watercolours outwardly mirror their protagonist's feelings of loneliness and inadequacy. A tautly-paced tale exploring the unique dynamics of a family on the run, Snow Blind is a well-crafted and intriguing offering from a pair of emerging talents.
Ollie Masters (W), Tyler Jenkins (A) • BOOM! Studios, $3.99.
– Jason Wilkins
New Romancer #1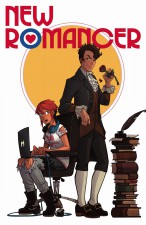 That handsome devil Peter Milligan has always brought a bit of a literary flourish to his work: who can forget the misfortunes of Rudyard Kipling in Rogan Josh or Mirkin the Mystic's wonderful misadventure with Oscar Wilde's ghost (both with Brendan McCarthy)?
Now, in his welcome contribution to Vertigo's fusillade of new titles, he thrusts one of romantic literature's most notorious figures into the contemporary world of online dating. The book centres on Lexi, a coder for a dating app who creates fake profiles based on history's most famous lovers. When she draws on little-known work by programming pioneer Ada Lovelace and pushes the boundaries of coding, she summons the "Mad, bad and dangerous to know" Lord Byron!
While likely to be stuffed to the gills with Milligan's trademark louche wit, this "paranormal rom-com" should be a real breakthrough for super-talented artist Brett Parson (21st-Century Tank Girl), who brings the book to life with some beautifully expressive character work. It also looks set to be a nice generic detour for the imprint.
Peter Milligan (W), Brett Parson (A) • DC/Vertigo Comics, $3.99
– Tom Murphy
Alabaster Shadows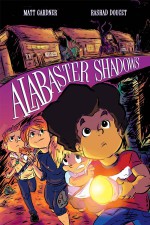 Being the new kid in the neighborhood is hard enough, but Carter Normandy is quickly learning that Alabaster Shadows isn't your typical community.
Leaking portals in the basement, a mysterious dream world, and a menagerie of menacing monsters add just the right amount of edge to this creepy-charming Lovecraft-inspired tale. But the most frightening moment of all may be when Carter and his sister realize that their parents can't always be counted on to save the day…
Newcomers Matt Gardner and Rashad Doucet nail the "all-ages" moniker in their debut graphic novel. Younger readers will cheer as Carter and his friends discover their own hidden confidence, while more experienced fans will appreciate the classic horror references and coming-of-age drama. This meaty first volume would fit nicely on the shelf next to Oni's other off-kilter all-ages offerings, including Terrible Lizard and Courtney Crumrin.
Matt Gardner (W), Rashad Doucet (A) • Oni Press, $12.99
– Paul Mirek
Yellow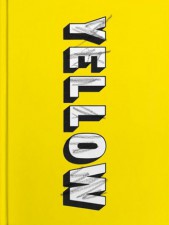 Over the last year the team behind free street press anthology Off Life have been publishing an online weekly feature that saw 52 artists contributing an illustrative commentary on a relevant news story from the previous seven days.
Following a successful crowdfunding campaign these pieces have now been collected together in a hardback print edition that features work from Broken Frontier-featured artists like Joe Decie, Grace Wilson and Jamie Coe alongside names of the calibre of Jean Jullien, Hattie Stewart, Matthew the Horse, Supermundane, Malika Favre and many more.
Check out the original series here and order this beautifully produced example of graphic journalism online here.
Anthology – Various creators • Off Life, £15.99
– Andy Oliver
Scarlet Witch #1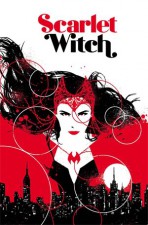 In a first issue that promises to provide Wanda Maximoff with a genuine challenge, Eisner Award–winning writer James Robinson is sending her on a globe-trotting quest to fix witchcraft and solve the mystery of how it became broken.
A tag-team of all-star creators, including Joelle Jones, Tula Lotay, Steve Dillon, Javier Pulido, Marguerite Sauvage, Annie Wu, Marco Rudy, and Chris Visions, will send the Scarlet Witch to the back alleys of Manhattan, the breezy shores of the Greek Isles, and the crowded streets of Hong Kong as she solves magical crimes and sleuths her way to fixing witchcraft. But the real question she faces is who broke it in the first place?
It's exciting to see Marvel finally challenge its female characters with mysteries that their powers alone can't solve. Of course, her talents are going to come in handy as things get weird (and they most certainly will), but it seems that Robinson is establishing a plot where Wanda won't be able to simply magic herself a solution: she's going to have to think her way across the world.
James Robinson (W), Vanesa Del Rey and David Aja (A) • Marvel Comics, $3.99
-Karen O'Brien
Walt Disney's Mickey and Donald Christmas Parade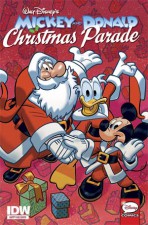 If you're a UK reader of a certain age then you'll remember that in an era before streaming, the internet or even VHS, there was a time when Disney and Christmas were inextricably linked.
In a world where having your own copies of some of the great Disney classics seemed inconceivable, we were reliant on those eagerly awaited, special event Disney Time holiday clip shows for the smallest, most tantalising glimpses of the House of Mouse's back catalogue.
This Yuletide, IDW are supplementing their regular four ongoing Disney titles with a seasonal anthology special. Highlights include Mickey Mouse teaming up with Uncle Scrooge to take on the villainous Pegleg Pete and the Beagle Boys in 'The Christmas Caper', and sci-fi themed antics with Super Goof in 'Interstellar Santa'.
Anthology – Various Creators • IDW Publishing, $5.99 
– Andy Oliver