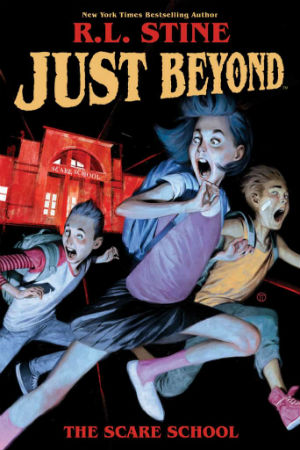 From R.L. Stine, the author behind the phenomenon that is children's horror book series Goosebumps, comes this series of eerily creepy tales for younger readers that promises to take them 'Just Beyond' the boundaries of their experience and perception. Just Beyond: The Scare School is published by the BOOM! Studios' KaBOOM! imprint for younger readers, and teams Stine up with artists Kelly and Nichole Matthews in a school-based piece of frightening fantasy that its target audience will immediately find themselves connecting with.
A tale of contrasted perspective, Just Beyond: The Scare School jumps between the misadventures of two trios of students and two interconnected school realities. Initially we are introduced to the anachronistically dressed kids Leeda, Drake and Buddy as they explore the environs of The Scare School, founded by principal George P. Scare. But this small group are not native to this establishment's corridors and classrooms – or even to this plane of existence – and are being stalked by a robotic insectoid creature known as a Drogg.
Conversely, our second set of protagonists Jess, her twin brother Josh and their friend Marco are pupils at The Scare School. The three are about to discover, though, that the trivialities of everyday school politics pale into insignificance when they realise there's far more to their eccentric educational establishment than they could ever have imagined. As we view the same events from the differing vantage points of both sets of school children, their exploits slowly converge and secrets are revealed about parallel timelines and the true nature of their strange principal…
Stine's story deftly shifts between the kids, revealing the actuality of their situations in small, neatly paced increments that allow him to build up the story's drama to strong effect. The characters are engaging and sympathetic with sparky dialogue between them that will capture younger readers' imaginations, and have them rooting for them from the beginning.
Where the narrative does, perhaps, fall down is in a lack of explanation for its core conceit which remains frustratingly vague. But the uncomplicated yet energetic visuals of Kelly and Nichole Matthews and their busy, action-packed pages will doubtless sweep the audience away in this traditional tale of good versus authoritarian evil. And an odd unsettling twist or two along the way underlines that, as a series of standalone books, no reader should take anything for granted from the Just Beyond range…
R.L. Stine (W), Kelly & Nichole Matthews (A), Mike Fiorentino (L), Julian Totino Tedesco (CA) • BOOM! Studios/KaBOOM!, $9.99
Review by Andy Oliver