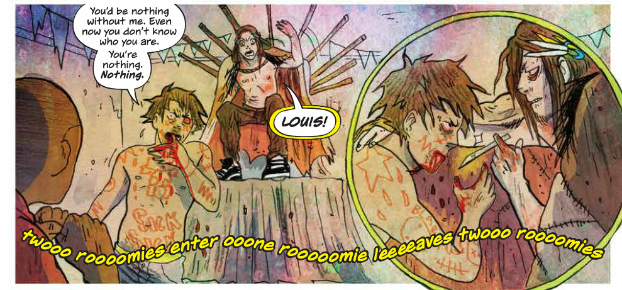 BROKEN FRONTIER AWARDS – BEST LETTERER WINNER AND BREAKOUT TALENT NOMINEE! 
When it was announced last year that 2016 Broken Frontier 'Six to Watch' creator Jey Levang had been picked up by BOOM! Studios as the artist on writer Clay McLeod Chapman's Lazaretto miniseries we knew here at BF that they would be the perfect fit for the project. After all, the book had a premise that would entirely suit an artist with an ability not just to depict the darkly disturbing and the terrifyingly tense, but also one who could nevertheless find the humanity at the core of such unsettling material.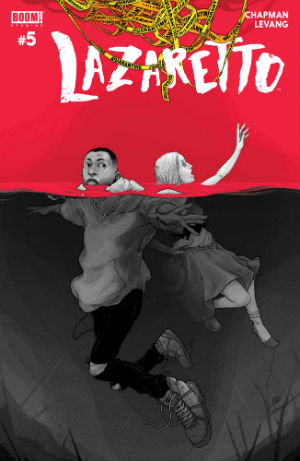 Lazaretto follows events on campus at Yersin University following an outbreak of the virulent H3N8 virus and the subsequent quarantining of a group of students on the uni grounds. Over the course of the last few issues we have seen all signs of "civilisation" rapidly disappear as the infected students have begun to prey on each other and new social structures have emerged in the chaos.
In this concluding episode we continue to experience events from the perspective of sympathetic protagonists Charles (a new student from a demanding family background) and Tamara, whose religious beliefs have defined her approach to life. As the horror escalates out of all control the now cult-like sufferers of the virus have surrendered to its embrace and are determined to punish Charlie and Tamara in the most extreme manner, as the madness reaches a point of no return…
Jey Levang (also a 2017 Broken Frontier Breakout Talent Award nominee) may have been a revelation to those coming to their work for the first time in the pages of Lazaretto but if you've read their webcomic HeLL(P) (a collaboration with C. Vinter) or contributions to anthologies like Dirty Rotten Comics then you'll be well aware of the limitless scope to their wickedly inventive imagination. Their pages in Lazaretto have consistently underlined this incredible talent throughout the book's run.
As events at Yersin have spiralled out of control Levang has captured Chapman's stiflingly frightening environment with a chilling flourish. All societal conventions have broken down and the quarantined students behaviour has become ever more unpredictable as they've lose control of their fragile moral codes to desperation, delirium and domination. It's all been accentuated by Levang's manic visual characterisation – all sunken-eyed obsession and rictus grins – and their brilliantly garish use of colour to emphasise the pandemonium and body horror that brings the story to its frenzied end.
Chapman pulls no punches in a finale that is poignant and devastating in equal measure. It's a denouement that reminds us of the uncompromising nature of the book but also one that never forgets just how much we have come to care about Charlie and Tamara and their friendship in just a handful of issues. It's important as well to note the contribution of letterer Aditya Bidikar – the winner of this year's Broken Frontier Best Letterer Award and a seemingly ubiquitous presence in serial comics at the moment. Bidikar's lettering particularly adds to the sense of taut terror by changing in style to underline the contrasting degrees of sanity of Lazaretto's disease-raddled antagonist in comparison to Charlie and Tamara.
If you didn't pick Lazaretto up as a monthly then keep an eye out for the trade paperback where, no doubt, the tension will be ramped up even further by the experience of reading it in one sitting. It marks the work of a creative team in perfect synch and we're convinced here at Broken Frontier that this is the project that will be the launching pad for a long career for Jey Levang in US serial comics.
Clay McLeod Chapman (W), Jey Levang (A), Aditya Bidikar (L), Ignacio Valicenti (CA) • BOOM! Studios, $3.99