It's almost Wednesday, and you know what that means: a fresh load of comics and graphic novels! With so many publications hitting your local comics store or digital storefront, BF is here to lead you through the woods. These are the books that need to be on your pull list this week.
Comic of the Week
Pictures That Tick: Volume 2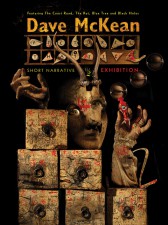 As a successful film director, musician and designer, it's always a heady day when Dave McKean finds time to produce a characteristically dazzling and boundary-pushing collection of comics. Nearly 15 years after the first volume of Pictures That Tick (which won the Victoria and Albert Museum's Illustrated Book of the Year Award), this new anthology provides a fresh showcase for McKean's visionary mixed-media approach to the form.
As well as several stories in a more traditional print format, the 272-page collection also chronicles his bold experiments with comics moving into three dimensions. These include 'The Rut', which was part of the Hypercomics exhibition at London's Pump House Gallery in 2010, and 'Black Holes', a devastating exposé of the Chinese government's complicity in the country's HIV epidemic, which appeared at the Ctrl.Alt.Shift Unmasks Corruption exhibition (London, 2009). Stunning work.
Dave McKean (W/A) • Dark Horse Comics, $29.99
-Tom Murphy
Cap'n Dinosaur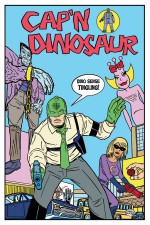 Hot on the heels of That's Because You're a Robot, his recent collaboration with David Quantick, comes another Image Comics one-shot spotlighting the brash visual splendour of the one and only Shaky Kane. This time his co-conspirator is 2000 AD creator Kek-W and the pair promise a tale that will take its cue from one of the most fondly remembered peripheral elements of the comics traditions of yesteryear – those wonderfully bizarre advertisements that broke up our four-colour fun with enticing promises of attainable mail-order magic.
When Cap'n Dinosaur and sidekick Honey Moon investigate the strange case of a drowned man who has fallen out of a clear blue sky the course of their investigation takes them to a deserted amusement park and some unexpected discoveries. What exactly they find there remains to be seen but from the cover of Cap'n Dinosaur we can expect, somewhere in the madness, the appearances of such coveted childhood objects of desire as Sea Monkeys, x-ray specs, "Monster-sized Monsters" and hypno-coins…
Shaky always brings out manic levels of the endearingly absurd in anyone he works with and one thing you can be guaranteed of here is a story where reality will be bent to the very point of snapping.
Kek-W (W), Shaky Kane (A) • Image Comics, $3.99
– Andy Oliver
Devilers #1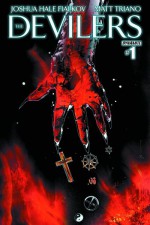 A literal Hell on Earth, the demon forces of the underworld invade our world in a brand new story from Joshua Hale Fialkov and Matt Triano. As Satan's army gains ground in the world of the living, seven of the world's most powerful exorcists, the eponymous Devilers, are humanity's – and all of creation's – last line of defense against eternal damnation.
I'll be the first to admit that I am a latecomer to Fialkov's work, but after experiencing his dynamic introduction to Purgatory in Oni Press' The Life After #1, I'm incredibly intrigued by the potential of his vision of Hell. And if one is to extrapolate anything from Jock's ominous cover art, the book looks to be aiming closer to horror and suspense than action-adventure, all of which sounds like the makings of an devilishly satisfying descent into the occult.
Joshua Hale Fialkov (W), Matt Triano (A) • Dynamite Entertainment, $2.99.
– Reid Vanier
Dark Engine #1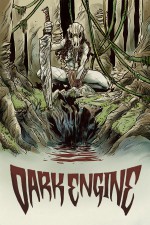 With their world in ruins, a cult of alchemists use their dark magic to create a woman a named Sym. They arm her with a sword made from a thunder lizard's rib and a mysterious "engine" that will send her back in time so she can slaughter their enemies. But they don't realize that the engine is a sentient being, and their plan won't work out as smoothly as they had hoped.
Creators Ryan Burton and John Bivens are relative newcomers, but their work so impressed J. H. Williams III (Sandman, Promethea, Batwoman) that he immediately recommended the project to Image Comics. Williams says, "I knew that I was seeing something intriguingly unique. I wanted more. Buy it, read it, I know I will."
Ryan Burton (W), John Bivens (A) • Image Comics, $3.50.
– Tyler Chin-Tanner

Robin Rises: Omega #1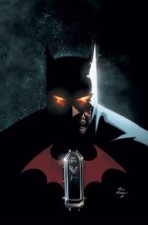 In this one-shot from Batman and… writer Peter J. Tomasi we finally see the return of Robin. But is it Damian Wayne? After this high-stakes adventure that pits Batman against Ra's al Ghul before the forces of Apokolips arrive to make things interesting, the book will resume its Batman and Robin title. Tomasi is excited to bring back Robin for Batman's 75th anniversary, and the book is planned as an ideal jumping on point for the series. With art from Andy Kubert, you can't go wrong. Welcome back Robin!
Peter J. Tomasi (W), Jonathan Glapion and Andy Kubert (A) • DC Comics, $4.99
-Karen O'Brien
Black Market #1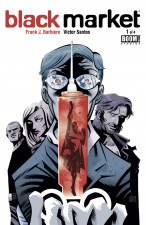 Writer Frank J Barbiere has managed to land himself some super-stylish collaborators of late. Only a few months ago we were thrilled by his neo-noir work on White Suits with Toby Cypress, and now he's working with Spanish artist Victor Santos, who has made a name for himself in the English-language market with the hard-edged retro spy story Polar and the high-energy superhero title Furious (written by Bryan JL Glass).
Black Market, a four-parter from BOOM! Studios, promises to be another visceral alternative take on the superhero genre, recommended by the publisher for fans of Brubaker & Philips' Sleeper. It tells the tale of Ray Willis – a gifted but disgraced medical scientist who's been left making ends meet by preparing bodies in a funeral home. However, when his ne'er-do-well brother shows up and offers him the chance to use his talent to cure all disease, it's surely too good an opportunity to turn down – whatever the cost…
Frank J Barbiere (W), Victor Santos (A) • BOOM Studios, $3.99
-Tom Murphy
Lust
Lust is a book that presses against the border of what comic books are and are not. As much a prose book or an art book as it is a comic or a graphic novel, Lust spins a dark, compelling journey into the nature of vices and virtues – starting at one end with lust, the two opposite values meeting in the middle of the book with horrifically beautiful results.
The book aims to intelligently and emotionally explore what lust is, and what vices and virtues can teach us about one and the other. It's part of an eight-part series, seven books focusing on the seven sins and their corresponding virtues – then an eighth and final volume telling the story of Vice herself personified. The artwork is rich, enveloping and darkly gorgeous, pulling you into the dangerous and despairing fantasy plane of reality that Niles and Templesmith have created for us.
Steve Niles (W), Ben Templesmith (A) • IDW, $19.99
– Conori Bell-Bhuiyan