In the new series from Grant Morrison and Chris Burnham, a nameless man drifts through life in the gulf between dream and reality, existing as a mercenary for those who bridge that divide. Around him, the planet faces destruction, and shadowy powers with veiled motives set their plans in motion.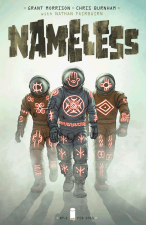 A man who surrendered his name so "no one could have power over him", the eponymous hustler Nameless is a rugged loner on the run when he is given the chance to help save the earth by a mysterious scientist 'billionaut' and his consortium of billionaires and futurists.
From their base on the dark side of the moon, the group are working on their desperate plan to prevent a destructive asteroid colliding with earth – if that is actually their true agenda. And now our anti-hero is well and truly involved, whether he likes it or not.
As a first issue goes, Nameless #1 is a taster crash course into a strange new world. The lead's bitter and sardonic narrative guides us through his realms of existence, through earth to space, Malkuth to Yesouth, empty spaces to empty late night buses… There's a grit and earthiness that permeates the mystical region, held up by the title character's weary charisma.
The storyline can be quite hard to follow, but that's kind of the point as Nameless phases between realities, encountering strange devilish creatures, mystical keys and alien landscapes. You're never quite sure where you are and nothing is what it seems. The whole thing could be part of some psychedelic-induced fantasy.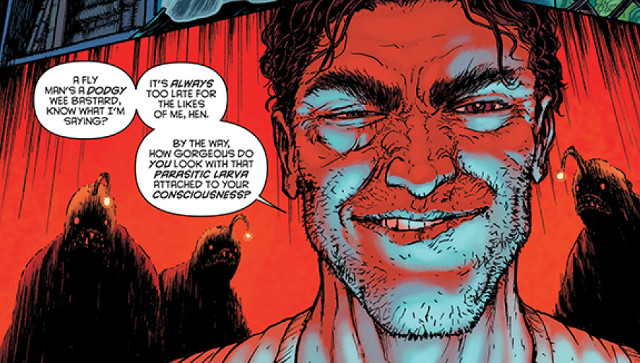 Dulled colours from Nathan Fairbairn lend a gloomy and murky tone to Chris Burham's art. The drawing style is slightly coarse but highly detailed – a good reflection of the brusque narrator, whose own language intertwines recollection, prophecy, myth and expletives. In a neat shorthand, it seems that close confined panels on a white background signify the 'real world', where exotic filled backgrounds and more liberal outlines are the artifice of dreams.
Burham's art is amazing, but as a whole this issue is a bit too much show and not enough tell. The story world looks rich and promising, with tantalising glimpses at potentially fascinating characters: the Veiled Lady and her parasitic larva husband are an unexplained source of interest.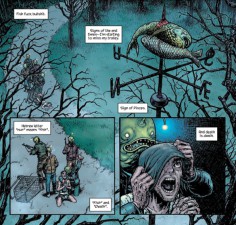 I can appreciate not wanting to give too much away in a first issue, and the blend of trance-like storytelling and ominous art gives the comic a beautiful ambience, but be prepared for the fact that Nameless #1 does leave you knowing next to nothing about it's world or characters.
We don't even know anything about Nameless other than he is a master of the occult and wanted by the police, the government and apparently supernatural crime syndicates. Apart from those details his personality isn't fleshed out much more than the "rugged anti-hero" archetype. Let's give him time, though; the man must have his secrets.
The rough, raw nature of the art and sporadic inner-monologue-style narrative means we get to observe this world through Nameless's perspective, which is harsh, lonely and pretty f*cked up. He might just welcome the end of times with open arms because, let's not forget, nothing is real here.
Grant Morrison (W), Chris Burham & Nathan Fairburn (A) • Image Comics, $2.99, February 4, 2015