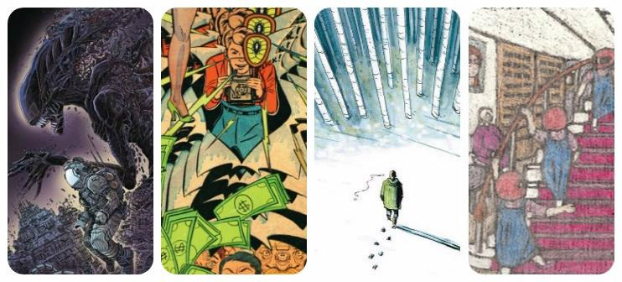 It's nearly Wednesday, and you know what that means: a fresh load of comics and graphic novels! With so many publications hitting your local comics store or digital storefront, the BF team are here to lead you through the woods with our weekly staff picks. Satisfaction guaranteed!
Comic of the Week
A Thousand Coloured Castles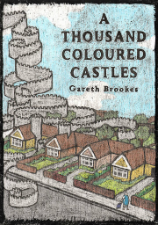 The winner of the 2013 Broken Frontier Best Graphic Novel Award for his debut The Black Project, Gareth Brookes is renowned for both the dark humour that permeates his work and for his constant experimentation with his creative process.
Given that it's Myriad Week at Broken Frontier it seems only fitting that their latest publication should deservedly be awarded 'Comic of the Week' status and Brookes's long-awaited second graphic novel certainly doesn't disappoint.
Suburban mystery meets graphic medicine in this tale of pensioner Myriam who is determined to investigate the odd happenings next door but who is also suffering from failing eyesight and the hallucination-inducing Charles Bonnet Syndrome. With its distinctive crayoned style and the usual offbeat Brookes narrative rhythm, A Thousand Coloured Castles is another much anticipated graphic novel in an excellent year so far for the UK indie scene.
Gareth Brookes (W/A) • Myriad Editions, £17.99
– Andy Oliver
Roughneck

Jeff Lemire returns to his roots this week in a new graphic novel from Gallery Books that chronicles one couple's attempt to escape their past and break a cycle of violence that threatens to claim them still. Lemire burst onto the indie comics scene with works like the seminal Essex County and Lost Dogs and was quickly snatched up by mainstream publishers including Marvel, DC, and Valiant, for whom he has written many a superhero epic. In the past year, Lemire seems to have taken a step back from his work-for-hire engagements, returning to the kinds of stories that made his name.
In Roughneck, Lemire introduces his audience to Derek Ouelette a former pro hockey player living off his past glory days in a remote northern community, and his sister Beth, who is desperately trying to escape an abusive relationship. Never one to pull his punches, Lemire's latest family epic explores the Ouelettes' violent past and their shared struggle to break a cycle of abuse, even as Beth's obsessed boyfriend attempts to drag them back into the pit.
An emotionally-charged journey into one family's heart of darkness, Roughneck signals Lemire's return to the type of narrative that catapulted him to the forefront of the medium, full of his signature ethereal imagery, high-level visual storytelling, and real, complex characters we can't help but root for despite their innate flaws.
Jeff Lemire (W/A) • Gallery, $29.99
– Jason Wilkins
š! #28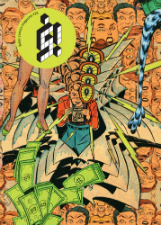 After their last triumphant issue themed around the idea of 'BFFs', Latvian micropublisher kuš! return this week with another digest-sized anthology, this time investigating the subject of 'Scandal!'.
Behind a cover by Samplerman the creators involved include Ana Galvañ, (Spain), Līva Piterāne (Latvia), Ville Kallio  (Finland), Ichasu (Japan), Tara Booth (USA) and Conxita Herrero (Spain).
The kuš! crew are a guaranteed cert when it comes to showcasing international comics and providing envelope-pushing work. Watch out for them this June when they will be exhibiting at Nobrow's ELCAF event. You can order the book online here.
Anthology – Various creators (W/A) • kuš!, $13.95
– Andy Oliver
Aliens: Dead Orbit #1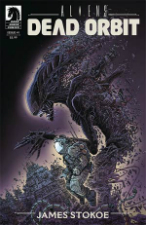 This week, Dark Horse Comics adds a new four-issue miniseries to its long-running and ever-expanding line of titles in their Aliens library. Setting this one apart from the rest, however, is the fact that this new series was written and drawn by James Stokoe, the man responsible for the fantastic Image Comics series Orc Stain.
Aliens: Dead Orbit will center on astronaut-engineer Wascylewski, the lone inhabitant of an abandoned space station drifting in orbit around a planet in a remote section of the galaxy. As if being alone in space wasn't bad enough, things get even tougher when the protagonist has to add battling Xenomorphs to his to-do list. With only limited resources and his inexhaustible cunning as weapons, Wascylewski has to try and survive the deadliest predator in the known universe!
Stokoe is famous for his highly detailed art, and he pulls no punches with his line-work for this series. And, in an attempt to pay homage to one of sci-fi's legendary franchises, he's done lots of research to ensure that Aliens: Dead Orbit will be a worthy addition to the Aliens legacy as well as a thrilling read.
James Stokoe (W/A) • Dark Horse Comics, $3.99
– Matthew Box
An Exorcism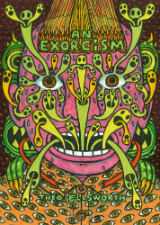 "When I reach the blue surface, my exorcism treatment will begin. I don't feel ready for this, but there's no turning back. This is going to be a harsh experience; that's all that I know."
It's a big release week for kuš! comics with not just a new edition of their flagship publication š! anthology (above) but also new mini kuš! comics and the latest offering in their mono series – An Exorcism by Theo Ellsworth.
Promising more of the Capacity and The Understanding Monster artist's busy visuals and bizarre narratives, this is a book to snap up from a micropublisher with an ever expanding portfolio of series and projects. You can order a copy online here.
Theo Ellsworth (W/A) • kuš!, $14.95
– Andy Oliver
Loose Ends #4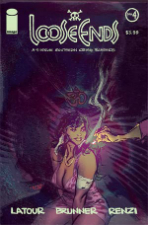 It's been 10 years since Jason Latour (artist for Image's Southern Bastards) and Chris Brunner first created their unique miniseries Loose Ends for 12 Gauge Comics in 2007. At the time, the team was only able to get three of the planned four issues finished and published. However, in January of this year, Image Comics began republishing the original issues and, this week, they finally release the long-awaited big finale of the story!
Written by Latour, Loose Ends takes readers into the dark underbelly of southern culture on the skids – an environment that Southern Bastards fans will relish, and one that's close-to-home for the North Carolina-native author. While the story skillfully blends together a variety of genres, the series is, at heart, a crime noir thriller involving Sonny, an ex-soldier recently returned from Gulf War I, who decides to "break bad" and get involved in a get-rich-quick heroin deal that ultimately unravels.
The finale to this excellent series has been cooking in the minds of its creators for over a decade. Now, both long-time fans and new initiates will finally get to see the loose ends tied up. Whether or not southern-fried drama is your thing, these books have been exceptional thus far. Eisner-winner Latour has proven himself to be a writer of merit, and the pairing of Chris Brunner's outstanding art with Rico Renzi's electric color palette are more than enough reason to check this series out. There's no doubt that the final pay-off will be well worth the wait!
Jason Latour (W), Chris Brunner (A), Rico Renzi (C) • Image Comics, $3.99
– Matthew Box