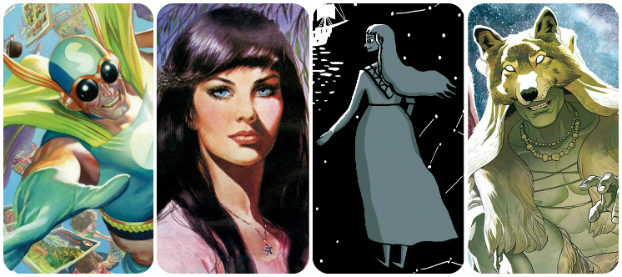 It's nearly Wednesday, and you know what that means: a fresh load of comics and graphic novels! With so many publications hitting your local comics store or digital storefront, the BF staff is here to lead you through the woods with our weekly staff picks. Satisfaction guaranteed!
Comic of the Week
The One Hundred Nights of Hero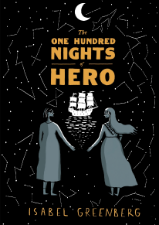 From rave reviews of her small press work like Tall Tales and Outrageous Adventures and Dreadful Wind and Rain through to her 2013 Broken Frontier Breakout Talent Award for The Encyclopedia of Early Earth Isabel Greenberg has long been a particular favourite of the Broken Frontier team.
The One Hundred Nights of Hero is Greenberg's follow-up to The Encyclopedia of Early Earth, set in the same fictional reality. This time around we're promised "betrayal, loyalty, madness, bad husbands, lovers both faithful and unfaithful, wise old crones, moons coming out of the sky, musical instruments that won't stay quiet, friends and brothers, fathers, mothers and above all, many, many sisters."
Greenberg's re-imagining of myth and legend with dark but often poignant undercurrents has become a recognisable staple of her work. This new long-form offering represents one of this year's most anticipated graphic novels from one of the greatest pure storytellers in the business. Look for a Broken Frontier review in the near future.
Isabel Greenberg (W/A) • Jonathan Cape, £18.99
– Andy Oliver
Mezolith Book 2: Stone Age Dreams and Nightmares

Ben Haggerty and Adam Brockbank return readers to the distant past in the second volume of Mezolith, the epic tale of a boy's journey to manhood 10,000 years in Britain's past. The creators cast a wider net in this installment, as Poika of the Kansa continues to learn more about the mysterious world he inhabits, one foot in the here-and-now, the other straddling the realm of the imagination.
Haggerty and Brockbank explore more of the Kansa cosmology, delving into the power ritual storytelling has on their prehistoric subjects. Reality and imagination don't so much collide on Poika's quest as they meld together, intertwining to foster a new and deeper understanding of the world.
Brockbank's lush, panoramic artwork brings the past to breathtaking life, infusing Poika's world with emotion, danger, and majesty, while Haggerty guides us through his new mythology with grace and craft.
A wonderful book celebrating the mystery and magic of stories, Mezolith is a gorgeous addition to any comic-lover's collection.
Ben Haggerty (W), Adam Brockbank ( A) • Archaia/BOOM! Studios, $24.99 USD
– Jason Wilkins
Misty: Moonchild & The Four Faces of Eve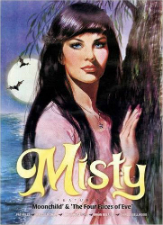 Back in August 2014 we broke the news on Broken Frontier here that selected reprints from 1970s UK weekly Misty were finally on the cards. Here we are, two years on, with the long-awaited compilation of stories from the classic supernatural girls weekly finally about to hit the shelves.
With the recent announcement that publishers Rebellion have also secured the rights to a veritable treasure trove of archive British material, this Misty collection's publication is a timely one indeed. Creators Pat Mills, John Armstrong, Malcolm Shaw and Brian Delaney bring us two cracking horror serials that readers of a certain age will remember with nostalgic glee, all contained within a beautifully eerie cover by the late Shirley Bellwood.
'Moonchild' follows telekinetic teen Rosemary who must deal not just with her newfound powers but also more everyday struggles with a school bully and a jealous mother. In 'The Four Faces of Eve' the amnesiac Eve Marshall must try to rediscover her past and answer the question of why she is haunted by the tragic deaths of three other girls. Find out for yourself this week just why Misty is regarded as one of the great UK cult comics of all time.
Pat Mills and Malcom Shaw (W) John Armstrong and Brian Delaney (A) • Rebellion, £14.99
– Andy Oliver
Comic Book Fever: A Celebration of Comics 1976-1986

The years 1976-1986 represent some of the best comic book buying years of my life, if only because that was when I first started actively collecting comics. The era isn't widely considered to be a high water mark for the industry or medium but like author George Khoury (Kimota: The Miracleman Companion), it occupies a special place in my heart.
Consider if you will what the so-called Bronze Age produced: Claremont and Byrne on the X-Men, Wolfman and Perez on Teen Titans, Neal Adams on just about anything, Love and Rockets, and Spider-Man vs. Superman… Some of my best memories reading comics are anchored in this period.
Featuring loads of art, interviews, and commentary from some of the giants of the field, Comic Book Fever is a delightful survey of the last time comics were fun and affordable. Perfect for the closet comics historian in all of us.
George Khoury (W) • TwoMorrows, $34.95 
– Jason Wilkins
Glitterbomb #1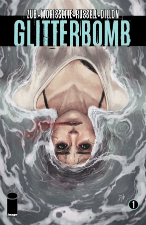 Horror collides head-on with contemporary Hollywood celebrity culture in the new Image Comics series Glitterbomb. Writer Jim Zub (Wayward) teams with up-and-coming artist Djibril Morissette-Phan to take readers inside the world of superstardom, adding a horrifying supernatural element to the story for a fresh twist.
Farrah Durante is an aging actress struggling amid an entertainment industry that values youth and beauty over talent and experience (calling to mind Bette Davis in All About Eve). One night she encounters a supernatural entity that is hungry for revenge against the same forces that have plagued her. Through Farrah, the horror gets unleashed to wreak havoc on Tinsel Town's elite.
Zub and Morissette seem keen to take some stinging pot-shots at the current blight of the fame-obsessed, cult-of-personality-worshipping culture that emanates steadily from our TVs and social media accounts. By mixing in healthy doses of blood and vengeance, Glitterbomb is sure to be a cathartic read and another solid hit for Image.
Jim Zub (W), Djibril Morissette-Phan (A), K Michael Russell (C) • Image Comics, $3.99
– Matthew Box
Red Rosa: A Graphic Biography of Rosa Luxemburg

Rosa Luxemburg remains a solid example of how the female voice has been purposefully, and often brutally silenced over the history of humankind. This week, UK cartoonist and activist Kate Evans and radical publisher Verso bring to light Rosa's undeniable contributions to the socialist cause during her revolutionary, anti-war campaign in 1919 Germany.
A Polish Jew, a woman, and challenged by a physical disability, Rosa's path was fraught with social and medical obstacles that most people – regardless of gender – couldn't surmount. Her murder in 1919 capped off a doomed revolution she knew was futile and shows the depths of her dedication to her cause.
Kate Evans' elegant visual storytelling and understanding of the subject matter informs every aspect of the book, creating an engrossing, full-bodied reading experience. An illuminating glimpse at a marginalized chapter of world history, Red Rosa should be required reading for anyone interested in the history of social activism.
Kate Evans (W/A) • Verso, $16.95 
– Jason Wilkins
Eclipse #1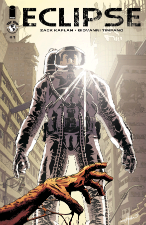 Here on the third rock from the Sun, we rely on the bright star at the center of our solar system to give us life. But, what if that all-important heavenly body actually became lethal to our existence? Writer Zack Kaplan and artist Giovanni Timpano use this premise as the foundation for their new sci-fi thriller series for Image Comics – Eclipse.
An irregular electro-magnetic solar event causes the Sun's radiation to turn deadly, wiping out a vast portion of the Earth's population. Humanity is forced to adopt a dreary nocturnal way of life in order to survive. As if that wasn't bad enough, a killer emerges who uses the Sun's light to destroy his victims. When he targets the daughter of a wealthy industrialist, it's up to disillusioned solar engineer David "Bax" Baxter to protect the girl and find the killer.
This series promises a new spin on the post-cataclysmic tale, and the previews look really enticing… Definitely worth shining a light on!
Zack Kaplan (W), Giovanni Timpano (A) • Image Comics, $3.99
– Matthew Box
Night's Dominion #1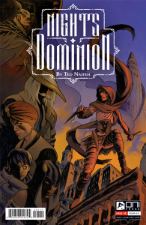 Known for his creator-owned projects staring young female leads, Ted Naifeh (Courtney Crumrin, Princess Ugg) slides into something more mature, and just a little bit darker, for his new series, Night's Dominion.
In the ancient city of Umber where the rich live like kings and everyone else fights for scraps, Emerane works as an average barmaid by day. But after hours she takes to the roof tops as the vigilante known as The Night. And when four strangers enter the bar with a plan to uncover hidden treasure, Emerane knows this is a caper she can't turn down.
Combing sword & sorcery with superheroes in a dark fantasy epic, Night's Dominion is worth going in on with the first issue. And if you'd like to hear more about it directly from Ted Naifeh himself, go read my interview with him.
Ted Naifeh (W/A) • Oni Press, $3.99
– Tyler Chin-Tanner