When I reviewed That Texas Blood #1 for Broken Frontier over the summer, I was really hoping that subsequent issues of this "sardonic slowburn of cinematic proportions" from Image Comics would continue in similar fashion. From Kubrickian paneling to Tarantino-esque dialog as authentic and unhurried as the setting for this sordid story itself, Volume One of That Texas Blood does not disappoint. See, we fans of hardboiled crime fiction have all got a secret spot in our hearts where we keep our forbidden love Criminal and Kill or Be Killed , Violent Love and the rest, and That Texas Blood takes its rightful place beside these powerhouse titles as writer Chris Condon and artist Jacob Phillips stand strong beside the other master storytellers in the genre.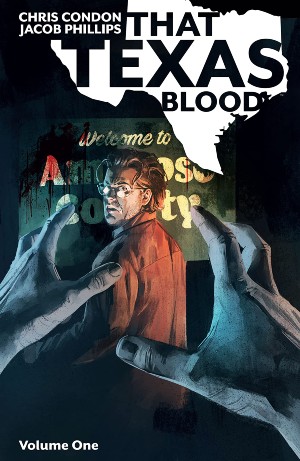 While the premiere issue of the series, and the opening story of this first volume, seems to serve merely as an apropo introduction to Ambrose County, Texas, it also helps to acclimate us to the driving narrative of 'A Brother's Conscience,' which revolves around the murder of a local Ambrose County man named Travis Terrill. When his brother Randy gets wind of his death, he journeys back to his home state only to find himself embroiled in all the reasons why he left. An ex-flame with a dark secret. A harsh cowboy with a motive for murder. And a good cop
determined to uncover the truth, with a little help from his deputy. Each of these stories intertwine, creating a web of madness and murder that lures us into the deep end of the crimson pool of That Texas Blood.
The balance between images is words is perhaps the most noteworthy aspect of That Texas Blood. There are entire pages in which the imagery alone evokes much more than even the most well-crafted words might have expressed. Oftentimes, it'll be two or three panels, yet those panels, viewed separately and as a whole, hit us hard. Something that all readers should appreciate about Condon's writing is his sheer economy with words. The fact is the man is a poet who only uses words when necessary. Every chapter of That Texas Blood has narration that digs into the essence of what it means to be human, to make mistakes, and many of his captions and conversations are mindful meditations on how we can be ourselves one day and someone new entirely the next. "The black hole doesn't care who you are," one particularly poignant piece of narration declares in chapter two of 'A Brother's Conscience.' "It eats all. No discrimination. No preference. All is matter and matter is all." Pure, gritty poetry.
There were many times during my reading of this first volume (of many––here's hoping!) where I couldn't help but draw parallels to some of the most innovative television crime dramas of recent years. The plot, the main players and their quirks and characterization, the duality of the human condition that seems to shadow every page, it all seems to borrow beautiful bits of madness from off-kilter shows like Twin Peaks and Fargo , yet the story still manages to maintain its own unique candor and attitude.
Texas itself––specifically the fictional Ambrose County––is quite a conflictive character in this unfolding narrative, too. "I've been to Texas," Randy Terrill's girlfriend protests after he declines her request to join him on his journey, "I almost lived in Texas," to which Randy slyly replies, "Austin isn't exactly where I'm goin', honey." This brief banter sets the stage for the imminent downward spiral to come, leading right down to the final few captions closing out this first story and paving the way for further misadventures in Ambrose County. I've gotta say, I found myself fearing the foreboding flatlands that stretched across Phillips's cinematic wide shots as much as his close-ups of the criminal underbelly that's built its empires on top of it.
All in all, That Texas Blood Volume One is one of those stories you can read over and over again, if only for the gritty gorgeousness of Phillips' artwork and Condon's words. Do yourself a solid and pick up this volume immediately, read it, then put it on the shelf where you can see it. Then, take it out every once in a while and read it again. It's a master class in how to tell a good crime story we haven't seen since the likes of Chandler and Hammett. It's like the good Sheriff tells us, "sometimes you need somethin' just a bit grittier than a cup of coffee."
Chris Condon (W), Jacob Phillips (A) • Image Comics, $9.99
Review by John T. Trigonis