It's almost Wednesday, and you know what that means: a fresh load of comics and graphic novels! With so many publications hitting your local comics store or digital storefront, BF is here to lead you through the woods. These are the books that need to be on your pull list this week.
Comic of the Week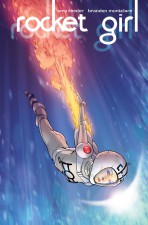 Rocket Girl #1
Back to the Eighties in the best of ways, a future-born teenage time cop is sent to 1986 Manhattan to investigate the time crimes of future megacorporation Quintum Mechanics. It seems that the company has been utilizing time travel to gain an unfair market advantage, so 15-year-old Dayoung Johanssen is sent to the past to uncover the scheme.
Our intrepid cop quickly discovers that her time—an alternate version of 2013—shouldn't exist at all. Brandon Montclare (Halloween Eve) and Amy Reeder (Madame Xanadu, Batwoman) began Rocket Girl as a successful Kickstarter project before pairing with Image Comics.
Brandon Montclare (W), Amy Reeder (A) • Image Comics, $3.50
– Karen O'Brien
Coffin Hill #1
Vertigo's return to prominence not only made this long-time reader happy, but has once again shown that the powerhouse of sophisticated comic creations continues to be relevant today. This week sees the release of Coffin Hill, which is yet another addition to the publisher's new line of books.
Coffin Hill follows Eve Coffin, a member of a long-established high-society family with connections to the deadly Salem Witch Trials, as she discovers how her horrific history not only impacted her in a ghastly scene in her past, but is part of an even greater evil that follows her today. Coffin Hill sounds like a straight-up Vertigo series through and through, and I cannot wait to devour it.
Caitlin Kittredge (W), Inaki Miranda (A), Dave Johnson (A) • Vertigo Comics, $2.99
– Jason Clyma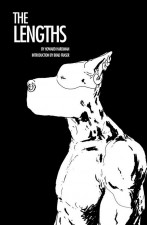 The Lengths
"It's hard being someone's Mister Right when for a hundred pounds an hour you're anyone's Mister Right Now."
It's a tagline that will be familiar to anyone who has followed the self-published history of Howard Hardiman's dark tale of blurred identities and double lives, but it's one that encapsulates the premise of his series so well that it bears repeating here. Employing a cast of anthropomorphic canines, The Lengths is the powerful tale of art school dropout Eddie who gives up his education for a secret life as male escort "Ford", and the book follows his duplicitous lifestyle thereafter.
Hardiman's project has been championed in Broken Frontier's 'Small Pressganged' column on a number of occasions and is one that we've long argued should be picked up by a publisher. Soaring Penguin Press have stepped up to the mark to present The Lengths in a collected edition this week and hopefully bring this thought-provoking, character-led drama to a whole new audience of appreciative readers.
Howard Hardiman (W/A), Soaring Penguin Press, £17.99
– Andy Oliver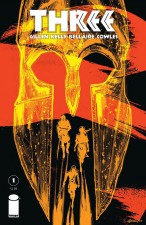 Three #1
Kieron Gillen ventures back to Image Comics for the much-anticipated Three, a new series that focuses on a more accurate portrayal of the Spartans and easily one of the most interesting offerings of the week. This story of one of history's most famous warrior societies follows three slaves, called Helots, on the run for their lives as they are hunted by the Spartans themselves.
To be as accurate as possible, Gillen sought out the guidance of an actual historical consultant, Stephen Hodkinson of the University of Nottingham, which speaks to a degree of respect and thoroughness for the work that many books fail to ever achieve.
Kieron Gillen (W), Ryan Kelly (A), Jordie Bellaire (C) • Image Comics, $2.99
– Jason Clyma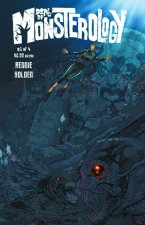 Dept. of Monsterology
The first ongoing series from Canadian indie publisher Renegade Arts Entertainment, Dept. of Monsterology chronicles the misadventures of a young cohort of students who travel the globe delving into the world's secret history.
Featuring stunning art courtesy of Numbercruncher's P.J. Holden and a fun, refreshing twist on the monster hunter archetype, this four-parter looks to be another winner from the publisher of Shame and The Loxleys: The War of 1812.
Gordon Rennie  (W), P.J. Holden (A) • Renegade Arts Entertainment, $3.99
– Jason Wilkins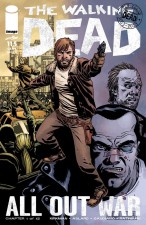 The Walking Dead #115
'All-Out War' begins!  The seeds of war between Rick's camp of survivors and Negan's Saviors have been planted deep over the past 15 months of Walking Dead releases, but the intensity has never been higher as both groups prepare for total destruction.
The series has been on the ropes between slow and exciting for quite a while now, but the possibility of a full scale war that dwarves the Governor's attack on the prison those many years ago surely makes The Walking Dead #115 well worth the cover price.
Robert Kirkman (W), Charlie Adlard (A) • Image Comics, $2.99
– Jason Clyma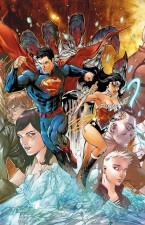 Superman/Wonder Woman #1
This isn't your grandparent's romance comic! Forging a new definition of "power couple," Superman/Wonder Woman #1 offers a whole new perspective on date night as two of DC's most popular characters join forces and prove that you really can balance love with saving the world.
Rising star Charles Soule (Thunderbolts, Red Lanterns, Swamp Thing, Letter 44) is set to launch the most anticipated DC title since Superman Unchained. Pairing up with Soule is fan-favorite artist Tony Daniel, who is no stranger to the most powerful characters in the DC Universe, and I expect this title to live up to its hype.
Charles Soule (W), Tony S. Daniel (A) • DC Comics, $3.99
– Karen O'Brien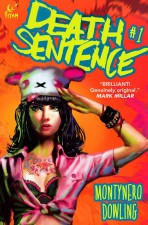 Death Sentence #1
The brainchild of writer, game designer, and conceptual artist Monty Nero, Death Sentence is a balls-to-the-wall, stylish journey through the underbelly of the human condition.
Set in a world gripped by a rash of violent deaths triggered by the horrific last stages of a malignant STD that curses its victims with uncontrollable super powers for six short months, Titan Comics' latest high profile series follows three of the G-Plus virus' latest victims as they struggle to come to terms with their unexpectedly shortened lifespans.
If you were given six months to live and the powers of a god, what would you do?
Monty Nero (W), Mike Dowling (A) • Titan Comics, $3.99
– Jason Wilkins
Mind MGMT Volume 2: The Futurist HC
Mind MGMT has been one of my favorite ongoing comics of the last year. The series blends all of the best elements of Lost with superhero comics and spy thrillers. And of course, Matt Kindt's art is always a treat to look at.
Finally, volume 2 of the series comes out in hardcover for those averse to monthlies. Collecting issues #7-12, this volume will be presented in the same beautiful hardcover format as volume 1, a must for any collector who takes pride in their personal comic book library. This series will be on a lot of people's best of lists at year's end.
Matt Kindt (W/A) • Dark Horse, $19.99
– Levi Hunt