Soaring Penguin Press's exquisite repackaging of this extraordinary reinterpretation of the timeless children's favourite is undoubtedly one of the most essential graphic novel collections of the year.
London, 1887, and young tearaway Peter lives a wretched life with his abusive, alcoholic mother; only the kindness of his mentor, the old Mr. Kundal, acting as recompense in an otherwise abject existence. Into this seedy and morally ambiguous environment comes Tinkerbell, a visitor from the mysterious realm of Neverland, on a desperate search for the saviour of her people. Transported by the sprite to her enchanting yet menacing homeland, Peter forms a close relationship with the goat god Pan who seeks to guide him on his fated path. As his misadventures continue he finds himself embroiled in the conflicts between fairy folk, pirates, and Indians, and slowly begins to embrace his destiny to become "the boy who never grew up."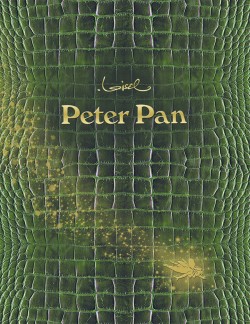 Acting as part prequel, part re-imagining, Régis Loisel's Peter Pan was first published in its original French language editions in six European style albums between 1990 and 2004. Earlier this year Soaring Penguin Press collected all 330-plus pages of Loisel's epic series in one handsomely bound deluxe format hardcover, finally bringing this astonishing work to the English-speaking market for the very first time. Beyond just Peter Pan's origin – for want of a better term – it examines some of those lingering questions and mysteries from J.M. Barrie's original play/subsequent novel with Loisel's own take on the possible answers. Why Peter Pan for instance? Who were the Lost Boys? Just where did Peter's conflicted view of motherhood, and distrust of adult society, come from? And what was the true basis of that very personal enmity with Captain Hook?
Those with an aversion to the characters of classic literature being appropriated by contemporary creators will probably be best advised that this may not be the collection for them. Because make no mistake, Loisel's is, indeed, a most adult approach to the themes of the original work. Language is uninhibited; there's sexual explicitness in both an overt, sometimes exploitative sense and also as part of a more subtle subtext; and there are also scenes of unrestrained violence where necessary. Although in that latter case let's not forget that the novel was no stranger to implied brutality – the Darling boys had no compunctions about fatally dispatching pirates for example!
From that perspective, it would be easy to make some banal remark about how Loisel's interpretation of Barrie's characters retains the original book's examination of the complexities of our childhood perceptions of the world, but with a more unsettling, adult twist. But the truth of the matter is that Barrie's novel is disturbingly dark enough in its own right; from throwaway mentions of children playing with the ghosts of their dead fathers, to Mr. Darling taking up residence in a kennel, and the story's bittersweet, poignant final chapters.
A selection of pages from the early London sequences
What we have here, then, is a narrative extrapolation of the ideas and premise of Barrie's Pan that simply brings the indefinable sense of something sinister that lurked in the original's underbelly well and truly to the forefront. At their most acute, those explorations are, assuredly, extreme in nature – a subplot linking Peter to Jack the Ripper for example may shock some readers when fully analysed – but within the internal logic of Loisel's story it has a coherence and subjective plausibility.
In this regard Loisel's characterisation of his cast throughout matches and expands on its source material with an assured flourish. Hook is as maniacal, ruthless, and beyond redemption as his prose counterpart. Peter – obviously never a selfless hero by any stretch of the imagination – is, by turn, as egocentric, self-centred, and occasionally vindictive, as his literary forebear ever was. Tinkerbell's spite, malice, and jealousy are similarly well-mined with the fairy who tricked the Lost Boys into shooting Wendy with an arrow in the book capable of far, far worse in Loisel's strip. (And if there are any discrepancies between Barrie and Loisel then any especial hang-ups the reader may have about such matters can simply be blamed on the memory-distorting qualities of Neverland that both authors use as integral plot points!).
The verdant beauty of Neverland, and Peter's mentor Mr. Kundal showcased

Those too entrenched in the conventions of the current "written for the trade" mentality that has so constricted the publishing models of the bigger American publishers over the last few years may need to adjust their mindsets when approaching this collection. Given the near decade and a half over which the original series was published, this was never going to be a compilation that would feel rigidly structured in a "beginning, middle, and end" kind of way, and story threads do meander along at their own pace, digressing with a wandering, tangential eccentricity at times. But this feels oddly apposite in a story where displaced perceptions and a shifting sense of memory play such a pivotal role in the proceedings.
It's a grand claim to make but on a purely visual front Peter Pan is probably the most remarkable graphic novel to come out of any British publisher so far in 2013. Loisel's stunning illustrative style will transfix you with each gorgeous and intricately detailed image. It's one of those offerings where you can spend more time reflecting on just a single panel than you would on several pages of current comics output elsewhere, and that old standby of the bandes dessinées tradition of "realistic" backgrounds providing a home to more stylised characters works to particular effect over these six chapters. Where the book succeeds quite spectacularly, though, is in its realisation of the contrasts between the sordid squalor of Victorian London and the lush, magical beauty of Neverland, accentuating the polarised extremes of both when placed in adjacent narrative sequences.
Never smile at a crocodile…
What J.M. Barrie created in Peter Pan was not a fairy tale but a revelry in the ridiculous that owed more to Lear and Carroll than it did to Andersen or the Brothers Grimm. Loisel's approach is to take its thematic core and bring to the surface the darkness inherent within. In doing so he underlines the vulnerability and tragedy that is at the very heart of the story of Peter Pan, that most displaced of all the lost boys. A grim and often bleak fantasy it may be, but Soaring Penguin Press's exquisite repackaging of this extraordinary reinterpretation of the timeless children's favourite is, undoubtedly, one of the most essential graphic novel collections of the year.
Régis Loisel (W/A) • Soaring Penguin Press, £29.99, June 13, 2013.