Yesterday we began a major multi-part series of articles in 'Small Pressganged' looking at the challenges facing micro and self-publishers as we go into 2015. Over the next few weeks a host of UK small pressers – from prominent faces on the scene to newbies just starting out – will be giving their thoughts on topics that will include how we continue to grow the audience for grassroots comics publishing, the proliferation of shows and events, and the issues surrounding publicising and promoting work in an ever competitive market.
In that first instalment we began by addressing the question of whether there's a down side to the rapidly expanding UK small press world. Is the potential readership failing to match the growth rate of new practitioners? Is this a common experience for creators? Is their audience being squeezed as a result? And, crucially, has this been noticeably affecting sales? We pick up the debate again today with contributions from ink + PAPER's David O'Connell, Soaring Penguin's John Anderson, The Black Project's Gareth Brookes and British Comic Awards-nominee Rachael Smith…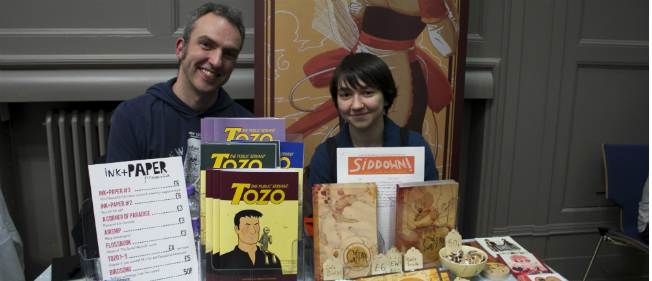 David O'Connell at Comica Comiket with Jade Sarson (right). Photo courtesy of Camila Barboza
David O'Connell is a creator with a hugely respected track record on the SP circuit. His anthology ink + PAPER has gained a number of enthusiastically favourable reviews here in 'Small Pressganged' over the years and collaboration Jampires with Sarah McIntyre recently proved a big hit at Thought Bubble. O'Connell questions whether the creators/audience ratio is really the problem some fear but does warn against complacency: "Is this true (the audience not growing)? Or are people just not coming to all the conventions? I believe the audience is growing, even if they're not engaging to a degree we might like financially.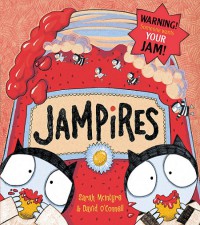 "I think it's possible Thought Bubble has grown to a size where we're seeing the effects of competition come into play, something we've not really had to deal with up until now. The audience are there but creators can't be complacent about reaching out to them and do have to work harder." That point about Thought Bubble, in particular, is one echoed by creator Peter Rogers (The Interactives, Dapper Chimp Press) "I haven't put out any books in a while, but I can see how this could be a problem. There were 450 tables at Thought Bubble and hundreds of titles I wasn't aware of. Being there on the other side of the table it was quite overwhelming."
O'Connell continues "It's also interesting how tastes change too. Younger, newer readers are often very narrow in their choices and will go with what their friends are reading. Five years ago it was all about manga. Now, a lot of the new comics I see are influenced by the work of American animators, e.g. Adventure Time, or the NoBrow aesthetic. If your work is viewed as 'off-trend' it might affect sales."
John Anderson of Soaring Penguin Press – a publisher whose eclectic output ranges from the translated deluxe edition of Regis Loisel's Peter Pan to collections of previously self-published work like Howard Hardiman's The Lengths – is both sanguine and practical about the state of play: "There is a greater perception in the reading public that graphic novels are something worth looking out for. So the audience is growing. The nature of the rapidly expanding UK small press scene is that there is considerably more experimentation with methods of storytelling. This can only be a good thing. Yes, a lot of the work will be marginalised and possibly never find an audience. That's the nature of any artistic endeavour.

ELCAF (top banner picture) and Comica Comiket (above) – just two of the shows catering for the burgeoning UK small press scene. Photos courtesy of Camila Barboza)
"The books published by Soaring Penguin Press seem to appeal to people who might not otherwise read comics or graphic novels. That's why my sales in the UK to bookstores is considerably better than sales to comic shops. Some of this can be attributed to Diamond Comic Distributors' business model where orders are taken as firm sales. (As opposed to book stores where it's SOR.) I can completely understand that any given comic shop is going to be hesitant to order, say, Peter Pan which could sit on a shelve for a while, taking both money and valuable shelf space. (Not that it would; only supposing it might.)"
One potential hazard of an overly congested self-publishing world is that it may eventually prove off-putting to newbie talent. It's fair to say that in my own travels at fairs and conventions over the years I have been writing 'Small Pressganged' here at BF that I've encountered a number of exciting prospects who have made appearances at one show and then never been spotted again. Gareth Brookes (winner of the first Myriad First Graphic Novel Competition for The Black Project) has a vitally important message on this issue: "I think there's a lack of mentoring of new practitioners sometimes. In some of the larger shows there's been an attitude in the past that letting anyone buy a full table is terribly egalitarian and that curating things is stifling new talent.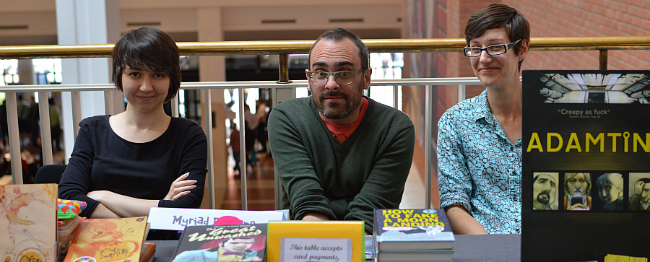 Gareth Brookes at Comiket with Jade Sarson and Hannah Berry. Photo courtesy of Dean Simons,
"A number of times now I've been sat next to a first time exhibitor who's bought a full table for £80 or whatever it is, and spread the first issue of their comic across its 6-foot expanse expecting to make their money back. I remember one guy in particular who, at the end of the day, crushed and defeated silently slipped away without a word, never to be seen again. The worst part was that he was really talented, and his first comic was way better than my first comic was. No one on earth could make 80 quid back from their first comic. With a bit of effort he could have been encouraged to get a half or a quarter or even an eighth of a table, and put together with people that are first time exhibitors too and he would have had fun, met new people and everything would have been cool."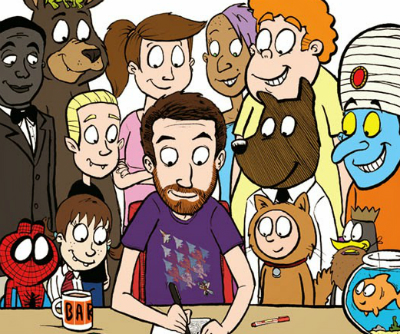 Paul Shinn (self-portrait right) is one of those selfsame newer exhibitors and was at Thought Bubble with his books March of the Penguins and Look What I Drawed. Shinn's early experiences have been positive and he believes that the new creators/new audience divide is not the pronounced one worrying many commentators.
"One of the reasons I was interested in giving my feedback to your talking points was because while I am relatively new to the small press scene in terms of selling my physical printed work (this year's Thought Bubble was my first time having a table at a con), I have attended various London-based cons and events for the past 4-5 years on the other side of the tables and have made a lot of good friends within the scene, so it is at once both new and intimidating, yet also strangely familiar.
"While I can't really comment on the effect on sales of the rapidly expanding UK small press scene, being one of the aforementioned new practitioners, I would have to disagree with the argument that the audience is not growing at the same rate. Having attended quite a few small press expos and cons over the last four/five years as an attendee, I feel that the number of people going along to these things is definitely increasing, and also the diversity of people attending. And while that might not be equalling increased sales for individual creators, I would suggest that it is fueling the increase in new practitioners. Certainly from my own experience, after going along to these shows and seeing the work of the various creators, it made me realise that I could also publish my own work."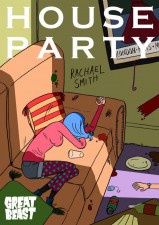 Rachael Smith is another newer name in UK comics, albeit one that has exploded onto the scene over the last year or so, with her House Party graphic novel from Great Beast propelling her to a British Comic Awards nomination this year. She is similarly upbeat, stating "I've only been in this industry a couple of years so I don't really know what it was like before then. I've never felt that there is a huge difference in the number of UK small press practitioners and number of UK small press fans."
Others view the issue with stoic practicality. Richy K. Chandler who publishes comics like Lucy the Octopus and Rosie and Jacinda through his Tempo Lush imprint candidly admits "I suspect if anything my very small following has grown at the same rate as the small press scene so there's no noticeable trend either way with my sales. Financially it makes little difference as I generally only sell about just enough comics to almost cover my costs (if that). I certainly wouldn't want to begrudge the small press scene growing.  Hopefully the potential audience will catch up soon!"
Cliodhna Lyons/Ztoical – recent contributor to the Killer Queen anthology of comics based on the iconic band's songs and a small presser of some years standing – takes a broader view and compares the rise of the UK small press with similar developments in animation: "There is always a down side to any industry expanding.  The UK animation industry is currently booming and there's more work than ever before yet people have issues because wages have either frozen or dropped for creative positions.  The flip side is higher wages for a handful and no jobs for the rest so which is better?  A few people making a solid living or loads of people barely scraping by?  Depending which animators you ask you'll get different answers.
Cliodhna Lyons at CECAF this year. Photo courtesy of Dean Simons
"Same can be said for the comics scene at present. There are pluses and minuses all around. There are a lot of factors affecting the UK scene at the moment, its expansion I think leaves some people unsure what their place is….there are clear stylistic developments and storytelling narrative pushes much like you see with film were you see several films being pushed forward and highlighted that all have the same visual choices which is great for people who want to work in that style but frustrating for those who don't.  We saw it with the explosion of Japanese comics where so many people were doing cloned copies of that style.  The UK scene is great on one hand right now because there are several different areas/styles being pushed at once rather than just one but that has the down side of leaving many behind who can't or don't work in those styles and might feel left out or pressured to fit their work to match in other to try and be relevant."
Whether an ever greater number of creators are fighting for an audience struggling to expand at the same rate or not, Craig Collins still believes it's up to individual self-publishers to proactively push their work and take more responsibility when sales are less than stellar: "I think you have to do everything you can to reach out and get your work in the hands of a wider crowd, at cons but also at any opportunity you can find or create. It's up to you to make quality engaging work that has is appealing to an audience or a niche crowd, and go out there and talk to people about it. There will always be shows you do better or worse at, depending on the atmosphere or the audience it attracts, but if you think you did badly due to the con and the con alone, perhaps it's time to re-examine."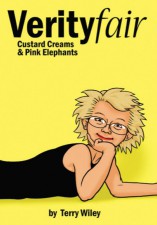 Some final thoughts from P M Buchan who believes that audience-building needs to be thought about from a far less parochial perspective than just a small press one: "Just look at a comic like Terry Wiley's Verity Fair – hypothetically that should appeal to the majority of people in the UK, because it covers everyday life in an accessible way, better than most modern soap operas. It's very clear to me that everybody in the industry needs to commit to a push to get more mainstream media coverage of UK comics. On an individual level, educate the people in your social networks about what comics are about. On a higher level, every publisher needs to up their game in terms of targeting mainstream media. It isn't enough for The Guardian to consistently cover Jonathan Cape graphic novels. We need to be at a point where comics are respected for what they are, not who publishes them…"
Next week we will be continuing the 'State of the Small Press Nation' theme with a guest blog from Avery Hill co-publisher Ricky Miller on how the very infrastructure of UK comics needs to change and adapt on all levels if we are to continue to evolve. If you have any thoughts or opinions on the views expressed here then please join in the discussion by leaving your comments below…
For regular updates on all things small press follow Andy Oliver on Twitter here.