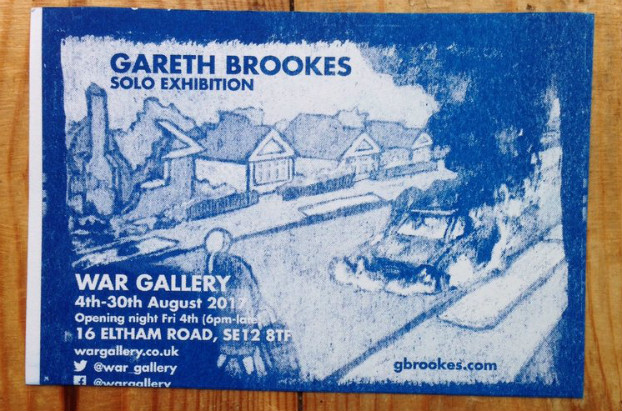 The name of Gareth Brookes is hardly an unfamiliar one here at Broken Frontier. From his brilliant first long-form work The Black Project – which won both the Myriad First Graphic Novel Competition in 2012 and the Broken Frontier Best Graphic Novel Award in 2013 – through to running this month's hugely successful inaugural South London Comic and Zine Fair, Brookes has been a regular presence at BF over the last few years.
From August 4th-30th, his work will feature in a solo exhibition at London's WAR Gallery (with an opening night on Friday August 4th). Brookes is known for his incredible diversity of practice – both thematically and in terms of presentation – and this marks a fantastic opportunity to see close up the art of someone of whom I recently said here at Broken Frontier "in terms of challenging the boundaries of the form, constantly pushing it into new arenas and exploiting its every storytelling possibility, Gareth Brookes (alongside Karrie Fransman) is undoubtedly one of the two most important creators currently working in UK indie comics."
Brookes began as a self-publisher, was an important part of the Alternative Press in its early days and has been a vital player in the UK small press scene throughout its recent renaissance years. Outside of his two Myriad graphic novels – The Black Project and A Thousand Coloured Castles – he has also contributed to numerous anthologies including The Comix Reader, A Bit of Undigested Potato (including the cover below left), Tiny Pencil, the kuš comics š anthology and our very own 2016 Broken Frontier Small Press Yearbook (below right). His collaboration with Steven Tillotson, the satirical The Manly Boys and Comely Girls Annuals, was published by Avery Hill in 2014.
The exhibition will feature examples of Gareth's varied approaches to the form including embroidery, prints and crayon drawings from his most recent graphic novel A Thousand Coloured Castles (see video above).
What better excuse to revisit today a few classic moments of Brookesian coverage here at BF to get us all inspired for the exhibition in August?!
Sample pages from The Black Project
Key Reviews
The Black Project (2013) – Set in a composite suburbia somewhere in England in the early 1990s, The Black Project follows schoolboy Richard as he seeks to create for himself the girl of his dreams from household and found objects.
"More than simply a bleakly amusing comedy about a gauche pre-pubescent Geppetto, The Black Project is a visual essay on that most secret world of sexuality we enter into when we first discover the unfamiliar urgings of oncoming adulthood."
The Manly Boys and Comely Girls Annuals (2015) – Spoof annuals sending up the sexism, racism and jingoism of jolly papers for girls and boys from decades past.
" Unashamedly crude and often unrepentantly gratuitous in delivery, nonetheless The Manly Boys and Comely Girls Annuals will have you cringing and guffawing throughout in equal but slightly self-conscious measure."
Can I Borrow Your Toilet? (2016) – Brookes's autobiographical illustrated zine detailing his time working in a loading bay and the strange assortment of characters he met there.
"Bleak but brilliant, I have returned to re-read Can I Borrow Your Toilet? over the years more than I have any other single small press offering. That, in itself, should be recommendation enough."
A Thousand Coloured Castles (2017) – Sitting somewhere between graphic medicine and middle class suburban thriller this is the story of the elderly Myriam whose interest in a neighbourhood mystery may or may not be a product of hallucinations caused by Charles Bonnet Syndrome (sample pages below).
"Make no mistake, this re-imagining of twee middle class suburbia, as seen through the fractured lens of a distinctively Brookesian eyeglass, is a visual triumph."
Key Features
Interview with Gareth Brookes (2017) – "I'm not really a misanthrope. It's true that I despise all humanity, but people as individuals are always beautiful to a degree. Their lives and stories and secret passions are endlessly fascinating and life-affirming. Eavesdropping on a particularly human conversation can render me impossibly happy for a day at least."
For more on the work of Gareth Brookes visit his website here and follow him on Twitter here. You can visit his online store here.
Buy A Thousand Coloured Castles online here and The Black Project online here.