While it's another excellent year for high-profile London comics festivals like ELCAF and Safari Festival, 2017 was looking to be a quieter one for more grassroots events, with both CECAF and the Alternative Press Takeover on hiatus.
Luckily we have graphic novelist Gareth Brookes (A Thousand Coloured Castles) to step into the breach with his new event the South London Comic and Zine Fair. Coming a week after Small Press Day and smack in the middle of International Zine Month, it underlines what a healthy month July will be in the capital for lovers of DIY culture and small press publishing. And it will also be the first show that Broken Frontier has tabled at this year!
Below is the press release for the festival along with a list of confirmed exhibitors so far. I've taken the liberty of adding links to some previous Broken Frontier coverage where available for those of you wanting to explore the work of this fabulous list of artists and micropublishers further!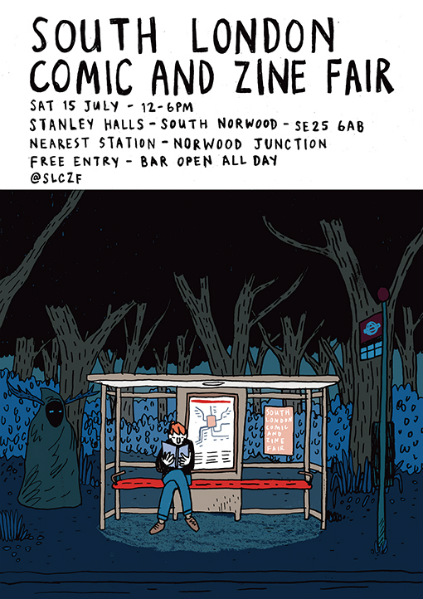 Poster art by Tim Bird
South London Comic and Zine Fair is a brand new comic and zine event taking place at Stanley Halls, South Norwood on the 15th July and focusing on London-based self & micropublishing.
There will be over 30 artists and independent publishers selling their publications on the day, including local heroes such as children's cartoonist Gary Northfeild, illustrator Cat Sims, micropublisher Avery Hill and artist and activist Darren Cullen.
Other stalls include OOMK Zine, Centrala, Broken Frontier, Clod Magazine, Danny Noble, Breakdown Press and Foxhole Zine.
There will also be a communal table, open to budding comics creators and zinesters to leave their work to be sold free of charge.
The fair will be open from 12 noon to 6pm. There will be a kids drawing area and a bar open all day.
More details on the Facebook event page here. You can also follow SLCZF on Twitter here.

Gary Northfield (Bog Eyed Books, Gary's Garden – above)
Matthew Swan (Parsley Girl: Carrots)
Centrala Books (Chernobyl: The Zone, Staring from the Hill)
Kim Clements (Rabbit Thoughts –below)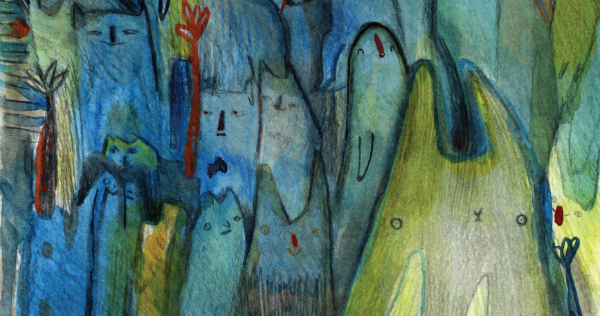 Douglas Noble (Horrible Folk)
Richy K. Chandler (Lucy the Octopus)
Wallis Eates (Fear of Mum-Death and the Shadow Men)
Sean Azzopardi (50 – below)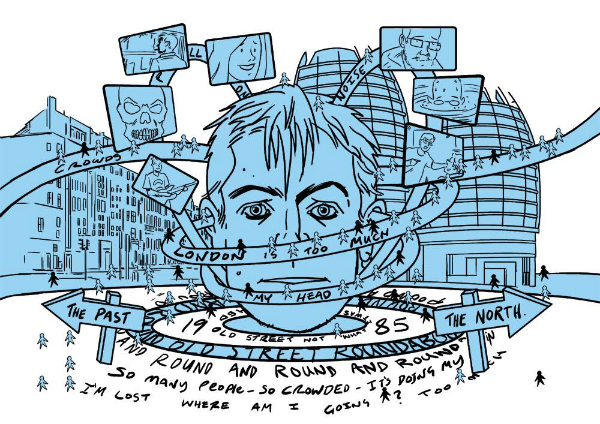 Avery Hill Publishing (Something City – below , Goatherded)
John Riordan (Hitsville UK)
Breakdown Press (On Topics, The Artist)
Emily Gilbert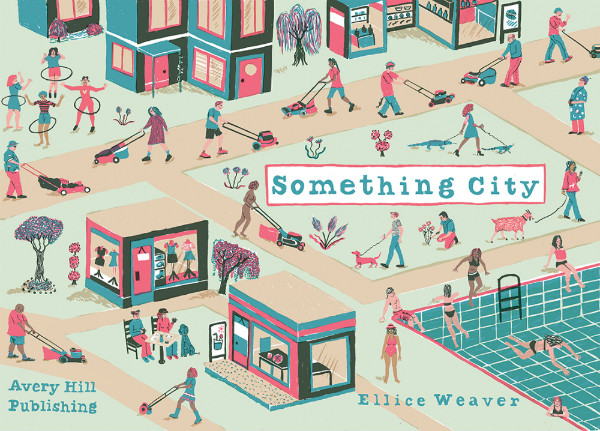 Theresa Ferreiro
Andy Poyiadgi (Veripathy)
Broken Frontier (Broken Frontier Small Press Yearbook – below)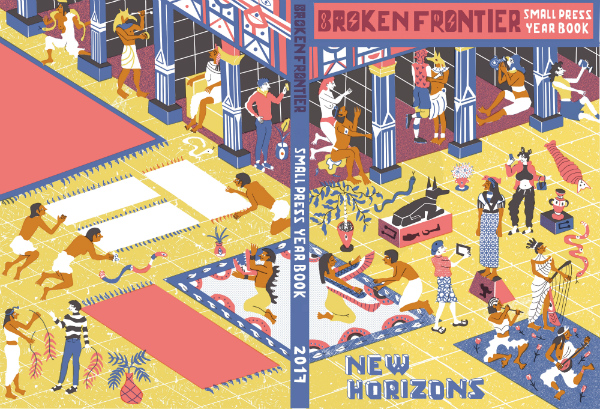 Katriona Chapman (Katzine)
Oomk Zine
Owen D. Pomery (Between the Billboards)
Tim Bird (Grey Area)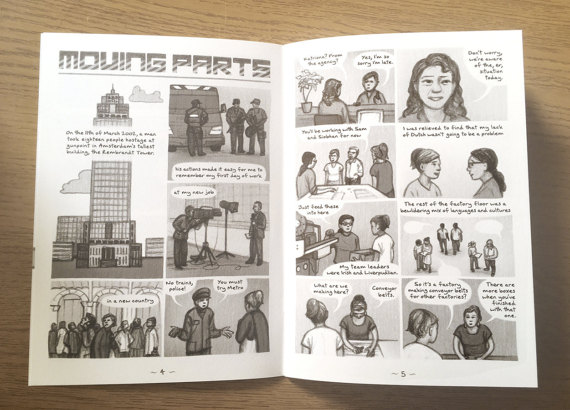 Darren Cullen (Join the Army)
Danny Noble (Ollie and Alan's Big Move – below)
Emma Raby (The Dead Moon)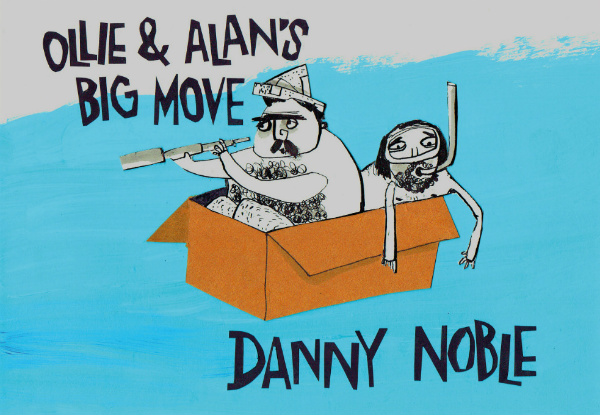 Emix Regulus (Hepatic Portal)
Mark Pawson
Elizabeth Querstret (Walks with LuLu – below)
Monsters Emporium Press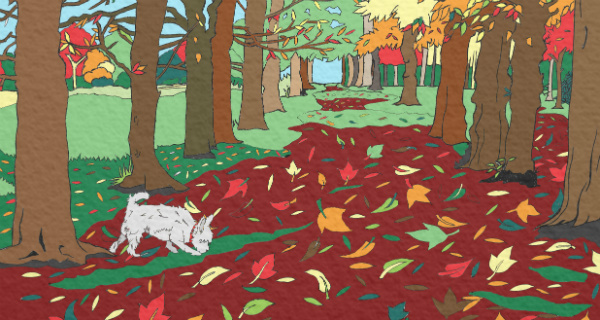 Nathan Cowdry
Cat Sims
King Louie's Lab
Good Comics (Cosmos & Other Stories – below, Human Garbage)
Clod Magazine
Paul Ashley Brown
Tiny Pencil (below)
Otto Press

Dalston Comics Club
Joe Decie (Collecting Sticks)
Lizzy Stewart (It's Not What You Thought It Would Be – below)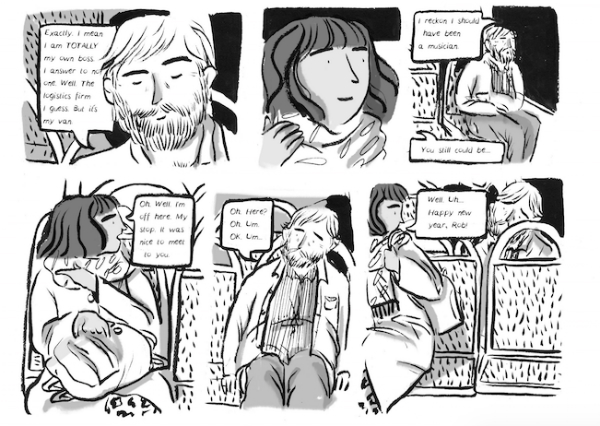 For regular updates on all things small press follow Andy Oliver on Twitter here.