SLCZF 2023! Our South London Comic and Zine Fair fortnight off coverage begins today with an opening interview with the SLCZF team, With an expanded exhibitor base and a slew of community-based programming, SLCZF 2023 is set to build on the successes of last year when it established itself as one of the most important indie events on the calendar. We spoke to the SLCZF organising team of Rebecca K Jones, Peter Morey and Chloe Starling about what we can expect at Stanley Arts on July 16th…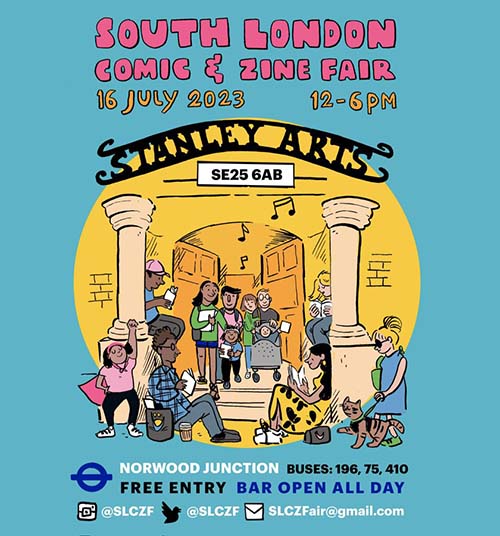 ANDY OLIVER: Let's start with the introductions and a rundown of this year's organising crew. Who makes up Team SLCZF this year?
SLCZF: This year the team is Peter Morey, Rebecca K Jones and Chloe Starling. Though as ever, we have worked with the guidance of our predecessors, most notably the SLCZF 'Founding Father' Gareth Brookes.
Peter is a cartoonist and graphic scribe, who has just completed a long form comic that he has been putting out in episodes on the UK small press scene since 2018. He feels the relief of having it finished, it's called Endswell and all 5 episodes are collected in a special 'box set' (slipcase). He has also done a lot of the 'corporate branding' of SLCZF since 2022.
Chloe  is a comic creator and illustrator who won the Manga Jiman Award in 2020. She works as an academic librarian and loves to be creative in her spare time, with a weakness for speculative stories and fantasy. This year, at SLCZF, she'll be supervising the adult library where people can take a break from the fair and read comics in a relaxed, quiet environment.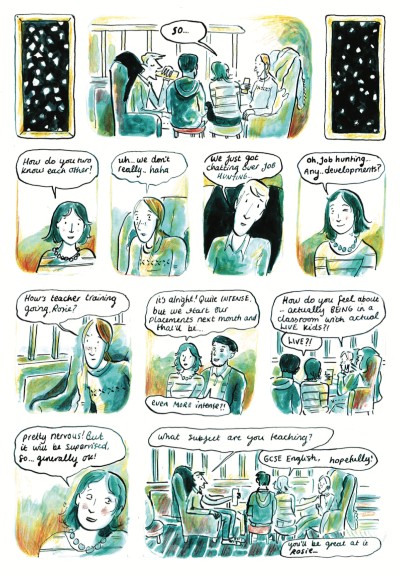 Rebecca has been active in the small press community for a number of years.  Her Cat Disco comics have sold very well at comic fairs,  as well as her more 'serious' long form comic-in-progress (above), Boomerang.  In 2022 she was the winner of the Observer/Faber Graphic Short Story Prize. This year she designed the SLCZF flyer in collaboration with Peter Morey. 
AO: Last year saw SLCZF return after a four-year absence to great acclaim. What was some of the most rewarding feedback you received about the fair?
REBECCA K JONES: We received some really lovely feedback about the fair being very community minded and non-heirachical in its nature, which we were really chuffed about, because we wanted a community spirit at its heart, both for the comics community and the local community too. We wanted a space where everyone, including people who were new to the comics medium could feel really welcomed and be encouraged to feel immersed in the day, so we hope that came through. Also, hope it's not trite to say but people reported making lots of sales too!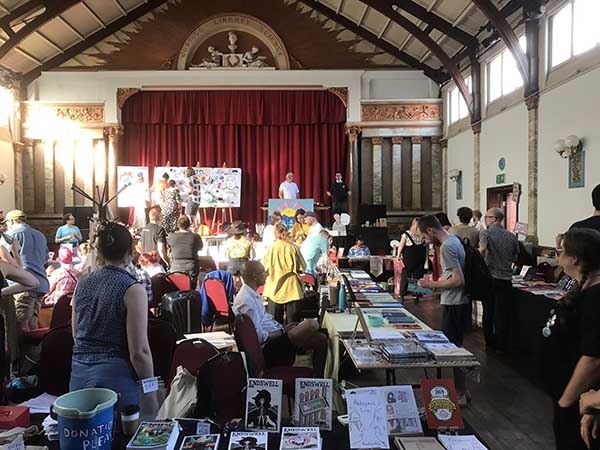 A view of the hall at SLCZF 2022
PETER MOREY: I would say the same: somebody said it felt like Comics Christmas for them! And also, just seeing young people and their families get involved at the fair was fantastic. Not only via the all-ages library area, but also comics being made by young people and sold via the communal table, like The Spatula, Comic Forest, Crash, Bang, Splash! and Plastic Invasion. A lot of that was via the efforts of Helen Jones, who looked after that area and ran a comics-making workshop. This all reminded me of the incredible Bibbly Bob the Seal comic which emerged from the first SLCZF in 2017.
CHLOE STARLING: I volunteered in the all-ages library last year and the positive buzz of everyone at the fair was the best feedback! It definitely made me want to reach out to offer more help this year.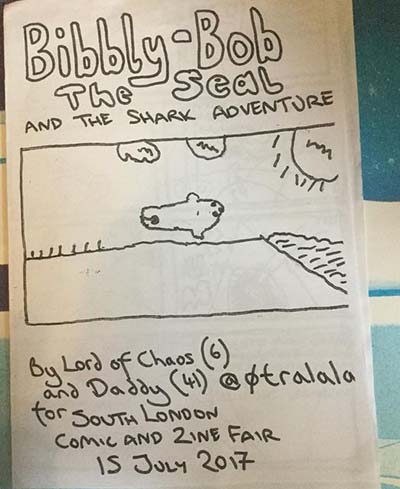 AO: Following on from that what were some of the biggest challenges of last year and the most important lessons you learned?
JONES: Probably the amount of elements that have to fit together for the day to take place and the power of having supportive volunteers around you. We were really bowled over by how many people offered to help to make the day a success, from volunteers on the communal table, to stewards, to those who helped us set up and take down. We needed it desperately!
MOREY: Marketing was also a challenge. Not only pitching the fair within the comics community, but engaging people in the immediate and surrounding areas to ensure we got plenty of people enjoying the event, some of whom may even have been entirely new to reading comics!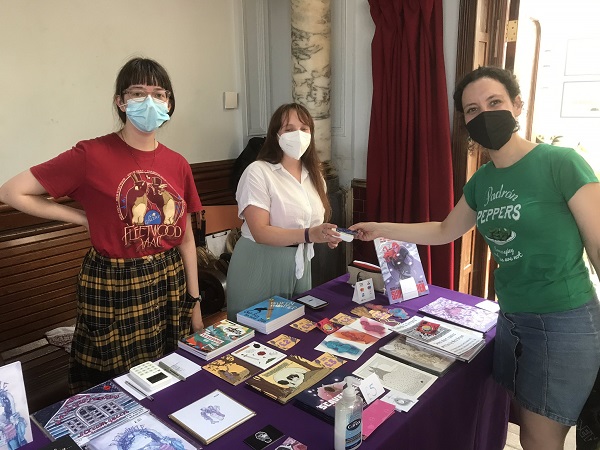 Our 'Six to Watch' artists at SLCZF 2022 – left to right Beatrice Mossman, Sammy Ward and Alba Ceide
AO: This year's exhibitor list looks beyond just the London scene. What was your curatorial process for SLCZF 2023?
JONES: This year we decided to open up to applications, mainly because we were conscious of bringing in new creators to keep people visiting. We were also aware that 'by invite only' could keep us within our comfort zones with whatever unconscious biases and personal connections we have. We felt it was important to allow a process for creators to make themselves known to us. 
MOREY: We then worked as a panel making our own selections and then cross-referencing to ensure that we had a varied line-up of diverse creators.  This year we have a great mix, from South Norwood and Crystal Palace locals to those travelling from further afield.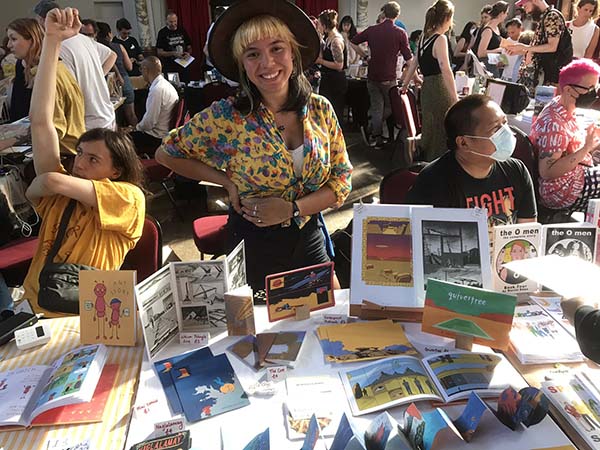 Mereida Fajardo at SLCZF 2022
STARLING: This was my first time being involved in a curatorial process for a fair and it was a big eye-opener about how many things we needed to take into consideration. For example, making sure we have a good mix of different genres and a range of diverse topics on offer. It was also important that we selected people whose focus were comics and zines, not illustration or art prints. 
MOREY: That's a really good point, I think another principle we had was how much we all value the reading/storytelling aspect of the fair.
AO: You've collaborated with Avery Hill Publishing on a series of panel events for this year's SLCZF. What are the focuses of those panels and what sort of talking points were you keen to cover?
STARLING: Avery Hill Publishing have put together an amazing talk schedule with a focus on the small press community. They have programmed talks on both how to organise comic fairs and start a small press publisher, something everyone would like to see more of! There are also some amazing guests with Isabel Greenberg on the panel about self-publishing vs. publishing, and a special talk from awarding-winning Czech graphic novelist Vojtech Masek.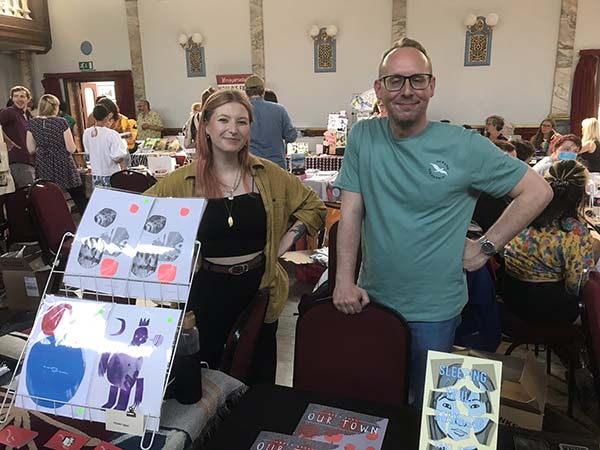 Peony Gent and Dave White (Avery Hill) at SLCZF 2022
MOREY: The driving force behind the curation of the panels was Kat Chapman at Avery Hill. I feel like, beyond inviting AHP to curate, I mostly just have supported with technical things and some graphics. Speaking from that point of view, I do think that Kat's process comes from a keen awareness of what SLCZF has always been. It also comes from a sensitive dialogue with us, with SLCZF founder Gareth Brookes, and the various people that have been invited. If I were to be so bold as to say what the overarching theme of the programme is, I would say it is 'building capacity and capabilities within UK comics'. It seems important that people can be inspired to build from the grassroots, to keep the medium alive by growing both their individual creativity and a shared infrastructure. A lot of the talking points will likely stem from that, except where they don't.
JONES: I'm particularly excited about the talks about self-organisation, 0rganising comic and zIne Fairs (with Mereida Farjardo, Joe Stone, Gareth Brookes and Chloe Green) and establishing a publishing company (Dave White, Rozi Hathaway, Tom Oldham and Tom Murphy).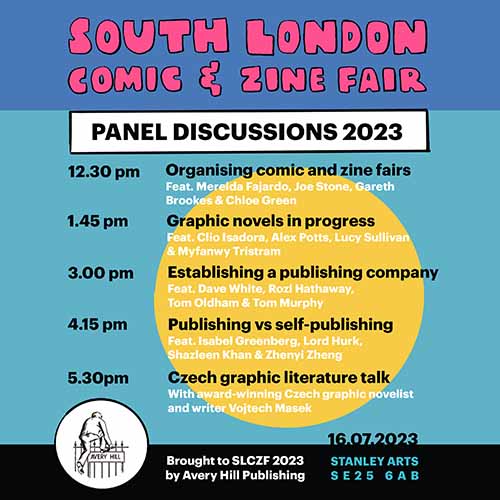 AO: What other programming can we enjoy this year? What's new and what's returning from 2022?
JONES: In addition to the Panel talks, the all-ages reading library is returning, which received really positive feedback for being a quiet space where younger readers could relax and enjoy some of our own collections. 
MOREY: We'll have the return of Henry Miller DJing for part of the day. Megaphone Comics/Josh Knowles will be returning to the stage, for some live participatory stage-set art.
STARLING: The adult-reading library is being fused with a community hub. So it'll both be a space for some quiet reading, the British Library Legal Book Deposit where comics and zine creators can donate their self-published work, and some handouts for readers and creators. One handout will be the well-being comics anthology created by the Society of Authors.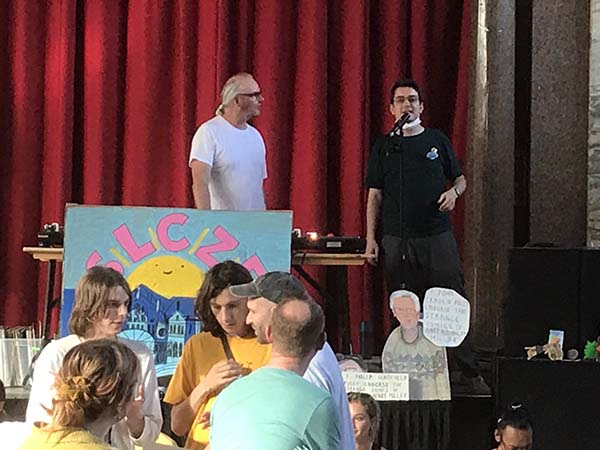 DJ Henry Miller with Pete Morey at SLCZF 2022
JONES: What is also new is due to the high number of applicants we have expanded to a second hall, meaning there will be even more comics to explore this year.
MOREY: As ever, the Communal Table will be allowing creators to submit 3-5 copies of one comic of their choice, which we will sell on the day. 
AO: As we continue to move away from (hopefully) the worst of the pandemic what are your thoughts on how the small press scene is rebuilding after years of limited in-person events? What role do you see SLCZF as having in the comics community?
JONES: The main thing we're noticing is how many smaller events are popping up, which are very valuable…
MOREY: Yes, especially for small press creators. The economics just work better for creators at these kinds of events, the ones which are built by and for communities of creators and readers.  Anything that can catalyze those sorts of things is good, especially by practising collective and collaborative organising among all kinds of small press scenes (genres?) and attracting all kinds of different audiences. So I suppose that's the sort of role that SLCZF hopefully has… a catalyst.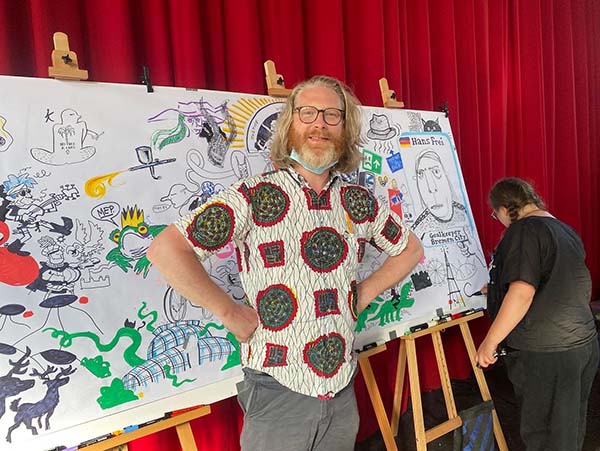 STARLING: I would love for SLCZF to be an inspiration for others in the community to try organising their own events and fairs, which were very much missed during the pandemic, so that a sense of community can grow and people can have a space where they feel a sense of belonging.
AO: And the obvious final question… what are some of the comics projects you're excited about checking out at SLCZF this year?
JONES: I'm really looking forward to checking out the work of Leo Fox, SK Schafer, Chloe Green, Shazleen Khan, Anu Ambasna, Pietro Soldi and Thiago AMS. Also, I need to get myself a copy of Gareth Brookes' new concertina book of course! 
MOREY: I'm excited to explore work by Ed Pinsent, Kai Reynolds, Chloe Green,  Jack Brougham, Anu Ambasna, Pietro Soldi, Esther McManus, Jess Green and of course, if I'm lucky I'll snap up a copy of Shelly Bond's book Filth & Grammar before they're gone.
STARLING: One great thing about being involved in SLCZF is finding out about creators, so I'm interested in checking out Azbt Taylor and Zoe Pencils. I'm also a big folklore fan, so will definitely be at the tables of Myth & Lore Zine and Kamila Krol. More personally, I'm involved with WIP Comics, so very much looking forward to checking out the collectives' comics, and WIP Comics are also launching a Kickstarter for the first time, so very exciting!
SLCZF is held at Stanley Arts on July 16th. More details here.