SLCZF 2023! Last year at Broken Frontier we followed the progress of the Reveal! Awards; an initiative for championing the work of women comics artists from Kenya, Tanzania, Rwanda and Uganda, as well as UK artists with heritage from those countries. A collaboration between LDComics and Kymsnet Media Network, the winners were announced here last August and included work from today's subject of review, Nancy ArtMusic.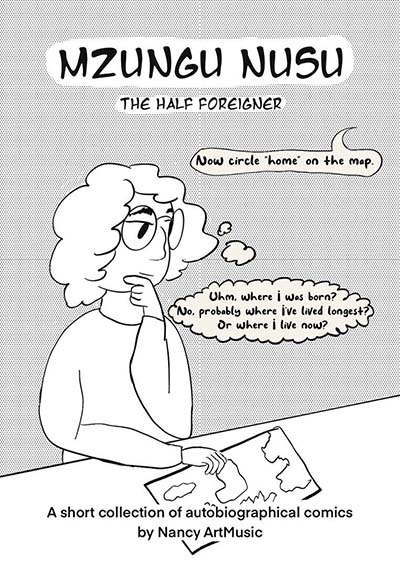 That comic, Mzungu Nusu: The Half Foreigner, will be available in print at this weekend's South London Comic and Zine Fair alongside some of the artist's other self-published work. A mini-anthology comic Mzungu Nusa explores themes of identity and self-perception with an emphasis on black women's hair (a subject getting multiple spotlights recently including the acclaimed Wash Day Diaries and Frizzy) and being mixed race in the UK around the time of the Black Lives Matter protests.
Nancy ArtMusic describes herself as "a half Latvian, half Tanzanian woman with an American accent living in London" and that idea of fragmented, multiple cultural identities is a central motif of Mzungu Nusu. Two main autobiographical strips make up the comic. The first is 'Hair' wherein she looks back on her childhood and how her hair became a source of distress to her, to the point of considering it to be "broken".
'Hair' is a story of extremes. One that recounts how her mother made her wear wigs as a child to cover her "bird's nest" curls and how she eventually took the drastic course of cutting it all off. But it's also a story of eventual self-acceptance and understanding, as past Nancy comes to re-evaluate her relationship with her hair. Her honest narrating style succeeding in drawing the reader more fully into those formative early years.
The second main story is 'Do You See Me?', dealing with her experiences as a mixed race woman during the pandemic in the wake of the brutal killing of George Floyd. It starts with accounts of casual racism during Nancy's early days in the UK, ranging from micro-aggressions to the pointedly ignorant, through to outright workplace injustice. Its main thrust though is the Black Lives Matter protests, her resulting reflections on her own identity, and the reactions of white friends to the news. There's an understated potency to some of the scenes here, particularly the coda to the strip which sees her questioning her inability to confront the privileged takes on events she observes.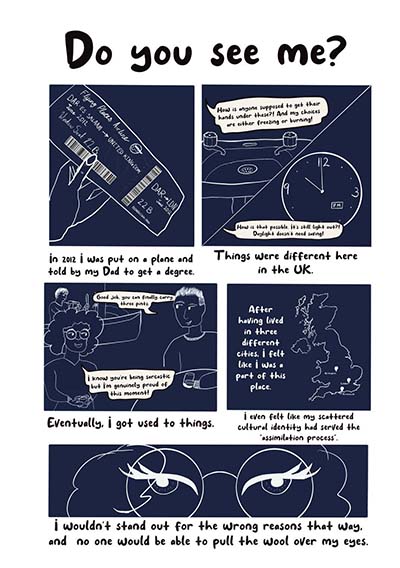 Visually Mzungu Nusu: The Half Foreigner isn't elaborately illustrated but, as I have already noted in this year's Broken Frontier SLCZF coverage, autobio comics are often all the more expressive for that rawer quality which lends them an added layer of authenticity. The negative "etched" effect to her pages (white linework appearing carved into a colour background) allows the key sequences to be presented in stark relief and, while lettering choices can be occasionally awkward, there are some carefully crafted moments of pacing that really drive home the messages she looks to communicate.
Another comic representing the challenging times of recent years but with a distinct perspective Mzungu Nusa is a fine addition to the strand of comics as social record in these troubling post-2020 times.
Nancy ArtMusic • Self-published, £5.00
Review by Andy Oliver
SLCZF is held at Stanley Arts on July 16th. More details here.