SLCZF 2023! Whether it be the understated slice-of-life drama of Playing Out or the wonderfully silly hilarity of the lengthily titled Sgt. Chip Charlton and Mister Woofles of the Royal Canadian Mounted Police it's impossible not to have a certain affection for the gently humorous worlds of cartoonist Jim Medway. Recently collected by Bog Eyed Books, those fine indie purveyors of all-ages excellence, Crab Lane Crew compiles the first "season" of Medway's 2008 strip from the pages of The DFC, the precursor to long-running UK kids weekly The Phoenix.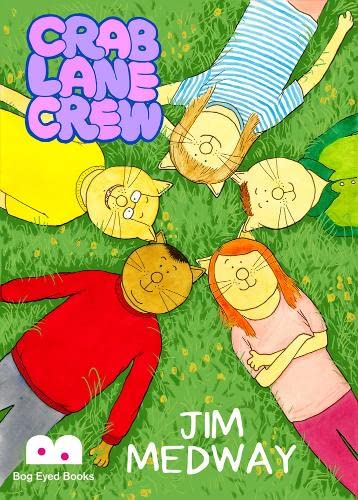 What marks Crab Lane Crew out as something a little different for its time was that rather than featuring discrete, done-in-one stories it had something of a semi-serial approach, with continued storylines and subplots. The Crab Lane Crew are a small group of childhood friends made up of Scott, Mark, Keeley, Chris, Ahmed and, later, Claire. Their exploits aren't so much comedic or slapstick but rather recognisable and familiar. The kinds of things we all did to kill time in a pre-internet childhood – misadventures in the woods, camping "out" in the garden, and building bike ramps to entertain ourselves.
In fact it's only Medway's depiction of the kids as anthropomorphised cats that separates the strip from our own reality. The experiences they have, though, remain near universal. In its own quiet and modest way Crab Lane Crew also touches on some of the more difficult aspects of childhood. An early storyline sees the kids facing the prospect of Scott moving away with his parents and the arrival of Claire and her family as the new occupants of Scott's old house. It's gently and poignantly underplayed but events are all the more affecting for that subtlety.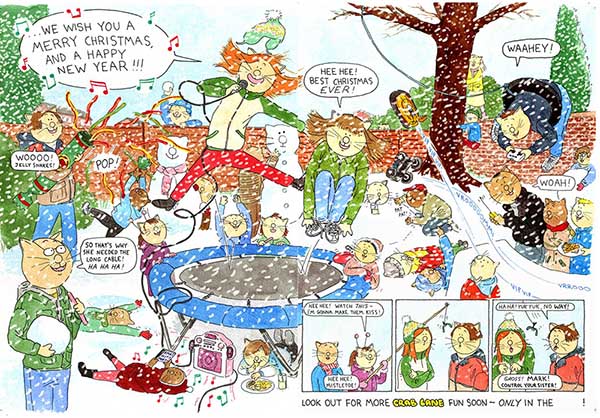 This is earlier Medway and a revisitation of his work when he was still establishing his cartooning style (as he mentions in the book's introduction) but the vibrant colours and expressive visual characterisation really capture the exuberance of childhood and the importance of the early friendships that shaped us. Heart-warming and undeniably good-natured in tone Crab Lane Crew is just one of the many all-ages gems you can pick up from the Bog Eyed Books table at SLCZF this weekend. £
Jim Medway (W/A) • Bog Eyed Books, £9.99
Review by Andy Oliver
SLCZF is held at Stanley Arts on July 16th. More details here.