While debate remains open on whether it's pronounced Slick-Ziff, Sluk-Zuff, slƏzƏf or any other number of variables there's one thing we can all agree on. This year's South London Comic and Zine Fair on Sunday, July 16th was an absolute triumph on every level. In its second relaunched year (and fourth event in total) this expanded version of SLCZF took over two exhibitor halls in Norwood's Stanley Arts centre, with kids and adult reading rooms, and a fantastic programme of talks organised by Avery Hill Publishing to supplement the proceedings.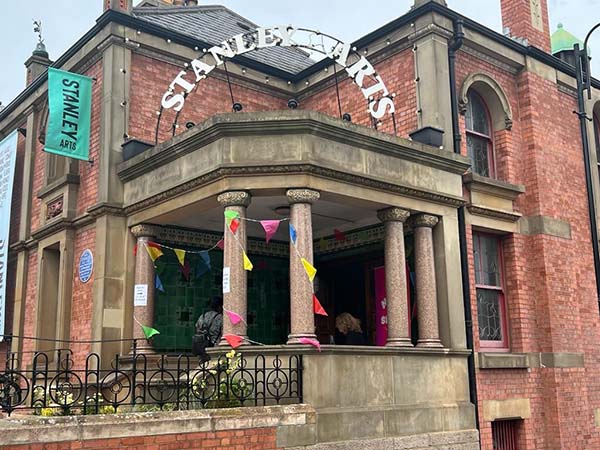 Stanley Arts. Photo credit: Rebecca K. Jones
With so many comics festivals and fairs either coming to a natural end or been lost to the pandemic in the capital in recent years, SLCZF has become a reminder of what comics community does best when given a chance. A truly welcoming event, the organising team of Peter Morey, Rebecca K. Jones and Chloe Starling put together a day that was inclusive, diverse and, yes let's use that word again, community-spirited.
The Stage Hall. Photo credit – Ria Grix
With an emphasis on the grassroots and indie side of publishing, SLCZF opened up to artists from outside the capital this year (and our own Broken Frontier table included our very special guest from the US Shelly Bond of Off Register Press/Black Crown/Vertigo fame). The result was a celebration of the breadth and depth of the astonishing creativity of the current UK scene and a testament to the power of collaboration.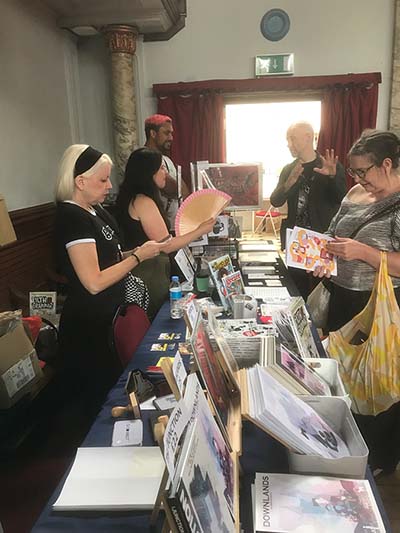 Shelly Bond, Kry Garcia and Shane Melisse at the Broken Frontier table
The photos here largely speak for themselves but it's important to underline just why the South London Comic and Zine Fair was so especially important in 2023. SLCZF represented opportunity. While our self-publishing/micropublishing comics arena is as vibrant as ever right now it's no secret that a number of the larger publishers in the UK have been significantly cutting back on their graphic novel lists, stepping away to a degree from original work in favour of translated books, or moving more towards children's illustration.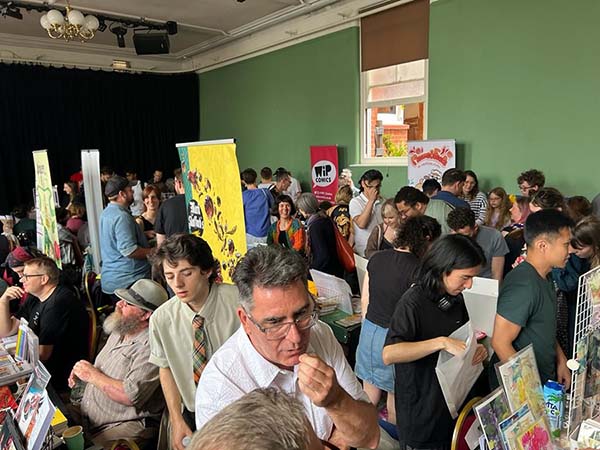 The Tribute Hall. Photo credit: Rebecca K. Jones
This is why now, more than ever, it's so vital for us to recognise how exciting, inventive and imaginative the world of small press comics currently is in the UK. Contrary to the odd recent bizarre (and largely incoherent) rumblings, we currently have a self-publishing arena that is remarkable in its diversity of approaches and styles. SLCZF gave us an opportunity to commemorate and salute that creativity.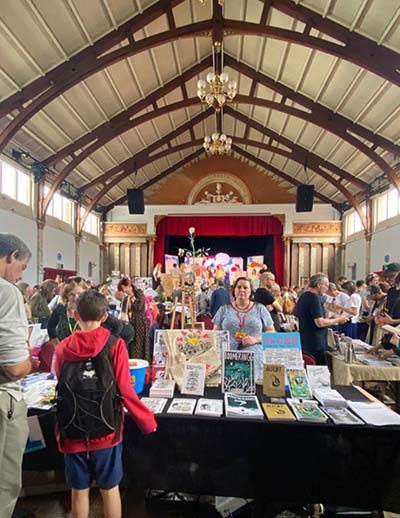 Chloe Starling on the Communal Table. Photo credit: Peter Morey
Whatever your general interests you could find it all at SLCZF: all-ages comics, socially relevant comics, abstract comics, genre comics, humour comics, experimental comics, investigative comics, literary comics, alternative comics, slice-of-life comics, autobiographical comics, anthology comics, political comics, DIY culture, zines, graphic medicine, graphic memoir, graphic biography, and probably lots of other classifications I've forgotten. We live in the most exciting times for self-publishing in the UK. Don't let anyone tell you otherwise. Just look at our pre-festival coverage here for confirmation of that.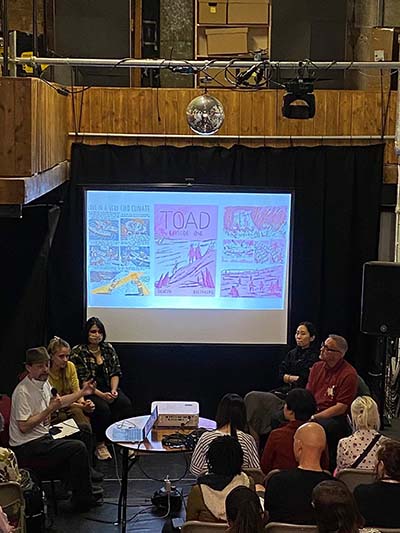 The Publishing vs. Self-Publishing panel with (left to right) Andy Oliver, Isabel Greenberg, Shazleen Skhan, Zhenyi Zheng and Lord Hurk. Photo credit: Dean Simons
If these key points in the comics calendar are to survive, however, they require additional levels of support. SLCZF is built on the collaborative ideal – an incredible core team doing the hardest work to organise such a mammoth endeavour, with others like Avery Hill putting together a day of panels covering vital talking points and giving advice to emerging talent, and platforms like Broken Frontier working to promote the event and exhibiting artists. And let's not forget to mention all the volunteers giving up their time to run the additional programming! It seem inconceivable that external funding is so hard to find for events like this when they represent, support and promote the grassroots creative foundation that British comics is built on.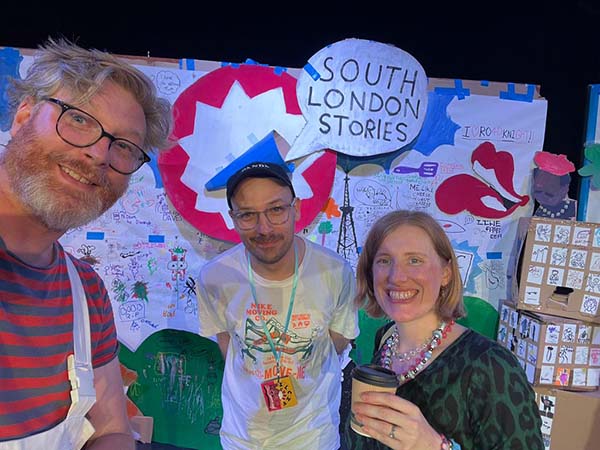 On the stage: Josh Knowles, Joe Stone and Jenny Robins. Photo credit: Josh Knowles
Whether it comes from arts funding bodies or what amounts to the "industry" in the UK it's essential that the infrastructure of comics as an art form here is given the financial underpinning it deserves. In the meantime let's all be grateful to Pete, Becky and Chloe for an outstanding day in South London! This was our London comics Woodstock moment and we have them to thank for that!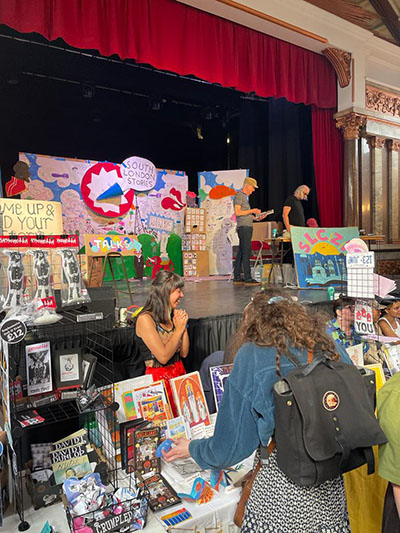 Photo credit: Rebecca K. Jones
Article by Andy Oliver