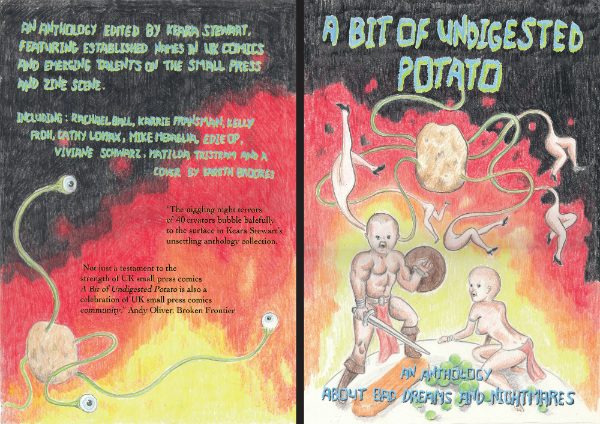 Keara Stewart's "dreams and nightmares" anthology zine A Bit of Undigested Potato is both a remarkable who's who of UK indie comics and a welcome introduction to some newer talents on the scene that you may not have heard of… at least yet. Critically acclaimed graphic novelists like Karrie Fransman, S.J. Harris and Matilda Tristram sit next to relative newcomers like Kim Clements and Ruth Collingwood while stalwarts of the UK small press circuit like Gareth Brookes, Richy K. Chandler and Andy Poyiadgi mingle with familiar 'Small Pressganged' faves of the nature of EdieOP, Rozi Hathaway and Danny Noble. What all these 40-ish creators have in common though is their willingness to share their night terrors with a larger audience, whether those slumbertime narratives are morbid, humorous or utterly terrifying in scope…
Bringing talented new creators to a wider audience is the main remit of 'Small Pressganged' but, in many ways, inspiring its readership to create their own comics is an equally satisfying feat. Keara Stewart is an artist I have known for a number of years and whose work has been exhibited at locations and events like Transition Gallery, the London College of Fashion, and The Midas Touch Exhibition. She discovered comics through Broken Frontier and has become a well-known face on – and enthusiastic supporter of – the London indie comics scene over the last couple of years. While she's been slowly building up a portfolio of small press work, A Bit of Undigested Potato represents her first major personal project. I chat with Keara today about the logistics of putting a book like this together, the wealth of creative voices involved, and the sense of community within its pages…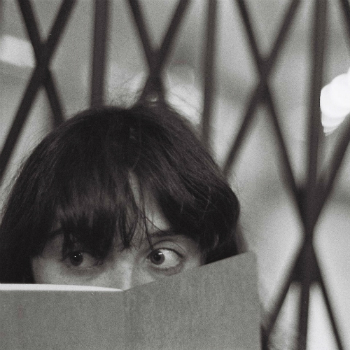 ANDY OLIVER: The world of comics is one that you discovered relatively recently. Can you give us some background as to how you were pulled into its clutches?
KEARA STEWART: Well, the answer is, you! I guess you'd tell me a lot about what you were up to with Broken Frontier over drinks. I started reading your reviews on Broken Frontier (before 'Small Pressganged' came in to being) and when I read your review of Seeds by Ross Mackintosh from Com.x, I knew I had to buy a copy. That was the first comic I ever read and it utterly blew me away. I had no idea that comics could be like that, so human and so emotional. Seeds gave me the comics bug.
Around the same time I think, you gave me Billy, Me & You as a birthday present. Nicola Streeten's voice and her drawing style in that book is what made me want to make comics. I saw how amazing comics could be in telling real stories. From there, while reading about Nicola's work on the internet, I found out about Laydeez do Comics and booked a place at their next London meeting. I remember the warmth Nicola showed me, a complete newcomer when she ticked my name off the list when I arrived at that meeting.
Everyone at that meeting was so welcoming! I realised I was sitting next to Karrie Fransman who gave me loads of tips and I consider her and the three speakers that evening, Rachael Ball, Canan Marasligil and Isobel Williams all comics buddies today! Oh, and did I mention Sarah Lightman's cakes? Comics and cake is a pretty great combination.
Work from A Bit of Undigested Potato from Karrie Fransman and Rachael Ball
As someone who has come to sequential art later than many, who do your count as your particular inspirations in comics?
Laydeez do Comics founders, Nicola Streeten and Sarah Lightman are two of my biggest inspirations. Both for their individual comics work and because they have done and continue to do so much for women (and men) in the comics community. I am also a massive fan of Melissa Mendes. I thought Lou [reviewed here in 'Small Pressganged'] was the best minicomic ever written and then I started reading The Weight. Boy, that comic is something else, full of punch and raw emotion. The way Melissa Mendes writes and draws characters is everything I'd love to be able to achieve in comics.
Kelly Froh is a creator I admire for many reasons. Firstly, the way she talks about serious subjects from a personal point of view, for example losing your job in Two Days Away from Staring at Birds from a Park Bench. And her comic The Greatest, a tribute ­­to the greatest seniors she has known and their stand-out trait, is so warm and funny. Simon Moreton (Smoo Comics) is a comics genius and one of my heroes, as you know, for his ability to create an emotional narrative with little or no words. Finally, the website where I gain endless comics inspiration from is graphicmedicine.org, created by Graphic novelist and GP, Ian Williams (The Bad Doctor).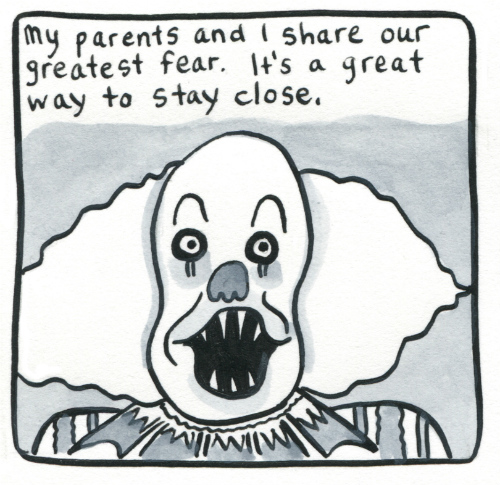 Kelly Froh's contribution to the anthology touches on a familiarly sinister theme… 
Can you tell us about your own artistic practice and the comics projects you've contributed to?
I studied at Camberwell College of Arts, where I worked across drawing, sculpture and printmaking and it's only in the last couple of years that I realised maybe I belong in the zines and comics community! My interests lie in narrative, drawing the everyday and capturing the importance of home and environment. So a lot of the projects I'm involved in relate to these areas.
In September last year, my proposal to The Midas Touch Curatorial was accepted for their exhibition titled The Common. The exhibition by TMT in The Freeholder Pub in Luton aimed to reference the community's heritage, support and celebrate these relatively overlooked representations of working class experience and pride. Some of my drawings from the show will soon be published in the upcoming Foxhole Magazine.
Comics featuring Keara's work… 
I was a guest artist in David Robertson's Dump #2 and I've recently finished a page for Dump #3. Also last year I contributed to an issue of Bristol-based Bear Pit Zine and was stoked to be asked by Richy K, Chandler if I'd draw portraits of all the creators for Tempo Lush Tales!
Although, way back in 2008, I had work in Transition Gallery Publication, Arty Zine 24. So thinking about it, my first foray into zines was seven years ago! Other illustration work I've done includes drawings for Apnalaya, a charity in Mumbai, India and also a comic pamphlet for the Mark Making project, which looks at the value of the arts for people living with a dementia, funded by AHRC led by Dr. Hannah Zeilig.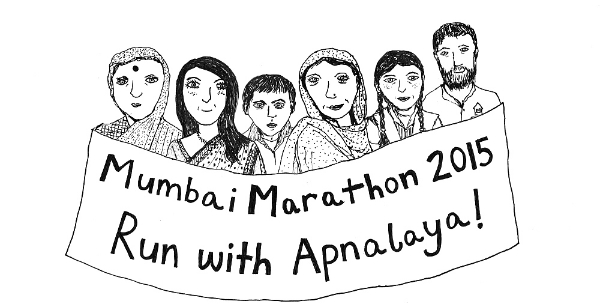 You're also a zine-maker yourself. Fill us in on your On the Escalator and Excalibur Estate zines. What were you looking to capture in each publication?
On the Escalator isa zine of selected drawings from My Journey to Work series, which were shown in a solo exhibition at Proper Old in Hackney last year. It all began on 27th March 2014, in a bid to offset the anger I felt from being pushed and shoved everyday on the tube. I decided to try and do at least one drawing on my way to work for the next week, the aim being to have achieved something positive by the time I got to work. But I didn't stop… I've made over 150 drawings of unsuspecting commuters on the underground. Even on those days where it is literally too cramped to draw, I often manage to get in a drawing on the escalator.
Excalibur Estate was my first self-published zine, made to accompany The Prefab Museum exhibition I was a part of in an empty prefab in Catford. The zine holds portraits of the estate's residents fighting to save their prefab homes. The zine costs £1 or is free to Excalibur Estate residents. Since I made this zine, many more of the prefabs on the estate have been demolished and The Prefab Museum is sadly no longer in Catford. So this zine and the memories of the community spirit of the prefab are very close to my heart.
Examples of Keara's drawings from On the Escalator and Excalibur Estate
We're mainly talking about your anthology today so the obvious questions to ask are where did the title come from and why did you choose this theme to explore?
While reading about the study of dreams I came across Dream Studies Portal, an online blog begun by the author Ryan Hurd in 2007 "to fill a need on the web for reliable and expert information about dream science, especially lucid dreaming, nightmares, and related altered states of consciousness." I'm interested in both the science of dreams and also the stories and so-called old wives' tales surrounding dreams and nightmares. Should we really not eat certain foods before we sleep? And so when I came across the following quote on Hurd's website, I knew I'd found my title: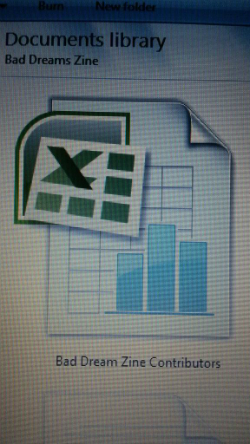 We know a few things about why nightmares happen. Nightmares are tied to stress levels in waking life. They also occur, as I mentioned, in people who have suffered intense trauma such as assault, war, or a major catastrophe such as surviving an earthquake, or a terrorist bombing. As such, nightmares are a common symptom of Post Traumatic Stress Disorder (PTSD).
Curiously nightmares also have some physical causes, such as having a fever, not getting enough air while sleeping, and eating before going to bed. In Dostoevsky's classic novel Crime and Punishment, Raskolnikov is told his nightmares are not a real problem,  probably "Just a bit of undigested potato."
In terms of the theme, I had a disturbing recurring dream as a child. Under the shade of a tree on a very hot day, also my birthday, I was injected by an old man as I reached out to pay him for a cup of squash. It's a dream that I still remember in quite some detail, while my memory of real things that happened at that age are non-existent.  I've continued to have nightmares and bad dreams ever since and have just got used to it.
For years I've been encouraged to try and draw these dreams on paper. It's not easy to share things that you'd prefer to forget, but I was sure I couldn't be the only one who lived with nightmares that had long-lasting effects. And so I wrote to friends and some of my heroes of the zine and comics worlds and asked if they'd like to contribute to an anthology on the subject. I was overwhelmed by the response…
How did the anthology take shape? What were the logistics in putting something of this scope together?
I'd had the idea to do something about bad dreams and nightmares for years. Over the last six months or so I'd begun mentioning the idea to some of my comics friends and realised that there was definitely some interest in participating in the anthology. So, following a belated birthday dinner with Wallis Eates and Elizabeth Querstret, discussing our comics dreams for the year ahead, I was inspired to get started.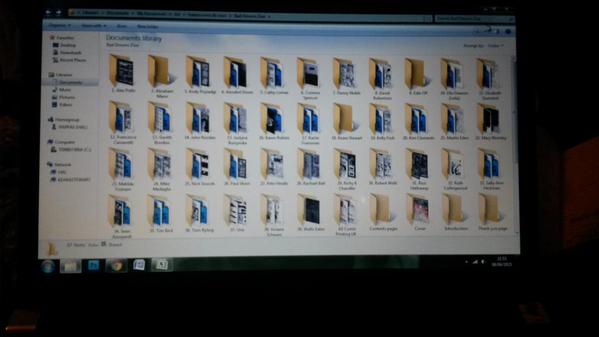 Pics above and below – illustrations of the logistics of putting together a project like this…
It all began with an e-mail, sent to friends and some of my hero creators. So many people I never imagined would actually said yes, did! It was at that point that I started 'the spreadsheet'. Due to the number of contributors, as well as a lot of admin, it also meant that there would be too many pages for the standard zine format I'd had in mind originally, which was a stapled zine.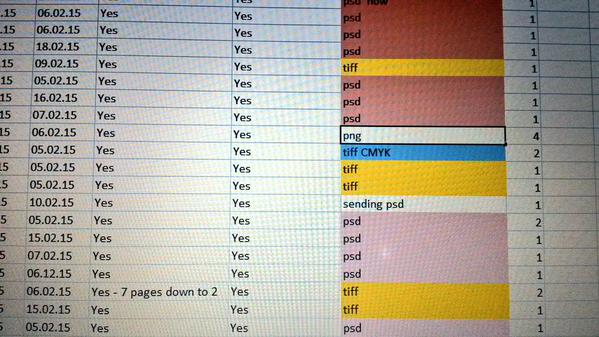 I shopped around and asked other friends in comics for printer recommendations. I ended up choosing Comic Printing UK, who gave the best value for money – not necessarily being the cheapest, but offering a lot of advice and technical help for free, where some other printers charge for this service. So, it was going to be perfect bound. That meant more money and more technical know-how was required. Step in David White, Co-Publisher at Avery Hill Publishing and InDesign expert extraordinaire. You and Dave gave me so much support throughout this process – encouraging me when I thought I'd taken on too a big a project. I hadn't intended it to be, but became so and I desperately wanted to make sure I did justice to all the amazing artwork I was being sent!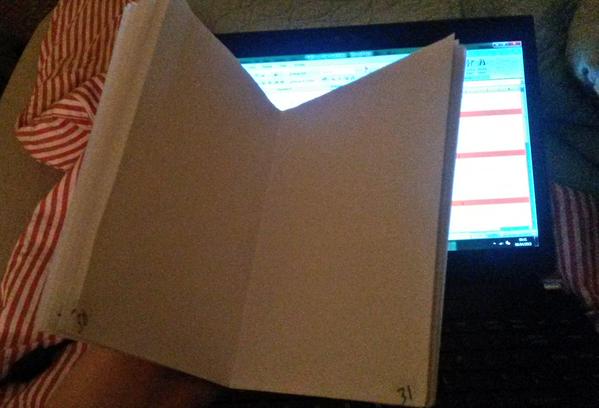 Was it important to you to have a mix of both comics and other approaches to the subject matter in A Bit of Undigested Potato? Were you looking to create something with a traditional zine feel to it?
Absolutely. I have an absolute passion for reading comics, zines and graphic novels, it's pretty much taken over my life! I wanted to put together an anthology that included some of the people I'm inspired by who are involved in zine culture but are also some of my favourite contemporary painters, including Annabel Dover and Corinna Spencer. There is a written piece included in the zine, as well as panelled narrative comics storytelling. I'm really pleased to see the varied approaches to the theme!
A Bit of Undigested Potato is notable for its mix of big names from UK comics alongside noted small pressers and less familiar names. How important was that combination to you?
Very. I feel that two people in particular have fostered this in me. Cathy Lomax, one of the contributors to the anthology, founded Transition Gallery in 2002 showing work by both emerging and established contemporary artists. While working as an intern there for a couple of years, I had a piece in a in big group show in 2008, probably being the least known artist on the scene. Being given that opportunity, to have work alongside recognized artists was such a buzz. Ravi Thornton gave Rozi Hathaway, another of my contributors, a similar break in her stunning graphic novel, HOAX Psychosis Blues [reviewed here at Broken Frontier]. This is something that I have since been inspired to do. Pay it forward, if you like.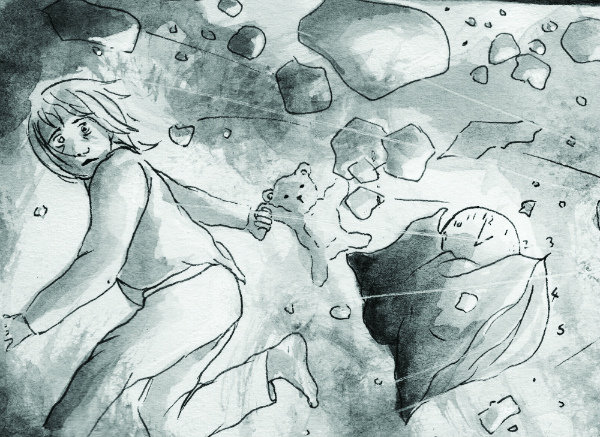 The emotional power of Rozi Hathaway from A Bit of Undigested Potato…
Could you tell us about some of the established creators who have contributed first and what you feel they have brought to the anthology?
First and foremost, I want to publically thank Gareth Brookes for his killer cover! I knew I needed a cover artist who was interested in all things weird and wonderful. I aimed high when asking Gareth and was damn chuffed when he said yes. He was the first to know the title and liked it, so when he sent me an email about the cover, I chuckled when he said 'it has a potato in it'. Gareth and I are both big fans of Kelly Froh and I have never been more excited than when I got the reply from Kelly saying she wanted to contribute – at that moment, the anthology went international! Hopefully I'll manage to get a shop somewhere in the US to stock it, due to the admired Kelly Froh being involved. I hope this may bring the work of some of the UK's small press creators to a new audience.

Matilda Tristram is also a contributor to the anthology…
Other big names in the anthology (I can hardly believe it myself) are Karrie Fransman and Matilda Tristram. Both creators have had graphic novels published in the last year to critical acclaim. The fact that they wanted to be part of what I was putting together, considering where they are in their careers, is a real honour and I think it says a lot about their commitment to the small press community. I don't have enough of a word count to talk about everyone here, but I can't stress how lucky I feel to have so many fantastic creators involved.
I can't miss an opportunity to talk about two of my 'Small Pressganged' 'Six UK Small Press Creators to Watch in 2015' who are part of your line-up. What have Danny Noble and Rozi Hathaway brought to the mix?
Ah yes, the rising stars of the small press, Danny and Rozi! To begin with they are real gems as people. However, I saw their work before I met them in person and what came across for me was Danny's wit and Rozi's emotive storytelling. Another thing both your 'Small Press Creators to Watch' share is their humility. The quality of their work has received excellent reviews, Danny is a Twitter star and Rozi is a fantastic blogger. However, they still appear nervous in the real world. All the recognition they are getting is very well deserved. Thank you for bringing them both to my attention, Andy!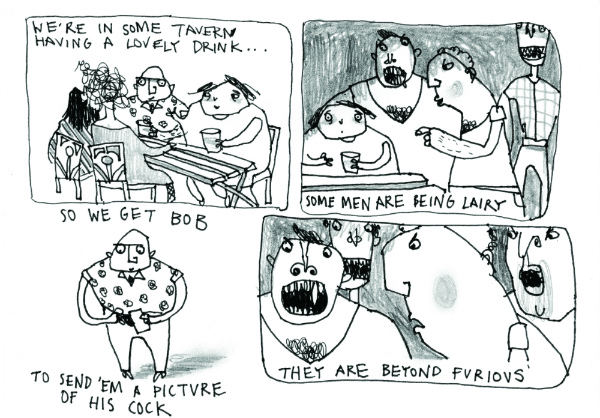 The genius wit of Danny Noble is also a part of A Bit of Undigested Potato… 
One of the exciting things about anthologies is the opportunity they afford for introducing us to artists we may not have seen before. What names should Broken Frontier readers be looking out for that they may not have heard of before?
I imagine that many of your readers will have heard of a lot of the names of people in the anthology. But there are two creators I'd particularly like to point out that are fairly new to the scene. Firstly, someone you have introduced via Small Pressganged recently is Kim Clements [Kim was covered here in 'Small Pressganged' last year]. I believe Kim is definitely going places, both with her clever comics and in children's book illustration. Secondly, I've not seen much of Ruth Collingwood's work but everything that she's produced that I have come across is so poetic and I really hope we'll see more from her in the future. I'd recommend checking out all the creators links, listed in the contents pages of the anthology. I believe everyone in A Bit of Undigested Potato has more to say and deserves your attention!

Kim Clements is one of the newer talents in the anthology… 
There's a true sense of comics community about this project. Was that a feeling that you were looking to foster with this book?
Thank you so much. I appreciate that this stood out for you and that you mentioned it in the pull quote you gave me for the cover of the anthology! This project has been a labour of love – even when I've been worried or stressed, it has never overridden the genuine joy I've felt at being able to put this together. I hope that all the contributors are pleased with the final outcome as I am so pleased to have brought the artwork of so many friends together.
The comics community for me is unlike anything else. With Laydeez do Comics, you feel like you've found a comics family, Gosh! Comics has regular events such as Process and the Gosh Reading Group. Orbital recently had Liz Prince over for a talk and a signing. Not to mention Alternative Press and DIY Cultures who put on zine fairs where you can sell or swap your stuff, listen to talks and get involved in workshops. There is so much out there and everyone is welcome. That is a community that I absolutely want to be a part of.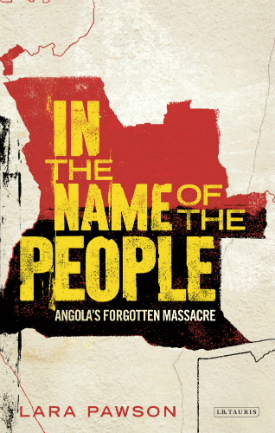 Where can readers buy the book? What fairs/festivals will you be at this year?
A Bit of Undigested Potato will debut at Alternative Press Takeover this week, on Saturday 9th May! It will also be available to buy at DIY Cultures Zine Fair soon after on Sunday 24th May. Steve Walsh has kindly agreed to stock it at Gosh! and the House of Illustration are also interested in stocking it, hurrah! I'm hoping to approach some other UK comic shops over the next couple of weeks. And it will also be available to buy from my online shop from Sunday 10th May.
And finally what next for Keara Stewart? Are there any other upcoming projects you'd like to share with us?
Sure! Along with 20 other artists, I've been invited to be part of a special exhibition at Alternative Press Takeover, in collaboration with the London Radical Bookfair. All artists have been asked to create a visual response to one of the books in this year's Bread and Roses Award shortlist. The book I have been given is In the Name of the People – Angola's Forgotten Massacre, by Lara Pawson (above).
I've also had a zine in my mind for a while. I suffer quite a bit from anxiety and my partner in crime, Nile, put together a playlist of all my favourite Reggae songs, songs he introduced me to from his childhood. When I'm not in a good place, I listen to that playlist and it really helps. The power of music, eh? Well, I want to make a zine about those songs, drawing all the musicians, a kind of a homage I guess to Robert Crumb's Heroes of Blues, Jazz & Country. So, watch this space folks. And obviously you'll be the first to know, Andy. Thanks for giving me the opportunity to chat about all this!
The full list of contributors to A Bit of Undigested Potato is: Alex Potts / Abraham Mann / Andy Poyiadgi / Annabel Dover / Cathy Lomax / Corinna Spencer / Danny Noble / David Robertson / EdieOP / Ella Dawson / Elizabeth Querstret / Francesca Cassavetti / Gareth Brookes / John Riordan / Justyna Burzynska / Karen Rubins / Karrie Fransman / Keara Stewart / Kelly Froh / Kim Clements / Martin Eden / Mary Blomley / Matilda Tristram / Mike Medaglia / Nick Soucek / Paul Shinn / Pete Hindle / Rachael Ball / Richy K. Chandler / Robert Wells / Rozi Hathaway / Ruth Collingwood / Sally-Anne Hickman / Sean Azzopardi / Steven J Harris / Tim Bird / Tom Ryling / Una / Viviane Schwarz / Wallis Eates
For more on Keara Stewart's work visit her tumblr here. You can also follow Keara on Twitter here and A Bit of Undigested Potato is available for pre-order from her online store here priced £5.00
For regular updates on all things small press follow Andy Oliver on Twitter here.