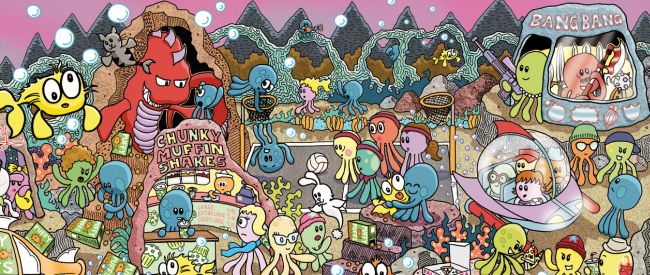 Collecting the first forty strips of creator Richy K. Chandler's popular webcomic series, Lucy the Octopus #1: Better in Small Doses takes us to an undersea realm both vibrantly fantastical, and yet excruciatingly familiar. Described by the author as "an unpopular teenage girl who happens to be an octopus", our protagonist Lucy may well be a cephalopod mollusc living at the bottom of the ocean but that doesn't stop her from being shunned by the "in" crew at school and being treated like a pariah by her own siblings.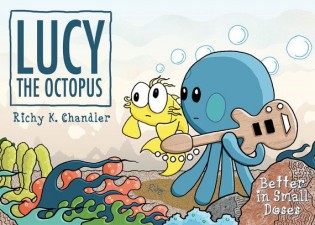 With just her pet poisonous pufferfish Puffy (yes, even her parents are in on the Lucy loathing) for regular company, Lucy traverses a treacherous daily routine of rejection and rebuke. A walking jinx, contact with outcast Lucy is considered social death among the other young octopi. But Lucy does have one release – losing herself in playing her guitar, which proves to be the one solace in our lonely heroine's life.
What Richy Chandler has created in this wickedly funny strip is a kind of deep sea Charlie Brown figure; a re-imagining of the same sort of doomed everyman that Schulz played to such perfection in Peanuts.  Just like poor old Chuck Brown, Lucy represents that central narrative figure with which the audience can identify and empathise without ever actually wanting to be. It's the inventive ways in which Lucy's inexplicable but almost infectious sense of "uncool" are portrayed by Chandler that make this such a clever enterprise. Here's a rather smart and playful example:

Lucy's world resonates so well with us because it's so easily comprehended; the fantasy underwater location a fragile facade encompassing an environment of peer pressure and teenage cliquishness. And, while we may occasionally feel complicit as passive observers in the unfortunate Lucy's daily tribulations, one of the great strengths of Lucy the Octopus is its sense of balance and those quieter, more touching entries. This gorgeously realised homage to Winsor McCay's Little Nemo in Slumberland, for instance, that underlines exactly who the audience's sympathies will always lie with:

Despite Lucy the Octopus's structure as a weekly webcomic in the newspaper strip format these aren't simply throwaway gag strips. There's a sense of ongoing story threads and recurring themes, and the feeling that we're building up to something bigger. And it's wholly evident throughout that Richy knows intimately the potential of the "canvas" he is working with here. This is an artist well aware that there are unique storytelling tricks and techniques open to him in the comics form. See the following strip in that regard… probably one of my very favourites in the collection:

What I find most fascinating about Lucy the Octopus is that there's something almost incongruous in this combination of tone and presentation. The comedy is so dark at times and yet it's all wrapped up in this vivid, effervescent and multi-hued world of guitar-playing deep sea dwellers and fashion-conscious octopi. Taking that great comic strip tradition of the loveable loser and then amplifying it to the point of distortion Lucy the Octopus is, in turns, blackly humorous and actually really rather poignant. An absolute must-read from Richy K. Chandler's Tempo Lush operation!
To read Lucy the Octopus online visit the webcomic here. You can buy the print version online here for £3.50.