Fashion illustrator and webcomics artist Zarina Liew is the creator behind manga-influenced webcomic Le Mime, the dreamy The Art of Sleep collection and her new fashion-based webcomic The Higgs. She was also a collaborator with Richy K. Chandler on the charming Rosie and Jacinda. Earlier this year I reviewed the first print collection of Le Mime here remarking "there's a sense of surreal slapstick to the sometimes playfully adversarial relationships between the cast, and it's the gentle, amiable humour that makes up that character interplay that makes Le Mime such splendidly good fun."

Continuing our ongoing series of "Small Press Spotlight on…" interviews with some of the most intriguing self-publishers on the current SP scene, I spoke to Zarina about how the world of fashion informs her sequential art, her manga influences and the difficulties of translating the art of the mime to the printed page…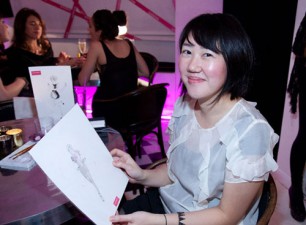 BROKEN FRONTIER: To begin with, could you tell us a little about your work as an illustrator and your entry point into both small press and webcomics?
ZARINA LIEW: I've been a fashion illustrator for the past five years, commercially illustrating for retailers, fashion events and make-up brands. My style is typically organic, home-grown and traditional – I rarely employ digital techniques to my work and mainly use inks, watercolours and brush pens.
(Zarina Liew showing some of her work – above right. Photo courtesy of James Basire)
My entry point to small press probably started about five years ago too – I remember joining a comic fair in Camden to try and sell my art prints (since there weren't many other outlets to sell your work directly to the public). I didn't have any idea or expectations about what would happen, but I made friends with some fellow small-pressers who introduced me to the world of self-publishing and it all just took off from there!
Getting into webcomics was a natural step and extension from self-publishing. When I started Le Mime though I had no idea there were millions of other webcomics out there, so it's been fun to get inspired and learn from others along the way.
BF: Thinking about those two distinct strands to your art now – your work as a fashion illustrator and your comics projects – to what extent do you feel each one informs and influences the other?
LIEW: I think they are both intertwined and equally important influencers. Sure, my fashion illustration work is my creative "bread and butter" as I am able to work on more commercial projects in this field. However, comic art is a way for me to express myself personally and freely. Plus both strands are about storytelling, the ability to illustrate a point, attract and engage with an audience, so I think as I learn and develop my understanding of my fashion illustration style, I also do so with my comic art. Also, as one style is serious and intense, the other can be playful and light hearted – I feel that the contrast gives me some sense of creative balance, which I appreciate.
Some recent examples of Zarina's fashion illustration work
BF: There's something almost hauntingly magical about your fashion illustration work, particularly your often very vivid use of colour. That's something that carries over into your The Art of Sleep collection of dreamlike imagery and short comics with its wistful watercolour feel. In terms of style which artistic medium are you happiest working in?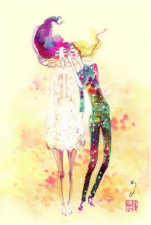 LIEW: I think it will always have to be inks! I have grown to love and appreciate manipulating and painting/drawing with inks and I love how vibrant colours can be with this medium. Actually, the whole of The Art of Sleep was created with inks. You can use them like watercolours, or like tie-dye. Lately I've started using watercolours, for my webcomic The Higgs – here the effect is a lot more delicate, light and airy, but still, I am loving experimenting with a more subtle medium.
Very recently, I have been dabbling with digital art, but in my own way and own style – this is quite fun as I can play around with more graphic elements and block colour, it makes my work seem different, teaches me to be bolder too. Don't worry, I will always stay true to inks!
BF: The manga influence to your comics is, obviously, very pronounced. Indeed, you have also run workshops and talks about manga art in the U.K. What initially drew you to that realm of comics and what creators/series do you count among your greatest inspirations?
LIEW: I have always grown up reading comics and watching anime. My older siblings were big fans of the early Manga UK collectibles and Marvel comics too, so I enjoyed all forms of comic storytelling and branched out to collect Indie titles in my early 20s. I'm drawn to manga more than western comics purely because it's a little more self-indulgent, less speech bubbles filling up space, a bit of landscape porn and slower pacing of panels and subtle plot twists. Although there are some gems from western comics that have been big influencers for me too.
My greatest inspiration has to be Rumiko Takahashi's Ranma ½ manga series. Call it slapstick and slice-of-life comedy but I believe that she is one of the masters of comic storytelling. She appeals to all kinds of people, all ages and her style is so simple but effective. Plus, she just keeps dishing out the comedy in a way that works so well in comic form, it's perfectly timed. Other influences have been Kiriko Nananan's Blue, Terry Moore's Strangers in Paradise, Craig Thompson's Blankets to the Sandman series, in particular 'Brief Lives'. I could go on, but when I think, who was it that made me interested in drawing and comics, it always comes back to Rumiko Takahashi.
BF: Your webcomic Le Mime (see our Broken Frontier review here) now has an established online presence with one print collection already published. For those readers who have yet to be introduced to Le Mime's world of slightly slapstick surrealism and endearingly oddball characters what is the strip's premise and can you talk us through the genesis of the project?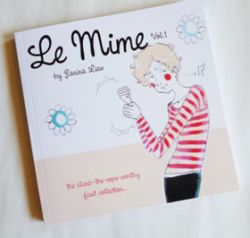 LIEW: Le Mime is basically a story about a fledgling mime artist who is struggling with his skill set, trying to fight the realities of life, but supported by very strong-willed, and quirky friends, so, it's all kind of ok in the end. I guess it's not a comic full of life learnings or in-depth insights, but a story of friendship and creative ambition, the main focus being friendship and support.
No matter how strange some of the characters are, I still want them to be lovable, since no one is perfect, and life is serious enough, so I want people to smile and chuckle when they read Le Mime, or smile quietly to themselves because they are in love with a character's element, at a particular point in time. This is a hard question to answer Broken Frontier! I guess, when I think of Le Mime, I think about the strange but lovable friendships we form in life, and how important they are to us.
BF: One of the most noticeable elements of Le Mime is how successfully you translate the intense physicality of the mime artist to the printed page to great comic effect. How challenging has it been to capture that very distinctive art in comic strip form?
LIEW: It's been very challenging because my illustrations have to be 110% clear. I can't fudge any action, I can't explain what I'm trying to do with speech bubbles, I need to be confident that whatever I am illustrating, everyone will read it visually, and get it. This meant that for the book, I had to re-draw strips that I published online – it's funny because when you're under time pressure of a weekly strip you sometimes don't draw to your best, but on re-reading them, they didn't make sense or I struggled with poses etc so I needed to re-draw them.
The quirky cast of Zarina's popular webcomic Le Mime
Thankfully I have a close group of friends who help critique my work and are honest when something doesn't make sense. I guess I'm a perfectionist with Le Mime, but I personally hate it when I am reading a strip and I don't understand what's going on! So I really need to get actions right in my comic art, even if that means taking photos of myself miming…
BF: You collaborated with Richy K. Chandler of Tempo Lush fame on the feelgood Rosie and Jacinda, ostensibly a story in the great tradition of the school-set strips of British girls comics, but one with an extra fairy tale layer to the proceedings. Do you and Richy have any plans to revisit those characters again in the future?
LIEW: Maybe. Never say never! We created it so it would work as a standalone strip, but could also be developed if needed in the future. It was super fun to do and to work with Richy, who I respect a lot and learnt a lot from too about comic storytelling and structure. I guess, watch this space for a Rosie and Jacinda – Lucy the Octopus meets Le Mime collaboration?!
The trailer for Rosie and Jacinda above
BF: This year saw the debut of your fashion-based webcomic The Higgs which, I think, rather neatly encapsulates all sides of your work in one package. What was the origin of the concept behind The Higgs?
LIEW: I wanted to illustrate a story that wasn't chronological or too purposeful but just pleasant to look at and lighthearted. I love the disjointed effect of early 1950s children's illustrations where the text and picture don't always relate and you get a sense that something is lost in translation. In the world of The Higgs, something is lost in translation, but you just have to go along with it. You muddle through the snippets of story I give you but you don't mind because it's slow, inviting and full of fashion.
Meet The Higgs – modelling some of your favourite designers' clothes!
Fashion plays a large part in it because I feel that through this comic I am celebrating fashion freely, and actively being inspired by it too, and it feels in context, so it feels right. I hope that's the feeling I give, anyway! The Higgs is still in its early stages and I chose to publish it in Tumblr because it's a social platform I really love, and wanted to experiment with. I also plan to make it interactive and will start involving more of the fashion industry (i.e. have outfits for The Higgs handpicked by those working in fashion) – so, watch this space!
BF: And, finally, what's next on the horizon for Zarina Liew? Are there any upcoming new projects we should be looking out for?
LIEW: Well, apart from launching my new website and online shop (which I have been sitting on for ages I know!) I am working on a series of black and white manga stories that have a more adult feel and context to them. I will still be illustrating them in my comic style, but these will be stories that are quite personal to me, and will be challenging, because, rather than relying a lot on my art style, I have to make sure the stories are strong enough on their own as well, otherwise the read won't be satisfying. I guess it's been a childhood dream to self-publish a full on black and white manga series but I have always felt that I'm a better illustrator than storyteller. This time, I'm going to give it a go. Of course, I'll send them over to you when finished, see what you think!
I am also planning a series of art workshops based around watercolours and inks. I currently have an extension to my studio which I can develop as a workshop/comics library space. The problem is having the time to clear it out and prepare it – once it's really for public use, I'd love to hold art days filled with my homemade cakes and cookies, a lovely space for artists and students to inspire and create! I'm afraid, for now, this is another watch this space situation!
For more on Zarina's work check out her website here. You can catch up with the latest adventures of Le Mime and his friends here and drop into the world of The Higgs here. You can also buy a print copy of Le Mime from Zarina's online store here and Rosie and Jacinda can be bought here.