German small press creator Sharmila Banerjee's Cocoon Motel is a darkly comic 14-pager detailing the life cycle of the Atlas moth. It's published under the Salmiak imprint, part of the Treasure Fleet collective of small press distribution in Germany, who could recently be seen talking at Nobrow's ELCAF festival on the mission statement and philosophy of their group.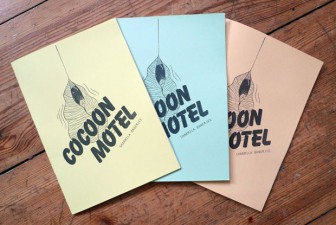 Now, not being a committed student of the world of lepidoptera I can feign no particular insights into the mating rituals of the specific moth in question. However, from the little I can ascertain the poor creature in question does, indeed, have a life cycle that seems to embody one of those cruel little whims that nature throws out on occasion. Essentially it's simply gorge-pupate-copulate-die with the actual moth segment of its existence being a brief search for a mate and then immediate death.
Banerjee elaborates on this by depicting their life cycle as a kind of tragi-comic farce that begins post-cocoon with an almost super-heroic but ultimately doomed quest to procreate. What's terribly witty here is that not only does she anthropomorphise the moths themselves but she also re-interprets elements of their brief existence with very human characteristics. Hence the book's title and little sight gags like caterpillars entering "All You Can Eat" buffets.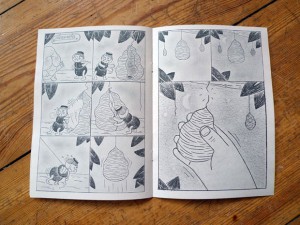 Visually, the closest person to her in artistic style I can think of in the British small press scene would be Donya Todd. That same kind of combination of the morbid wrapped up in the childlike is very much on show here.  With a finale that reminded me a little of that of Beginner's Luck (reviewed here in 'Small Pressganged' just last week) this is a short but worthwhile introduction to Banerjee's work. I'll be looking at more work from the Treasure Fleet collective at Broken Frontier in the weeks to come…
You can order a copy of Cocoon Motel online from the Treasure Fleet shop here. For more on the work of Sharmila Banerjee check out her site here.

Follow Andy on Twitter for regular small press updates.