The second East London Comics and Arts Festival (ELCAF) hit the U.K.'s capital on Saturday boasting an amazing array of altcomics, indie publishers, micro and small pressers from across Europe, all together in Bethnal Green's York Hall. Founded by renowned Brit publishers – and those great champions of printed sequential art – Nobrow Press, ELCAF is an event that puts the emphasis on the graphic art element of comics with a host of talks, workshop events and video screenings.
While most comics festivals have to wait a few years to be so successful that they outgrow their original venues, last year's debut ELCAF was such a precocious little tyke that it had become too big for the Village Underground about a couple of hours after opening. This year the event had moved to the far more spacious York Hall allowing the punters ample space to browse an extensive list of exhibitors but also retaining a stage area to hold those signature presentations promoting the diversity of the art form across Europe and beyond.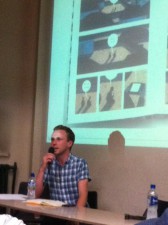 This year's programme more than matched last year's festival highlights of Paul Gravett interviewing Blexbolex and Avoid the Future/Martin Steenton's multiple 600-second interviews. Jon McNaught (right), whose astonishing Dockwood I reviewed here at Broken Frontier recently, was on hand to chat about his influences, creative process and life growing up in the Falkland Islands, while the German small press collective Treasure Fleet gave a fascinating presentation on their creators and the structure of their group. Events throughout the day included creator panels on self-publishing and character design; comics/drawing workshops designed to appeal to both all-ages audiences and, courtesy of Hellraisers' JAKe, more adult ones; and talks and performances  from the likes of Andy Rementer, Matthew Hodson/Matthew the Horse, Typex and Oregon's Reading Frenzy store.
But for many the big draw of the day would be walking the festival floor and chancing upon those heretofore undiscovered comics gems. For those of us who do the regular festival circuit ELCAF was a heady mix of the familiar and the new. That welcome opportunity to catch up with established U.K. publishers and small pressers was there, of course, but from the acquisition perspective there was something truly exciting about the number of international exhibitors on show. I picked up some wonderful looking small press books from Sweden's Hanna K, Spain's Cachetejack and Germany's Treasure Fleet, for example, all of which I'll hopefully find some time to cover in BF's 'Small Pressganged' column in the months to come.
Hanna K's The New Frontier and Cocoon Motel by Sharmila Bannerjee of the Treasure Fleet collective
Let's cue that standard "aren't we lucky in London/the U.K. with all these comics festivals/events" summarising paragraph that I always trot out in these event reports. Just because you're bored of hearing it by now doesn't make its veracity any less acute! Tedious refrain or not, the current number of festivals celebrating comics throughout the calendar year means these are exciting times indeed for anyone who appreciates the greater breadth of the medium. A hearty thanks to everyone at Nobrow/ELCAF for an immersive and entertaining day that appealed to comics fans of all ages, and one that offered as unique a flavour and approach as did the Institut francais's BD & Comics Passion last month.