Akissi: Even More Tales of Mischief, the third volume of the translated adventures of the titular West African school girl to come to us via Flying Eye Books, provides a welcome return to this Ivory Coast cast of characters. Last year at Broken Frontier we looked at the previous collection in the all-ages series by writer Margaret Abouet and artist Mathieu Sapin, inspired by Abouet's own childhood experiences, describing its contents as "a constant reminder of our childhood years, when every day was a huge adventure awaiting us and our juvenile logic tried to make sense of the strange eccentricities of the adult world."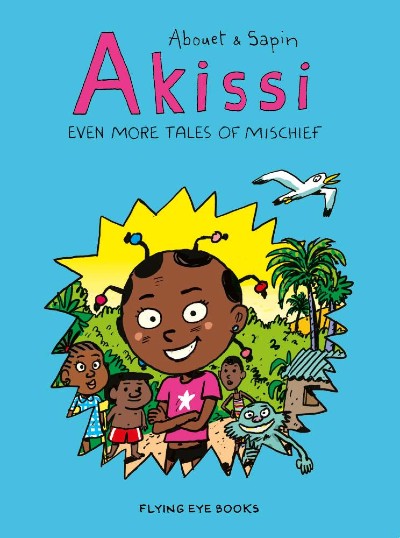 With Even More Tales of Mischief the focus on interconnected short strips begins to move further in the direction of ongoing storylines, subplots and character arcs. Many of the recognisable elements from the previous books are there – the school-based misadventures, the memorable supporting players (like Akissi's super-hero fixated pal Edmond and teacher nemesis Mr. Adama), and the loving but sometimes fractious family relationships – but this edition also incorporates a long-running story thread about a possible move from the Ivory Coast to Paris, which Akissi dreads, imagining it to be an arctic snowscape populated by lupine predators.
Amidst all the tomfoolery and child-like mishaps though, Akissi: Even More Tales of Mischief tackles deeper subjects with subtlety and care. Parental divorce is touched on and the final story in this volume dealing with the loss of a beloved grandparent is so beautifully and poignantly realised that it will bring a tear to the eye of anyone with even the hardest of hearts. There's also plenty of jocular content though, including a scatological exercise in poetry from Akissi and a disastrous shopping trip for presents. Akissi's monkey chum Boubou also gets some featured spotlight time.
Sapin's art is once again a delight. It's detailed in its cartooning, jaunty and fizzing with energy – the physicality of every individual character embodying their particular personality quirks. There's also so much comics-specific storytelling invention here – characters commenting on action in adjoining panels, thought bubble contents depicted in imagery allowing parallel narratives to run together, and lettering tricks used to great effect (especially in the case of an angry goat who pursues Akissi). The vibrant colours also re-iterate the child's eye perspective of the book.
If you've yet to experience Abouet and Sapin's depiction of Ivory Coast life I cannot recommend this series more highly. In these most difficult of times books like Akissi are a beacon of joyous light in the darkness of reality.
Margaret Abouet (W), Mathieu Sapin (A) • Flying Eye Books, £12.99
Review by Andy Oliver