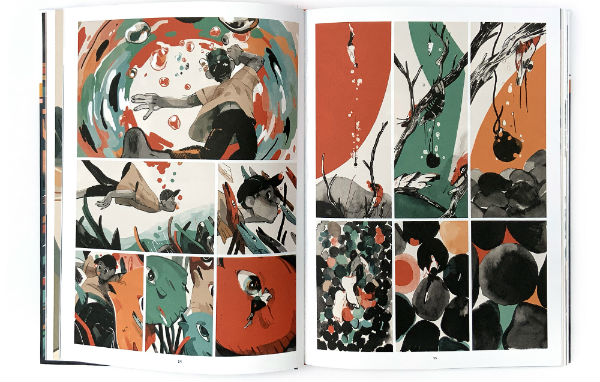 When looking at Nobrow Press's publishing output this year what immediately strikes the reader is the diversity of approaches and subject matter represented in its 2019 line-up this year. From the sumptuously rendered folklore of Alexander Utkin's Gamayun Tales and the gorgeous use of colour in Lorena Alvarez's Hicotea, through to the intuitive architectural psychogeography of Malterre-Barthes and Dzierzawska's Eileen Gray: A House Under the Sun and the delicate monochromes of AJ Dungo's heartbreaking In Waves it's a magnificently curated range of books that have showcased the breadth of storytelling possibilities inherent in graphic narrative.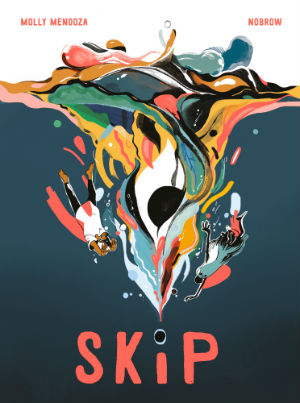 Molly Mendoza's Skip is a very worthy addition to that Nobrow's 2019 catalogue; an absorbing and spellbinding book and a remarkable debut graphic novel from the artist. The story first introduces us to Bloom and their guardian Bee who live a remote life by a lake in what appears to be a post-apocalyptic world. Hearing attempts at contact via radio communications, Bee goes out into the wider locale to track their source, leaving Bloom behind to look after their lake home.
But a mishap with a necklace Bee entrusted to them sees Bloom sucked through a strange portal in the lake and transported to a world of odd plant and fungi-like people. Here Bloom strikes up a friendship with Gloopy – also something of an outsider among their own folk – and the two investigate the portal's properties.
Unfortunately, they soon find themselves being propelled from one plane of reality to another as they skip dimensions in an attempt to find their way home. On the way they meet partying alligator people, living paintings, and the creator of a whole universe; all the while gradually learning important lessons about themselves and about each other.
This journey through a wonderland where the surrealism has been ramped up to 11 is a visual tour-de-force. Mendoza's spectacular use of colour will be the immediate storytelling tool that captures the reader's imagination. At its most ostentatious it provides a swirling, entrancing kaleidoscope of imagery that is almost hypnotic in its dreamy intensity but Mendoza's hues are often used more subtly to emphasise either theme or environment.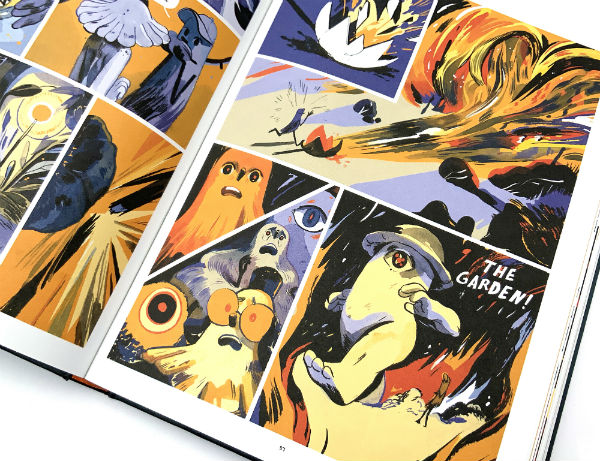 The clinical and clean blues of Lily's world where Gloopy becomes trapped in a digital reality, for example, or the twilight shaded environment of Bloom's own home. Throughout, these colours flow and merge with a liquid vitality as Mendoza subverts the structure of the page, twisting its properties to the will of her ever evolving and transforming narrative's rhythm.
There's a very meta quality about Skip. At points it feels less like simple image-to-image sequential art and more like an environment in which characters are navigating through the panels and across the pages; moving out of one narrative space to interact with another, or falling through the very properties of the comics page. In one sequence, where they find themselves in a world which has the look of a 2D children's drawing, those meta motifs become almost self-consuming in their irony.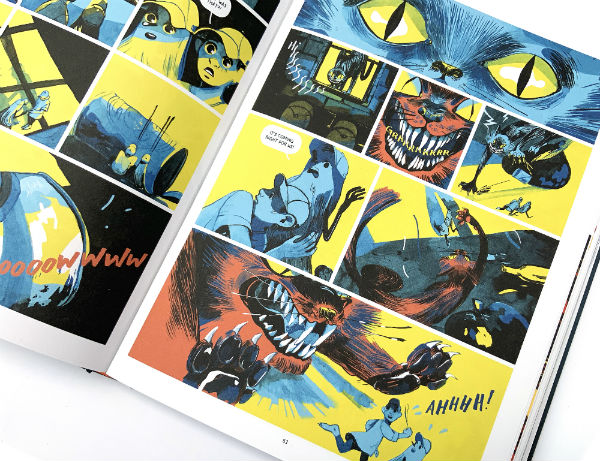 But Skip is about far more than Mendoza's discombulating use of colour and inventive imagination, as impressive as that is. It's also a profoundly affecting coming-of-age story as the duo's adventures in each world begin to echo their own situations, and themes of responsibility, guilt and friendship move to the forefront of the tale. As they learn more about themselves and their own lives alomg the way so too do we become all the more deeply invested in them, as the book works towards its poignant resolution.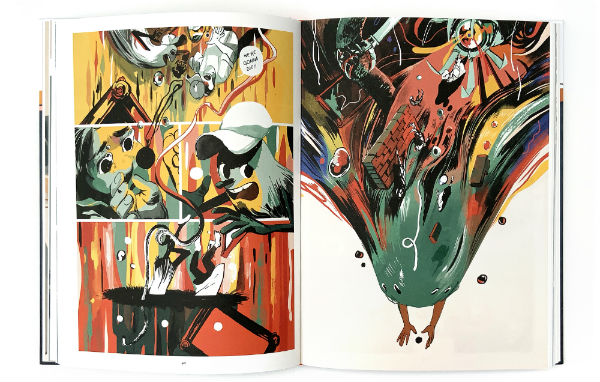 When we chose Skip as our 'Comic of the Week' on its release I described it as being one of those Nobrow releases that your eyes can dine out on. But Skip is also a book that speaks to us intimately about self-discovery and the importance of the ties that bind. It's a truly magnificent visual spectacle but it's also a deeply human story, and for all its artistic extravagance that is perhaps its greatest strength.
Molly Mendoza (W/A) • Nobrow Press, £16.99/$22.95
Review by Andy Oliver