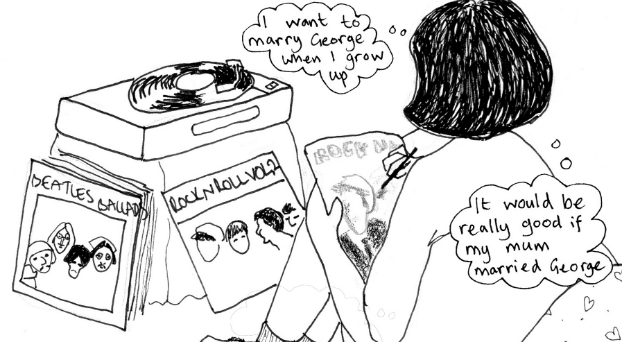 Wallis Eates's major work-in-progress – the graphic memoir Mumoirs – details her fractious relationship with her mother as she grew up as part of a single parent family in the 1980s-1990s. Last year the project made the final six of the prestigious Myriad First Graphic Novel Competition, as judged by Myriad Editions' Corinne Pearlman, novelist Meg Rosoff, graphic novelists Woodrow Phoenix and Nicola Streeten, and myself – Broken Frontier Managing Editor and 'Small Pressganged' columnist Andy Oliver.
Wallis has also contributed to anthologies like Steak Night #3 (reviewed here in this column) and self-published a series of zines called Fleeting Faces that tie into the greater overarching Mumoirs narrative (also reviewed here at BF). Today, in the first instalment of a major two-part interview with one of the most intriguing slice-of-life comics voices on the UK small press scene, I talk to Wallis (below right) about her childhood love of classic British weeklies, how her art practice fed into her later comics work, and the thematic core of Mumoirs…
ANDY OLIVER: As so much of your work is concerned with childhood memories I'm going to begin by asking you which comics you grew up with and what titles you remember with particular fondness?
WALLIS EATES: All those ones with girls' names! It all started with a 1962 Judy Annual that my mum picked up from a charity shop.  She'd had a copy of that very one when she was a child, so she was really happy when I loved it.  And how could I not?  It was full of upset ballerinas and helpful girls in beautiful chalky yellows, blues and oranges – it all looked a bit West Side Story which came out in 1961. This then lead to every trip to a jumble, school fete or boot fair being a hunt for these annuals, and I soon racked up a collection of pretty much every Judy, Diana, Debbie, Mandy, Bunty and Misty from the early 60s up to where we were, which was the mid-80s.
My mum then got me the weekly comic, Princess, that always had a photo of Princess Diana on the back.  I was never into her, but I really liked the story, that I think originally came from Jinty, called 'Stefa's Heart of Stone'. Stefa's best friend died and she was so devastated she turned her heart to stone so she could never grieve again. What I remember the most is the backs of her parents' heads with their old-fashioned hair, being all hurt and confused as she rebukes their kindness. To this day the backs of heads can make me feel a kind of love-pain and I put them on the back of my Fleeting Faces zine series for this reason.
That much cherished 1962 Judy Annual (left) and issues of Princess and Tammy
Anyway, Princess then got taken over by Tammy and I was really cross because they didn't let the Princess stories finish, so I never found out what happened to Cora in 'Cora Always Wins!' Did she lose? DID SHE?? And the name Tammy was in great big letters, with Princess squashed beneath it, and they had a horrible series called 'Bella', the eponymous heroine being a poxy gymnast and I didn't like how the artist made everyone look like Figgis out of Only When I Laugh. So, my mum swapped it for Mandy, and I was much happier then. I loved the terminally ill, Victorian waif-saving 'Angel' – once that had a back of head in it too, a little boy who didn't know he was going to get burned in a fire. So I got to cry at that, which I liked.
In addition to these, were those little single story paperbacks of 64 pages – they were either Bunty, Diana, Judy or Mandy, but I also found two Girl ones once, and they were more sassy than the other ones.  One was called 'Thursday's Child' and it was all a bit Terminator-as-a-mother-and-daughter-story before Terminator came out.  Thur…Ter…coincidence?
My favourite out of everything were the Diana annuals for the 'Man in Black' stories, I loved the artist (David Matysiak) who made everything look rainy and poignant, and the stories were generally very pleasing – whole villages of witches, or haunted cupboards. So, when I discovered Misty a little after Diana, it was tremendous to have one scary story after the other. I remember first seeing one in the new Safeways down the road, it was a paperback reprint of 70s issues, and the bulk of the centre was made up of a full series that had once been instalments.
I really liked these because they were very filmic, one was called 'Hush Hush Sweet Rachel' with a woman in it who looked just like Bette Davis, but the story was completely different to 'Hush Hush Sweet Charlotte', this was about 'Bette Davis' being convinced that Rachel was the reincarnation of her dead daughter. There was an amazing drawing of her falling upside down to her death (it's not lost on me that I keep citing parent/child relationship based stories!) Then there was a version of Invasion of the Body Snatchers, complete with the 'You're next….!' scene and their eyes turned to plants, and a version of Frankenstein where the 'monster' was a girl made up of lots of other dead girls, being plagued by their memories.
I think it is the very fact that a vast majority of the comics I owned were reprints or secondhand, is what I loved about them the most, or at least, had the biggest impact on me. The annuals you could line up in year order, and the 64-pagers marked the passing of time by the range of prices on the front. The oldest one I had was 9p, but the ones from NSS Newsagents were either 18p or 22p when I first started getting them. The layering of time in these hand-held objects, smelling either of damp floors or fresh ink, that in themselves explored these layers with ghost and time-travel stories as well as ones set in the past, being off-set by the general aesthetic of their own time in their graphics and contemporary set stories. It all made a heady mix for this young mind.
The great thing about old books is that they don't know they're old, so they talk to you like you're one of them, making it very easy for a forming mind to connect with.  The fact I could see all these layers in the real world around me, in film, TV, buildings, even people back then (some of the old ladies who lived in my block of flats looked just like the middle-aged ones in the earlier annuals) gave me a visual and narrative sense of history that really inspired me. It was as if all the dust and finery in the world out there was my book, my comic, my 64-pager, that I could consume with my tea and toast on a Saturday afternoon. I'm certainly over-romanticising it all now, but those were just the most contented times EVER. Cheers ma, for getting me that Judy.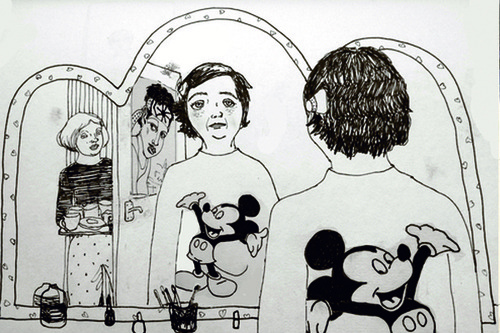 Sample image of Wallis and her mother from her online Mumoirs work. More below…
You studied at the Royal College of Art. Was comics at all encouraged or viewed as a valid medium there? To what degree has your time at the RCA informed the style of your later work?
Yes, I believe it was valued over on the Communications course – I was in the same year as Tom Gauld and Simone Lia (knew Tom a bit, via mutual friend, but not Simone) who were on that course, and I do remember it being very encouraging of its students to explore a variety of media. I was on the Animation course though, having not yet realised I wanted to do comics, and there was really no room to do anything other than animation, being as time-consuming as it is.
However, content-wise and stylistically, the work I'm doing now did start there. It just so happened that it was on my first day at the RCA that my mum told me to 'have a nice life', in other words, she disowned me and we didn't see or speak for a few years after that. So it was then that I started to explore our relationship in my work, and funnily enough I did it exactly as I do now with a simple black line straight onto the paper (although it was bolder back then as I used a chinagraph). However, feeling uneasy about it, I abandoned this line of enquiry fairly quickly, and didn't pick it up again until 13 years later.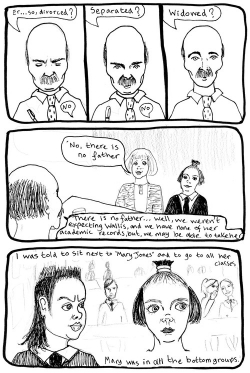 I hadn't given any thought to the fact that I also returned to the same technique, so I'm really glad you asked this question as it has made me realise! I think both times it was a very instinctive decision – I needed a technique that would allow me to just spit stuff out, without any gubbins getting in the way. It allows me to feel what I want to express and then the hand just does the rest, once I've worked out composition, obviously. It's all a bit Victorian seance.
In terms of learning, I think the most impact my time at the RCA had on me, was the Creative Writing module, and the sessions with our tutor Karen Whiteson. I spent many years writing after that, without any drawing, and had a short story published in The London Magazine which was great but filled me full of false hope because I didn't manage it again. I remember in one session, Karen was talking about beginnings and endings – after she began talking, I daydreamed, then my attention returned as she was ending. Ha ha. But she said that endings should always allude somehow to the beginning, and I really love that device.
As mentioned, you're working on your graphic novel Mumoirs at the moment. Could you give us a breakdown of the book's premise and its themes?
Yes, it's an autobiography about growing up as a single child with my mum who by choice was an unmarried mother. As in both 'unmarried', and 'mother' was what she wanted to be. It charts my childhood in the 80s, when there was still a certain amount of taboo attached to her status, and the first part of the book explores the complexities of our relationship which was very tight, against the social backdrop of the time. This section also provides a context to my mum's decisions as key aspects of her childhood, which were very difficult, are portrayed because she used to tell me them. These stories reference those Diana 'Man in Black' stories, renamed, 'Mum in Black'.
The memoir then extends to the 90s when I hit puberty and my mum had a nervous breakdown, she wanted to die around this time, and she also went a bit nasty and wild (though sometimes fun) and I just dealt with it. It wasn't till the aftermath that this turn of events really challenged our relationship, culminating in my being disowned when I was 23. The final part of the book portrays very briefly how we rebuilt our relationship, which came about by my locating my father on the internet. What I discovered wasn't pleasant, but it somehow managed to alleviate the situation between my mother and I to long-lasting effect. Everything's all good between us now, so a happy ending but with many learnings along the way.
The original 'The Man in Black' left, and the Mumoirs incarnation centre and right
One of the central themes – well, more of an aim really – is about dismantling the labels, stereotypes and pressures that society puts on us by showing the nuances and complexity that exist while somebody is supposedly being a 'thing', i.e. an unmarried mother, single child, etc., and exploring the relationship between the personal and the socio-political. For example, both Maggie Thatcher and Madonna made comments about fatherless children, and I want to show what that was like for a fatherless child sitting in her bedroom surrounded by personal history.
I'm currently reading Clampdown by Rhian Jones, and there's a really interesting chapter where she discusses the relationship between feminism and the working class and how a lot of working class women live by feminist principles, while not claiming themselves to be feminists, as well as the two contrasting stereotype portrayals of working class according to gender, i.e. the women are breed-happy sluts while the men are hard workers that have been disenfranchised by feminism.
This chapter really resonated with me on many levels, as I see that my own experiences are a great opportunity to add character and individuality to this discussion. I also want to go beyond the class remit and challenge the harming and restrictive fantasies of the 'good mother' and the 'bad mother', and remind us all that mothers are people, and that people have baggage.
One of the other themes, in contrast to the more outwardly one outlined above, is to explore the inner workings of our experiences. The deepest impacts that 'other' has upon our psyches that is actually void of emotion, and rooted purely in psychological unfurling (the first chapter is about the dreams and nightmares that my mother and I had of each other when I was very young – below), and how the emotive aspect comes with how we create narratives for our experiences in reflection.  Some people may find this hard to swallow, arguing that emotion is instantaneous, but I would argue with that – I think shock and pleasure are instantaneous, but I think sadness, happiness, jealousy, anger and all these other weird and wonderful things come after an event.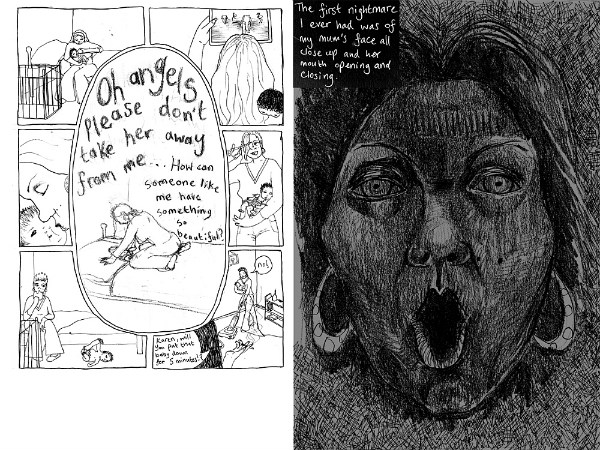 As such, the act of storytelling itself is a prominent theme in Mumoirs. There is the Man/Mum in Black device, as well as other various nods to fairytales, portrayals of drawing, and repeats of the same stories being presented in different ways. One example is my birth. First off, I show the birth. Then throughout the book, my mum tells me the story of my birth whenever I have a birthday, and my reaction each time tells the story of how our relationship is progressing, as well as the nature of remembering and telling.
Another theme to mention is incarceration, demonstrated nicely by the fact we lived in a big, tall Rapunzel-like block of flats. Drawing on the two themes mentioned above, the theme of incarceration is the manifestation of my mother's baggage as well as the effect of 'other' upon the psyche. My mother's upbringing was very restrictive, she had no freedom of movement, no new clothes and little food. As such, she made sure I wanted for nothing, working as hard as she possibly could to provide.
However, with no husband or close friends for her to talk to, I was the person that also got told all these childhood horror stories, which in turn made me mute myself – I decided I must never be naughty, and I went overboard in my protection of her by developing a religious based OCD, repressing negative thoughts about her (to the point where a voice in my head would say them instead – one time it said my mum looked like Herman Munster!  And I argued saying they just used the same make-up (?!)), and all kinds of other things that have led to the writing of this book. In many ways, Mumoirs is my own rites of passage, which I would say is the final theme to mention, and one that I will expand upon later…
Come back tomorrow when my discussion with Wallis continues with her thoughts on the ethical concerns inherent in autobiographical comics, and the layered relationship between truth and memory in the genre. To find out more about her work and read her online comics visit her tumblr here. You can also follow Wallis on Twitter here. The Fleeting Faces zines are available at London's Gosh! Comics in their small press section priced £1.00 each.
For regular updates on all things small press follow Andy Oliver on Twitter here.