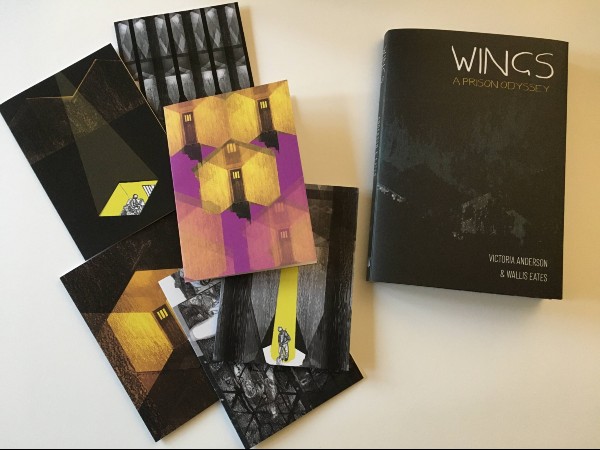 The anthology Wings: A Prison Odyssey – collecting the personal stories of inmates at a London men's prison in a variety of mediums – was the product of a project with a very different end in mind. Writer Victoria Anderson and artist Wallis Eates had been working with prisoners through the lottery-funded charity Stretch to turn those accounts into short films. But after many months of progress the prison authorities had second thoughts and decided the films should be destroyed. Left with just notes and transcripts the project evolved and a new method of delivery was arrived at. The stories would be turned into a book instead, with all proceeds from its sale going to new initiatives with the aim of supporting communities affected by imprisonment.
Split into two sections (the dual 'wings' of the title), the book's first half is a series of mini-essays and observations drawn together from Anderson's notes from their months there, giving insights into their experiences and interactions with the men they would work with. The second half sees artist Eates repurposing the deleted films into graphic narratives; sometimes comics, sometimes illustrated text, and sometimes a symbiosis of words and images that acts as a form of visual poetry.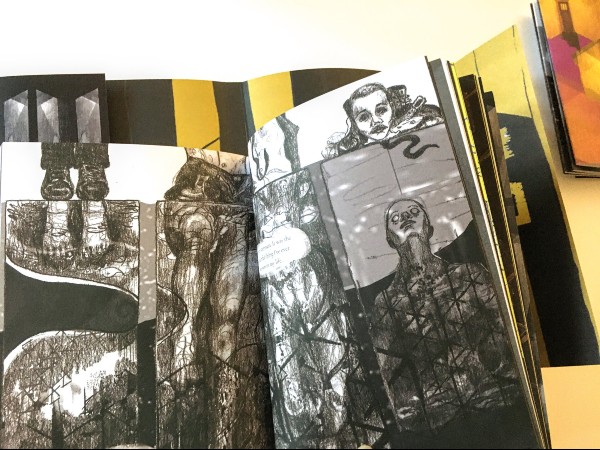 These very different presentational approaches complement each other through both their polarised perspectives and their shared candour. Anderson's anecdotal and occasionally fragmentary series of notes is not simply a diary-style retelling of the progress of the project. It's also the story of the relationships she and Eates formed with the men, the practicalities and logistics involved, the power dynamics they encountered, and the institutional bureaucracy they had to navigate. Her words are all the more powerful for their often understated resonance, painting a picture of an environment that is dehumanising, obstructive and imposing, and yet reminding us of the humanity of its inmates through the minutiae of their existences, their outlooks on life, and their aspirations.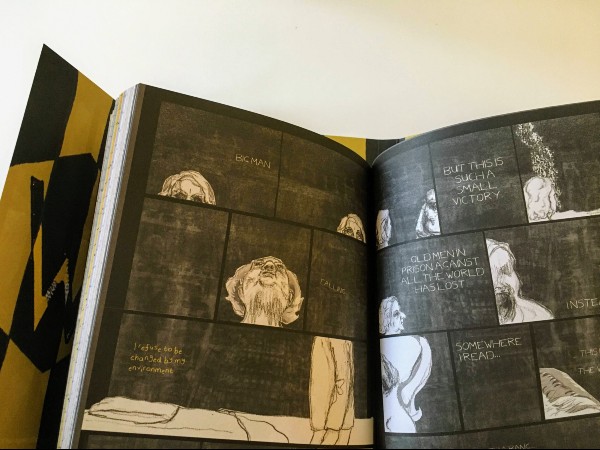 Wallis Eates (Fear of Mum-Death and the Shadow Men, The Magic Quadrant) has long been an admired voice here at Broken Frontier for her extensive work in the autobio and slice-of-life comics arenas. In this latter half of Wings she translates the inmates' monologues into graphic representations, retaining the original words but either incorporating them into sequential art sequences or building illustrative motifs around them. Eates has always displayed a particular talent for empathy in bringing the stories of others to audiences (as seen in her Fleeting Faces zine series) and that ability is very much on show here.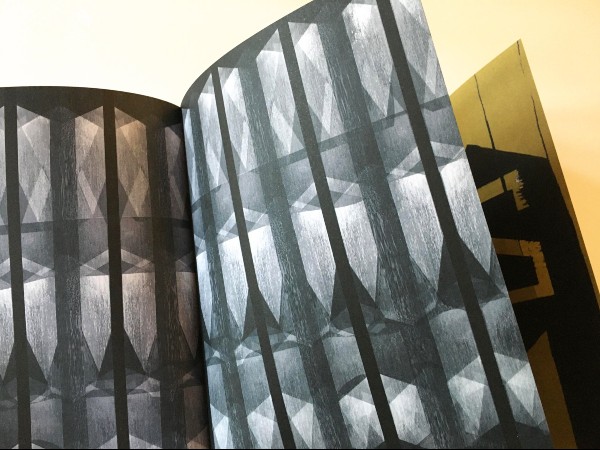 This is embodied, for example,  in the claustrophobic panel designs in the story of Prisoner 02 which mirror his disorientation as a first-timer in the system, while in the comic detailing the plights of Prisoners 03 and 04 she uses comics' special relationship with the concept of time to show how nebulous its passing is within the confines of this environment. Perhaps the most impressive use of the tools of comics storytelling is in her treatment of Prisoner 09's thoughts where his narrative is told in compartmentalised spaces, structures and buildings made up of comics panels.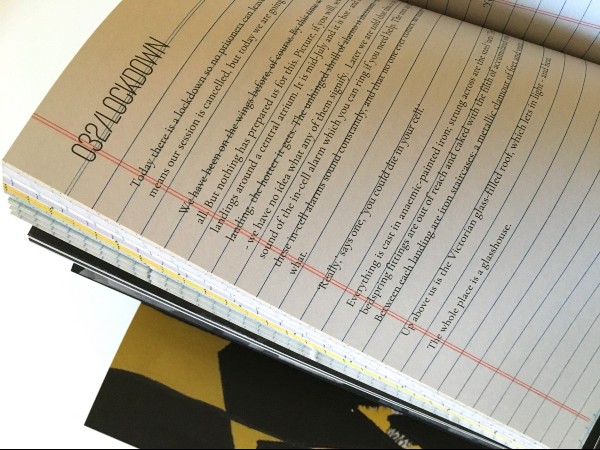 In the pages of Wings we run an emotional gauntlet as we connect with shards of life experience that evoke feelings and themes of despair, reflection, self-destruction, contemplation, tragedy and hope, amongst others. Rather than totally obstructing these stories, the act of enforced artistic and social vandalism that changed the project's course has instead given birth to a stark yet unforgettable series of visual narratives. Wings gives a platform to those incarcerated to express themselves with an uncompromising openness and, in the process, gives them the humanity that others would seek to deny them.
Review by Andy Oliver