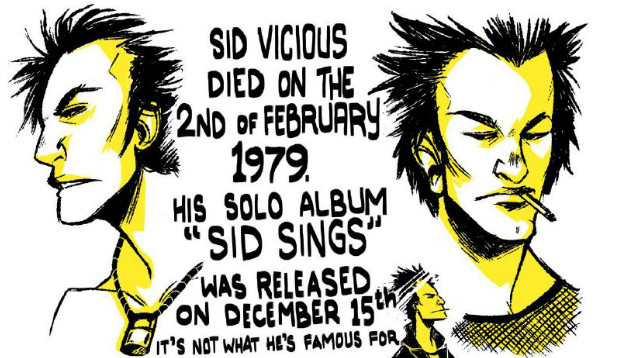 Back in the early 1980s Altered Images memorably sang about the forgotten fate of 'Dead Pop Stars' reaching out from beyond the grave to implore fans to remember their one-time importance in their lives. For a small number of those departed vocalists this latest volume of Dead Singers Society acts as a memorial to their careers, giving established names on the small press circuit and lesser-known artists alike the opportunity to pay homage to their favourite deceased singing stars.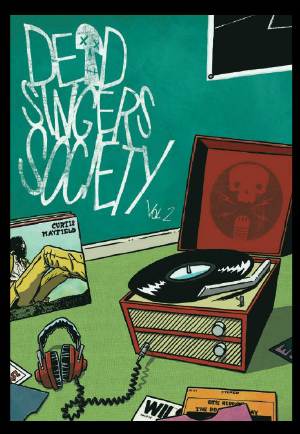 Dead Singers Society is published by smaller micropublishing outfit Good Comics who consist of Samuel C. Williams (At War with Yourself), Paddy Johnston (Long Divisions) and Pete Hindle (Sneaky Business). The first issue was published last year in time for Thought Bubble and had a more zine-like feel to its contents. This second edition still includes single illustrations but is more concentrated on traditional comic strip offerings.
The premise is a simple one. Artists choose a late songster to base their contribution on but can't cover artistes already featured in previous issues. Approaches range from the biographical, the symbolic and the personal, providing a diverse array of reactions to – and interactions with – their subjects.
Of those creators in Dead Singers Society #2 who opt to capture the essence of their selected singers through their art, Rozi Hathaway and Rica March's pieces are particularly evocative… but for very different reasons. Hathaway uses Nina Simone's lyrics (and visual motifs based on them) combined with muted colouring and the backdrop of the civil rights movement to create a tender and poignant illustrative piece. While March's stark black, white and yellow-tinged visuals (see top banner image) bring to life the self-destructive defiance of Sid Vicious with perfection.
It's those contributions, though, which add an autobiographical element that perhaps unsurprisingly resonate the most with the reader. As ever Danny Noble steals the show with her account of a profound male grooming disappointment at a Lee Hazlewood concert (below). It's Noble at her irreverent best; cheeky in delivery yet fond in tone, with her expressive scratchy cartooning and distinctive use of language as prominent as ever.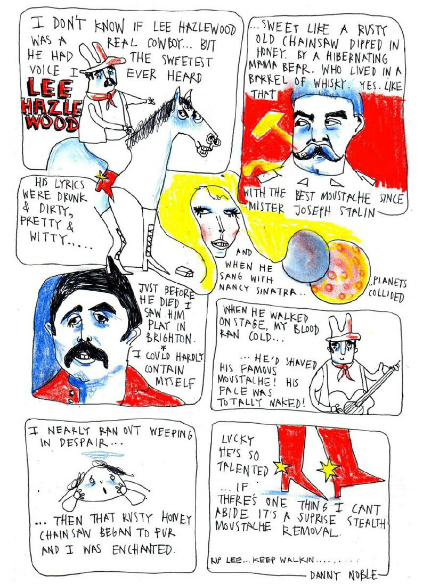 Similarly, Wallis Eates gives us a two-page tale of how Karen Carpenter's life paralleled her own. There's a subtle delicacy hidden within the idiosyncratic self-deprecation here that could only come from Eates, one of the foremost practitioners of autobiographical comics in the UK at the moment and also one of the most criminally underappreciated.
Other notable entries in the 18 or so offerings herein include Elizabeth Querstret's scrapbook style imagery bringing Ian Dury's 'Reasons to Be Cheerful Part 3' to the page and Tim Bird's very personal account of visiting Jim Morrison's grave when on honeymoon. Bird eschews unnecessary exposition, instead making use of carefully paced panels to pay near silent tribute to his subject. David Robertson also provides a solid and very honest slant to the book's contents with his memories of interviewing Stuart Adamson of Big Country and the effect his death had on him (below).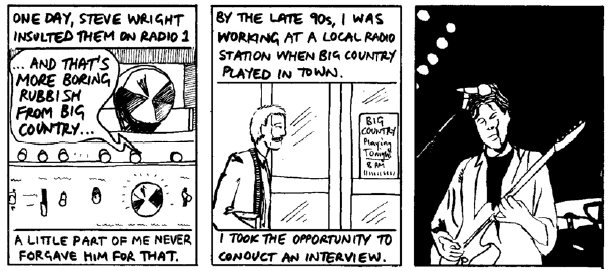 While some contributors take more representational approaches – Faye Spencer on Klaus Nomi, John Riordan on Serge Gainsbourg and Bob Turner on Tommy Johnson are all notable in composition – it's those stories that explore the impact of the featured singer's life on that of the creator's that most intimately connect with the reader. A fun and unpredictable collection of shorts, aspiring small pressers would do well to keep an eye out for Dead Singers Society in future…
Submissions are open for Dead Singers Volume 3 now with a deadline of October 9th. Details here.
You can follow Good Comics on Twitter here and buy both volumes of Dead Singers Society from their online store here.
For regular updates on all things small press follow Andy Oliver on Twitter here.