Announced last month here at Broken Frontier, Creating Women is a new online interview series set to debut later this month and one that will include a number of interviewees who will be very familiar to the BF audience. In anticipation of the first instalment's debut on May 28th I chat today with series creator Amy Galloway and co-producer Rachel A. Davis about the ethos and genesis of the project, its coverage, and creating spaces for marginalised creators…
ANDY OLIVER: Let's start with the introductions. Who makes up the Creating Women team and what are your own backgrounds in comics?
AMY GALLOWAY: Our team behind the scenes is actually pretty expansive; we've been very lucky that the people who volunteered for this project were willing to help us in any and every capacity. We have Danielle Schwertner  as an incredible interviewer alongside myself and Rachel. Iain McLeod and AshlingDraws who have been helping us edit the trailer and interviews into their cohesive final videos, respectively. Holly Roberts is our captionist to ensure accessibility for everyone watching. And of course, all of our amazing speakers!
Amy Galloway (left, self-portrait) and Rachel A. Davis (right, by Abriele Skaite)
RACHEL A. DAVIS: I met Amy in August 2018 through the University of Dundee's Masters in Comics and Graphic Novels program. Amy pursued the M.Des degree and I the M.Litt, and from being coursemates we became forever friends. I am originally from New York; my time at Dundee was the first time that I was immersed in another comics culture. It was mind-opening. I learned a lot in my modules, but I learned just as much from haunting the artists' studio, attending events at the Dundee Comics Creative Space, and co-founding and co-organizing LDComics Dundee. I learned so much from people talking about comics: what they liked about comics and how they made comics. I was really awed by how close knit and approachable the UK comics scene is. Everyone in the UK is very forthcoming with advice and support. Many of the people involved with Creating Women, both behind the scenes and in front of the camera, are people I met during my year in the UK. Once they knew about this project, they all volunteered  their time freely. That is special, and it has made this project special in turn.
AO: What was the genesis of the project? Can you tell us a little about its origins and how you came together as a team?
GALLOWAY: We have thought a lot about how to talk about the project's origins, and it really was through the power of social media and the circumstances of the current climate which allowed us all to cross wires. There are so many incredible comics creators and scholars from identities which exist outside the establishment of the 'boys club' of cis white men but somehow we are consistently overlooked. Creating Women is a celebration of brilliance and diversity as what each of our team brings to the table offers a unique perspective outside of the same comics panel we've undoubtedly all seen a hundred times. We wanted to cultivate a safe space for discussion and generate a buzz about how great comics are — how they can be more than just one or two preconceived notions and how even within those notions there are nuances as well.
DAVIS: Amy brought the discussions happening on social media to a Facebook group our Masters class uses to stay in touch. I was really intrigued by the possibility of what these discussions could become. So I DMed Amy, more or less flinging myself at their feet, begging for them to use me! Amy, mercifully, invited me to join the team. When I arrived, most of the team, from many of our speakers to Danielle and Ashling, were already on-board. Some people joined after me, but before I joined, Amy was deciding on the format that would turn these discussions into an event. We initially considered formatting this as a one-time livestream. It would have been a logistical nightmare, though, with the number of people involved and the number of topics everyone wanted to discuss in-depth. We decided to do pre-recorded videos to defer those logistics, but as the months went on, we saw the other advantages. Creating Women is now claiming its own permanent space on the web for people to access into the future. The discussion will live on and evolve, and that is what really matters to us.
AO: What kind of practice, practitioners and comics talking points are you looking to put a spotlight on? Who can we expect to see as interviewees in the first batch of interviews?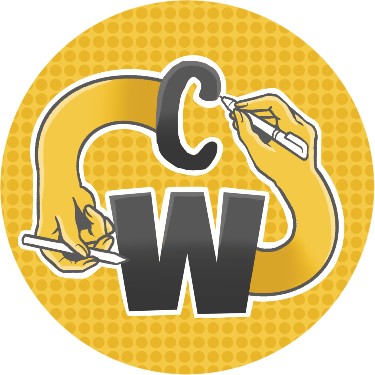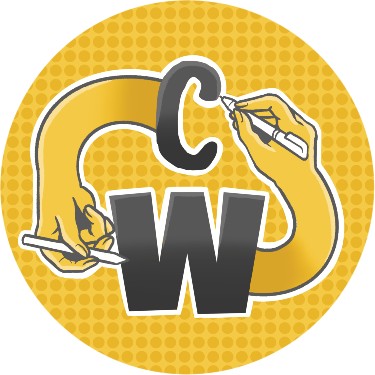 GALLOWAY: Through a lot of drafting and redrafting and discussion with our team, we decided to cover an array of topics that are as specific as "what is your favourite comics panel?" to as broad and abstract as how we perceive art through a gendered lens. There is also focus on what people's industry experience has been like and lots of talk in-between of algorithms and upcoming projects. We have been focused on highlighting our interviewees as much as possible over on social media as they are such an amazing collective. They include Ashling Draws, Holly Roberts, Rachael Ball, Letty Wilson, Nicola Streeten, Rebecca Horner, Hailey Austin, Megan Sinclair and Wallis Eates.
DAVIS: Each episode is named for a specific topic and features all nine speakers answering a specific question about that topic. For anyone curious about our episode topics, check out our Twitter page on 21 May around 12 noon. We will have the episode schedule up then!
AO: How would you describe the ethos and aims of Creating Women in relation to your stated ambition to amplify diverse comics perspectives and showcase marginalised groups in UK comics?
GALLOWAY: Even though it's a small start we are hoping it can make a huge difference. Being on a purely volunteer basis right now, we have still been lucky enough to involve so many incredibly skilled and intelligent speakers. But our desire for the future would be to subsidise our interviewees for their time and engage with more and more audiences. The work of so many other creative fields feed into the world of comics and are essential to the message of inclusivity we want to spread. Designers, writers, publishers — by offering them a place to speak we better enrich our own experiences. It's also important too that allies find this material accessible and educational. We want people to take on board the mindfulness we practice in our own work and apply it to how they perceive individuals within this community.
DAVIS: Perhaps the best way to know our ethos is for us to explain our name. Amy deliberately chose to name this project Creating Women because it has multiple interpretations. Yes, Creating Women can mean women who create if you interpret 'creating' as an adjective. Like Amy said, this project is interested in exploring British comics creators and culture outside of the more traditional lens that favors white cisgender men. However, if you read 'creating' as a verb, then what you have is the process of actualizing. The process elicits many questions: what does it mean to create a woman? How does one go about it? Who is creating women — and what are their intentions? Why women? The more questions you ask, the more there is to interrogate about social identities, representation, social responsibility, lived experiences, and where one's values lie in a society that categorizes everyone. You don't get one, monolithic answer. That's what Creating Women is all about: providing nuanced, diverse, and differing perspectives on British comics and British comics culture. There are so many different ways of experiencing and contributing to today's comics scene, and all of these ways are valid and needed.
Work by interviewee Rachael Ball from the graphic novel Wolf
AO: Why are projects like this so important in the current comics landscape?
GALLOWAY: The comics world we think we know is just the tip of the iceberg. Indie publishing, small press, webcomics, zines — so much of what is being created offers brand new stories and ideas, pushing the limits of what can be done. People tend to think of comics as being dominated by the superhero genre but the real superheroes are those we take for granted within the comics community. For example, the academics who dismantle genres and allow us to see ourselves in the colossuses we idolise. Or the comics produced for free through the pure love of creating. Arts funding is frequently cut (particularly within the educational sector) and it greatly limits the ability of creatives to participate within their own community. It's important we keep these spaces alive and thriving to ensure a nurturing environment for new comics to grow from.
DAVIS: We are living in a really exciting time for comics. There are more spaces now than ever before for creators from marginalized groups to share their stories. Webcomics platforms, crowdfunding, membership subscription platforms, fandom communities, and other virtual spaces have created dynamic global comics spaces. More locally, Quindrie Press, CHIP Collective, LDComics, Comics Youth CIC, Glasgow Zine Library, and so many other initiatives are producing and supporting diverse stories from creators with diverse backgrounds. We need to protect these spaces and create new ones. If not, the comics community cannot continue to grow and progress. Worse still, our community loses members. The more people are able to be themselves and share their humanity with us, the richer we all are for it.
Work by interviewee Nicola Streeten from the graphic memoir Billy, Me & You
AO: What have been the main challenges in putting together the series, particularly in relation to our lockdown world over the last few months?
GALLOWAY: Before Rachel joined me I would have said the organisation of everything, hands down! I sent a few initial emails and was already growing overwhelmed with all the people I would have to try and lasso into threads and interviews! My co-producer has been a godsend, especially as I came to this project with no previous experience of organising an event like this. Her insights and professionalism when dealing with our schedule and speakers deserves the highest praise. And again, everyone has been so accommodating and we knew from the start that COVID would pose some difficulties but we foresaw it and adjusted accordingly.
DAVIS: Amy is making me blush! Anyone who knows Amy knows that they can do anything. I would like to note that this series was created by a comics creator with comics creators in mind, and it shows in every aspect of this project. For example, while narrowing down interview questions, Amy would say things like, 'I would want to be asked this question' and 'I want to know how others would answer this.' Amy brings a pro-artist perspective to Creating Women.
To speak to the pandemic; this has been a trying time (to say the very least) for everyone, and for many it has been a lot worse. I don't think this project would be possible if not for the circumstances lockdown created. Mass adaptation to telecommunication programs and the desire to leave one's newsfeed/head to connect with another person: I think these consequences possibly helped see this project to fruition. Still, like Amy said, coordinating times and schedules was probably the hardest part: Amy is a (phenomenal) full-time artist, our production team and speakers all have their own, differing schedules, and I live five hours behind everyone else. We had a limited window of time to get this down in a timely manner, and yet everyone came through and delivered. Where there's a will, there's a way!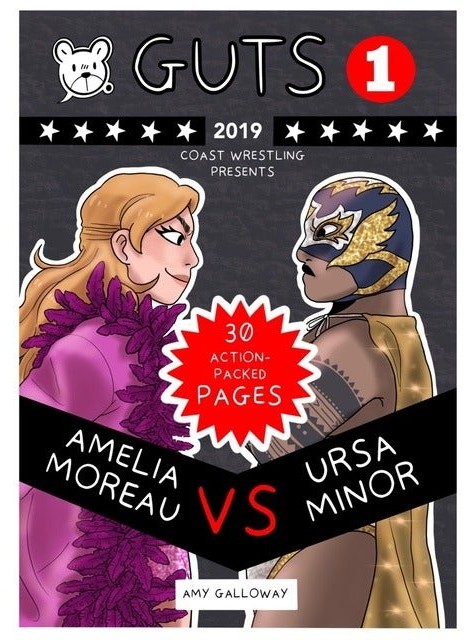 Work by Amy Galloway/HesitantDoodle from their comic GUTS
AO: Each episode lasts 10-15 minutes. In terms of timing, why was that format ideal for what you're looking to achieve?
GALLOWAY: We did a lot of research! Rachel studied numerous aspects of how we would approach the upload and editing process, and I was able to interject with my own knowledge of having posted and watched videos in the past. We came to the conclusion that the 10-15 minute mark was just right. It allows enough time to familiarise yourself with the speakers and learn something from them before it becomes an overwhelming amount of information or you feel you have to set aside more time to digest it all. Watching the videos back, it doesn't feel as long as it is because everyone is so immersive!
DAVIS: This video series is first and foremost for comics folk, but the production team wanted to make it equally welcoming to the comics-curious. We wanted to make Creating Women as accessible as possible to as many people as possible. One way to do that would be in formatting; to a non-comics person, an hour long video on a subject they are curious about but not invested in can be daunting. Fifteen minutes is much more approachable — it is a bus ride. However, each of our nine speakers gave us amazing responses. It would be an injustice to them and to our audience to edit their responses to the bare bones. So it's a balancing act between being accessible and comprehensive. It is very tricky; I definitely don't envy Amy, Ashling, and Iain. That said, I think the editors have found that happy medium.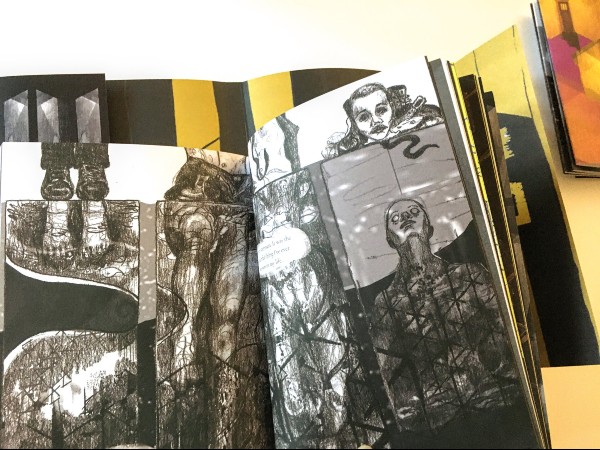 Work by interviewee Wallis Eates from Wings: A Prison Odyssey
AO: This first series is set to run seven episodes but what are your plans beyond that initial run?
GALLOWAY: We already have the wheels in motion for a future collaboration (which shall remain secret) and are hoping to one day soon embark on a second series — this time with a bit of funding behind us! It's been such an exciting and rewarding experience for us that we can't help exchanging glances and saying "…shall we make some more?"
DAVIS: Like Amy said, we are already in pre-production for future videos. Sorry to be all secretive here, but once we can share any news, we will on our Twitter page, @CreatingWomenUK. Keep an eye over there for all future machinations!
AO: And, finally, the crucial question – when and where can Broken Frontier readers see the interviews when they launch?
GALLOWAY: Our first video will be premiering on the Creating Women YouTube channel on the 28th of May and you can follow us to learn more on Twitter, @CreatingWomenUK!
DAVIS: New episodes will be uploaded directly onto our Twitter on Fridays at 2pm. Subscribing to our YouTube channel will place our videos directly in your feed (plus it will really help us get seen via the YouTube algorithm). If anyone wants to directly reach out to us with feedback, we would love to hear from you. You can email us at creatingwomenuk@gmail.com. Don't be a stranger!
Interview by Andy Oliver