The waiting is over! Jade Sarson's For the Love of God, Marie is the winner of the 2014 Myriad First Graphic Novel Competition.
On the evening of Friday 23rd May, as part of the Comics Unmasked programme of events, the winner of 2014's Myriad First Graphic Novel Competition was announced in front of an enthusiastic audience at the British Library. After a process that had lasted several months and elicited 70 entries, the final decision of the judging panel was that Jade Sarson's For the Love of God, Marie was the project most deserving of the coveted main prize: the opportunity for its creator to develop their work with Myriad with a view to a contract and publication.
The 2014 First Graphic Novel Competition judges – Woodrow Phoenix, Corinne Pearlman, Nicola Streeten, Meg Rosoff and Andy Oliver
The judging panel for the 2014 incarnation of the biennial competition consisted of Myriad Creative Director Corinne Pearlman, novelist Meg Rosoff (How I Live Now), graphic novelists Woodrow Phoenix (Rumble Strip) and Nicola Streeten (Billy, Me & You), and myself, Andy Oliver, Broken Frontier's Managing Editor and our 'Small Pressganged' columnist. The competition was open to aspiring comics creators who had not previously had a graphic novel published.
Myriad Creative Director Corinne Pearlman opens proceedings and previous winner Gareth Brookes talks about The Black Project
The event began with the audience being given an opportunity to listen to the judges discussing how they had arrived at a winner and to hear Gareth Brookes, whose critically acclaimed The Black Project won the inaugural First Graphic Novel Competition back in 2012, talk about the effect that has had on his artistic career. Each of the shortlisted six were then invited on to stage to discuss their entries with the judges and give a short – and sometimes very spirited – reading from their respective graphic novels before the winner was announced.
Sample pages from For the Love of God, Marie
Jade Sarson's  For the Love of God, Marie, illustrated in her customary manga-influenced style took that ultimate accolade. This playful, witty character piece was described on the shortlist here in the following terms: "Marie is a girl with the gift of understanding, who is often misunderstood. This graphic novel follows her life and loves, as she tries to understand and love those few special people who need her help to be themselves."
Henny Beaumont and Wallis Eates reading from their respective graphic memoir entries Hole in the Heart and Mumoirs
On a personal note, being a part of this process over the last few months has been an absolute pleasure. When I was first approached to be a judge last year my firm belief was – given my role at Broken Frontier in discovering and promoting the most exciting new creative voices in primarily British small press comics – that I would already know the vast majority of entrants in the competition. It's a testament to the robust health of the ever burgeoning grassroots comics scene in the UK that when I first received the 70 graphic novel samples around half of them were from names entirely unknown to me.
Jessica Martin reads from her period piece Elsie Harris Picture Palace and Robert Wells talks about his darkly comic Sack, Back & Crack (& Brain)
And what a strong shortlist we eventually arrived at from that number! Five of the six creators on it have been featured in 'Small Pressganged' to varying degrees in the past, and the shortlisted material ranged in coverage from graphic memoir to quirky comedy through to period drama. While Friday's event was ultimately Jade Sarson's night I don't believe for a moment that you've seen the last of the projects by the other creators. I want to link to those with Twitter accounts here because you should most definitely keep your eyes on Henny Beaumont, Francesca Cassavetti, Wallis Eates, Jessica Martin and Robert Wells (as well as Jade Sarson too!). It was a fantastic achievement to reach that final six given the strength of the submitted entries.
Francesca Cassavetti, creator of the childhood autobio entry Panic Attacks and the competition winner Jade Sarson
But back to our winner Jade who, despite being at the MCM Expo this weekend, took some time out to tell me what winning the competition means to her. "I'm so chuffed" she said, "I've been trying and trying and working so hard to get my work recognised and suddenly a whole lot of important people have acknowledged it at once! It's unbelievable." Myriad Creative Director Corinne Pearlman had this to say about the winner "This is joyous, off-the-wall, accomplished story-telling and art by a cartoonist who just loves her chosen form. And what a wonderfully whacky title: For the Love of God, Marie!"
The judges in discussion and previous winner Gareth Brookes announces the result
Before the Myriad shortlist though – and even well before Jade's British Comic Awards nomination last year in the Emerging Talent category – we had already been alerting our readers to her ability here at Broken Frontier for some considerable time. I first came across her name in the londonprintstudio comics interns' anthology Parallel Lives, and in May 2012 I described her strip 'Siddown' in that collection here as the book's "imaginative and intriguing" highlight, noting then that her work "will most definitely bear watching out for".
The Parallel Lives anthology that featured a sample of Jade's work-in-progress Siddown!
In November of 2012 I reviewed the first two issues of Sarson's Cafe Suada here – making Broken Frontier the very first outlet to review her longer-form work in print – stating then that "this is incredibly confident storytelling that shows a deep understanding of the language of comics and the unique potential that sequential art has for communicating ideas" and later including the book in the 2012 edition of my annual 'Ten UK Small Press Comics You Need to Own!' round-up. This year I returned to the world of Cafe Suada to say of the third and fourth issues here "It's that combination of Sarson's intuitive insight into the mechanics of the comics page with its frenetic but vibrant energy, and the beguilingly good-natured allure of its cast, that ensures Cafe Suada is such a consistently joyous read."
Sample pages from the ongoing Cafe Suada webcomic
Between those reviews – for those wanting to discover more about Jade and her work in light of her FGNC win – I also interviewed her extensively here last year and her contribution to David O'Connell's excellent ink + PAPER anthology was mentioned in my review here. And if, after all that, you would like a second opinion then our friends over at the Forbidden Planet International blog have also been supporters of Jade's comics with Richard Bruton remarking here that "at its heart this is one of those most wonderful of things; a lovely and well constructed quirky rom-com".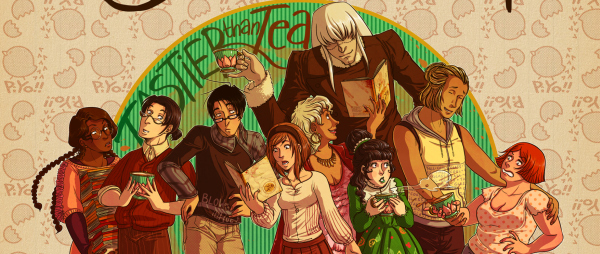 The extended cast of the quirky comedy Cafe Suada
So congratulations again to both Jade Sarson and all the shortlisted creators! But let's also acknowledge the importance of Myriad's First Graphic Novel Competition to potential creators and self-publishers. A number of UK publishers have been active in their promotion of previously self-published artists over the last few years including Soaring Penguin Press, Titan Books, and Blank Slate Books who were something of a pioneer in that regard. But what Myriad offer through the First Graphic Novel Competition is unique; a remarkable opportunity for the talent of up-and-coming creative voices to be discovered, cultivated and brought to a wider audience.
Broken Frontier's Andy Oliver on stage and an audience-eye view of the event
The inaugural competition has already given us two critically acclaimed books in the shape of The Black Project from Gareth Brookes and Naming Monsters by Hannah Eaton, with The Bad Doctor by Ian Williams coming next month and Paula Knight's The Facts of Life also in progress. As someone who actively champions exciting new comics prospects through my work at Broken Frontier I cannot stress enough the importance of publishers like Myriad who are proactively looking to nurture previously unpublished creators. It hardly needs saying that the British small press scene is replete with comics practitioners deserving to be seen by a greater readership. It was a privilege indeed to be a part of a process that recognised and appreciated that wealth of talent!
To find out about Myriad's graphic novel range visit their site here. You can discover more about Jade Sarson on her website here and read her webcomic Cafe Suada online here. You can see pages from all the shortlisted entries on Broken Frontier here. All photographs courtesy of Myriad with the exception of the one bottom right provided by Keara Stewart.