It's been a longer than usual gap between issues for David O'Connell's chunky but digest-sized ink + PAPER – a publication that I've referred to here in the past as the Sunday supplement of the British anthology scene due to its mix of comics and feature articles – but it was well worth the wait. Indeed, this fourth edition sees editor O'Connell playing small press Santa, generously distributing goodies from a number of noted 'Small Pressganged' personal favourites of mine including the likes of EdieOP, Jade Sarson, Katriona Chapman, Owen D. Pomery and Sean Azzopardi.
I must have been a very good little boy this year.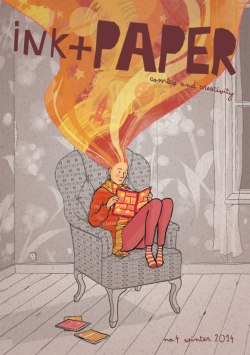 Over the course of the last three issues we have seen a number of well established self-publishers appear in these pages but what always strikes me as being of particular note with this project is O'Connell's canny eye for up and coming talent. Back in the early days of ink + PAPER this served well as an introduction to creative names of which I may not have been aware. Now it allows me to nod my head sagely in agreement, providing a sense of self-validation as I see a spotlight being shone in the direction of artists I've championed in this column and realise my faith in their work was entirely justified. Reviewers can have fragile egos too you know…
The ever eclectic ink + PAPER contents kick off in #4 with Katriona Chapman's 'Eternal Houseshare' examining the plight of an ever ageing population forced to rent rooms in shared accommodation. I first came across Katriona's work in Brockley Foxtrot in 2012 where she showed an entrancing ability to capture the subtle nuances of the natural world. Since then of course, alongside Amber Hsu, she has been part of the editorial team behind the acclaimed graphite-based artszine Tiny Pencil (reviewed here and here at BF this year).
'Eternal Houseshare' (pictured below) is something a little different from this creator. Juxtaposing social commentary with anecdotal vignettes on the horrors of selfish flatmates, it's a strip that finds just the right balance between depressing statistics that we would all rather ignore and a weary wit that recounts scenarios that will, no doubt, be recognisable to many. Keenly observed visually, with some wonderfully expressive characterisation (an understated look from Chapman's representation of herself in the story foregoing all need for further explanation of her mood in any scene), this was the standout offering of ink + PAPER #4 for me.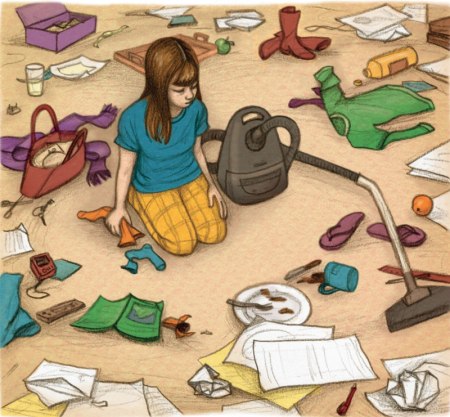 If there's one creator I've covered this year in 'Small Pressganged' who deserves to be propelled onto a bigger stage then it's EdieOP whose work I looked at here in the summer. 'Happy Camping' doesn't have that same somewhat disturbing edge that previous work like Jonah and Seven Blows to the Head had but it does maintain that sense of childlike glee and naughtiness that is such a major part of her material. Surviving the family holiday is the order of the day here with Edie's distinctive art accentuating that kid's eye perspective on the world that she does so very, very well.
The lack of Sammy Borras coverage here to date is one of the great oversights of this column and something that needs to be addressed in 2014. 'The Beat Goes On' (excerpt below) is an engaging short concerning a school "Battle of the Bands" competition replete with Borras's usual animated cartooning and a feelgood factor that never oversteps its mark or descends into the realms of the twee.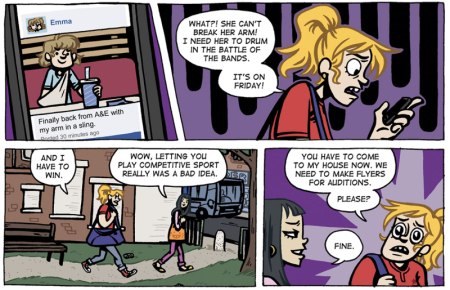 Conversely, Jade Sarson is someone who is no stranger to coverage here whatsoever with reviews for her enchanting Cafe Suada series here and a full-length interview this past summer here. 'Saying and Doing' is written by Dean McKnight which makes this the first time I believe I have seen Jade illustrating work that is not wholly her own. A well paced, timeframe-jumping tale of student journalists about to embark on their first tentative steps into the world and what became of them, this is both trademark Sarson and yet also an offering that allows her to exercise some different storytelling muscles. I hope we see more of this duo in collaboration in the future. 'Saying and Doing' is an effective complement to Owen D. Pomery's pensive 'Integrity' later in the issue which also looks at the ethics of reporting but from a more reflective perspective.
Sean Azzopardi, surely now the established guv'nor of that anecdotal strand of UK autobiographical comics, contributes 'Orange and Black' a very personal slice-of-lifer. The way this short flits backwards and forwards in time adds to the sense of displacement at its core as Azzopardi retraces a point in his late teens were he was shuffled between homes. His choice of almost scattered panel layouts also underlines the story's theme of dislocation. Continuing in that autobio mode 'Table Manners' (sample below) by Paul and Olivia Harrison-Davies may be slight in plot but it's quite beautiful in intent. A snapshot of a moment shared between father and daughter on the morning school run that is both heartwarming and tender, brought to life by Harrison-Davies's always charming cartooning.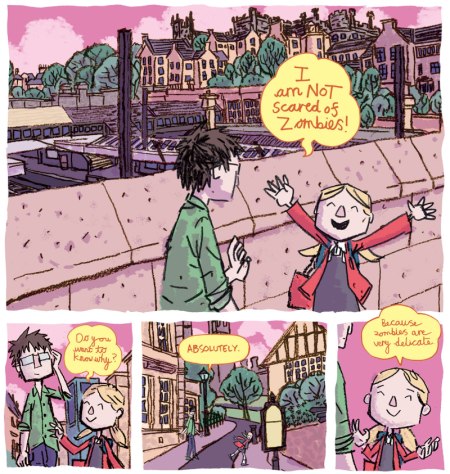 As ever, there's so much more going on between the covers of ink + PAPER than I could ever hope to fully dissect in one short review. Aside from a number of comics I haven't been able to cover (what would an issue of ink + PAPER be without some Fred Blunt funnies for example?) there are the usual excellent text pieces including an interview with one of this year's breakout stars of the small press Mike Medaglia (Wu Wei), another with alt presser Matt Abbiss, and the regular 'On My Bookshelf' feature focusing on the comics picks of Julia Scheele (I Don't Like My Hair Neat).
Vibrant, unpredictable and quirky, ink + PAPER continues to have that lovely feeling of a product you can flick through and dip into at your leisure, reading contributions randomly as you see fit. It doesn't only present the comics work of some of our most popular small pressers but also provides us with insights into their personalities, creative processes, inspirations and day-to-day lives. That cover tagline of "comics and creativity" is no hyperbole. There may have been a longer wait between issues this time round but #4 once again proves that David O'Connell is providing one of the true gems of the UK small press in each and every edition of ink + PAPER.
For more on ink + PAPER visit the website here. Copies of #4 are available at the online store here priced £7.20.