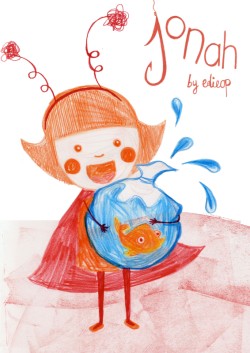 "The sunny side of sinister" is the tagline EdieOP uses to describe her work on her website and I can think of no more appropriate soundbite to describe this wickedly witty writer/artist's comics; although her Twitter bio "Illustrator, comic artist and creator of truly awful things" comes pretty close. I first came across her work in her comic Jonah – a macabre little object lesson about a goldfish won at a fairground – and have since discovered both Seven Blows to the Head and her eerily enticing website. The latter is a positive treasure trove of the bizarre and the alarming: from clockwork pachyderms to dinosaur-baiting cats it makes nonsense poet Edward Lear look like a devout disciple of realism in comparison.
Jonah was my initial entry into her deceptively framed little world. On the outside the book looks innocuous enough with its pictured jolly toddler bringing home the new pet fish she obtained at the "Hook-a-Duck" stall at the fair. And on the inside that feeling of innocence continues for the first few pages of this 25-page affair. But all is not as it seems. What appears at first to be developing into a kind of Looney Tunes-style battle between a neglected fish and its family cat tormentor turns into something significantly more menacing and even a touch creepy. The clue is in the title but, suffice to say, there's something slyly delectable about this cautionary parable on childhood responsibility.
A nefarious imagination is only one part of the recipe for success for EdieOP's tangled tales though. What really brings them to melancholic life is the ingeniously beguiling and childlike artwork that lures you into her narratives with an inoffensive charm, only to spring its grotesque visual trap on you when you are wholly incapable of escaping its clutches. Many would argue that the very best literature for children is that which is unrepentantly unafraid to embrace the dark, the disturbing and the downright gross in its mission to stimulate and entertain young minds. There's more than an element of that here because Jonah reads like a storybook for kids in both tone and presentation but it's also appealingly gruesome in its own right, with the crayon effect pages really accentuating that eerie juxtaposition of the ingenuous and the macabre.
If I were accustomed to using trite and pedestrian phraseology then I would say that Seven Blows to the Head is a comic that does exactly what it says on the tin. But I'm not. So I won't. Instead I'll highlight what a splendidly droll little anecdotal catalogue this is of bonce-breaking disasters to have befallen the author from childhood to the present day. Again it's presented in that same cunningly naive style as if scribbled in a childhood exercise book. A brutal septuplet of cranial catastrophes that range from the consequences of sibling squabbling to drunken dalliances with doorframes.
By now I'm sure all of you who have been following 'Small Pressganged' over the last year or two know that it exists at Broken Frontier to boost the profile of the small, micro and self-publishers out there producing consistently good work that our readers may not discover otherwise. However, every so often I discover a small presser – as I did with Becky Bagley and Tick last year – whose comics particularly resonate on some level and really capture my imagination. That's most assuredly the case here because there's a kind of shadowy glee to EdieOP's material that I find quite entrancing. Whether she's wallowing in self-deprecating humour about facial trauma or treating us to modern day fables about vengeance-seeking goldfish there's a darkly intelligent sense of humour at play here that bears careful watching out for in the months to come.
For more on EdieOP's work check out here site here. You can buy copies of Jonah and Seven Blows to the Head from her online store here priced £5.00 and £2.50 respectively.