While Hannah Lee Miller's Dementia Dad may concern itself with heartrending subject matter it's a 15-page comic that is utterly uplifting in tone and presentation. An entry in the autobio style of storytelling it focuses on a snapshot of time in the life of Miller's father who has developed vascular dementia after a stroke in 2005. The first third or so of the comic explores the realities of this illness for the individual while the latter part looks at one particular episode when Hannah's dad goes missing for a few hours.
The rise of the "graphic medicine" strand of slice-of-life comics is one of the great success stories of the memoir comic/OGN in the last few years, and a sub-genre that, arguably, has played one of the most significant parts in proving the worth of the medium to the previously non-comics reading audience. Miller's story here is more of a vignette than a full-blown plot; a snippet of the changed circumstances for her father since his illness, perhaps, but one that fully involves the reader in the experiences of the characters portrayed and leaves them feeling invested in the outcome.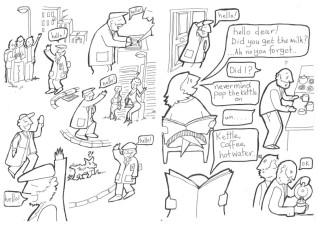 Illustrated with an accessible and lively line, Dementia Dad is a hugely positive and rewarding read. Miller is not shy about depicting the limitations that her father's condition has led to but at the same time this is a very optimistic short story, reminding us to appreciate what we have rather than dwelling on what we don't…
You can read Dementia Dad online on Hannah's blog here or buy it in a print edition from her online shop here.