Graphic medicine with true heart, The Bad Doctor is a testament to the value of the Myriad First Graphic Novel Competition in nurturing exciting new creative voices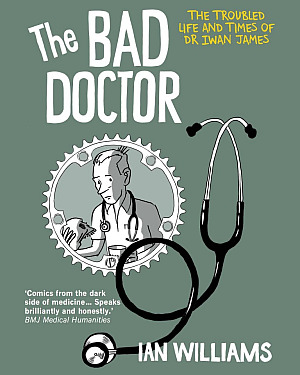 After Hannah Eaton's Naming Monsters, and the winning entry The Black Project by Gareth Brookes, The Bad Doctor is the third graphic novel to be published by Myriad Editions from the shortlist of their inaugural First Graphic Novel Competition back in 2012. Creator Ian Williams invites us into the world of country GP Dr. Iwan James, the titular bad doctor; a designation with little grounding in reality beyond the insecurities of the book's protagonist. Williams, a physician himself, is the originator of the term "graphic medicine" and the founder of the respected website of the same name that explores the relationship between comics as a form and healthcare issues. He previously self-published under the pen name of Thom Ferrier.
Iwan James is a rural GP facing something of a mid-life crisis. He works in a practice with one partner, Robert, who is obnoxious and self-serving and another, Lois, with whom he's secretly infatuated. His home life has settled into a routine of dull tedium and his working hours have become a constant procession of incontinent pensioners, the barely functioning bereaved, and sinister requests for shotgun licenses. Iwan's only release from the unhappiness of his day-to-day monotony lies in his cycling trips with his friend Arthur. But, unknown to many around him, Iwan's present is defined by a traumatic past: his previous struggles with obsessive compulsive disorder persistently threatening to overshadow his everyday existence…
From the very first chapter – a hectic, borderline slapstick series of farcical events involving Iwan dealing with an aggressive bleeding stranger on a bus, a fainting hemophobic goth, potential social media humiliation and a bursting bladder – you could be forgiven for being seduced into thinking that The Bad Doctor is simply going to be a catalogue of wittily observed medical yarns, blunders and faux pas. But while this is a graphic novel with an abundance of tautly paced comedic set pieces they are contrasted throughout by skilfully constructed moments of sheer humanity, and a central character who positively embodies frustrated and self-reflective middle age.
Williams is a dexterous storyteller, gently weaving the individual tales of the practice's patients in and out of the immediate world of Iwan himself, while also incrementally revealing his protagonist's past to the reader in a series of flashback sequences that carefully complement the main action with an unobtrusive precision. Each of the sprawling cast of patients – even those created apparently solely for comic relief – comes to us feeling fully-formed regardless of the relative brevity of their on-page time. There's the aggressive, sinister but tragic local pariah Aneurin Cotter; Zack Mills, the damaged obsessive who reminds both Iwan and the audience of the road he could have travelled; Justice of the Peace F.R. Roberts who is hiding a fundamental part of his personal make-up from his wife; and Derek Brown, whose feelings of complicity in the death of his terminally ill wife have made every day an unbearable ordeal.
And it's here that the understated strength of Williams' characterisation is underlined. Because not only is the relationship between doctor and patients so acutely observed but his genuine care for them, juxtaposed with his seemingly endless self-deprecation, re-enforces our respect for this decent man to the extent that we forgive him his off-moments and occasional selfishness. The Bad Doctor speaks to us eloquently about universal themes we all understand – our feelings of inadequacy, a lack of satisfaction with our lot, those moments of quiet despair and self-doubt – and also provides us with an everyman we can root for because we instantly recognise ourselves in him. It's here that Williams spotlights what should be obvious but is, perhaps, socially unpalatable; that GPs as practitioners are as fallible and as potentially flawed as human beings as the rest of us. It's these very imperfections that make Iwan all the more human and relatable, and such an eminently sympathetic character.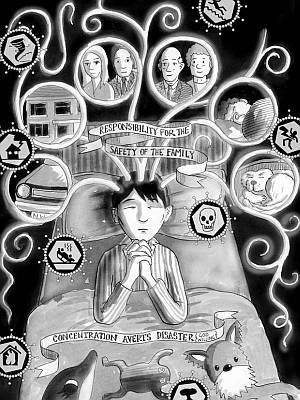 Superficially, Williams adopts an uncomplicated and economical art style in the contemporary scenes but there's an illusory simplicity to his layouts. Throughout The Bad Doctor he deftly utilises the language of comics to accentuate emotional resonance or communicate subtler meaning. The repetitive splatter of blood between panels on the page in an early segment, for example, creating a growing sense of unease, or the aforementioned swooning goth teenager collapsing to the ground in a staccato burst of panel slivers, emphasising the rapidity of motion to great comic effect. Later in the book Iwan becoming invisible in one scene, after introducing Lois to a mutual friend, is a painful representation of his insecurity at losing his unattainable object of affection to another. And the frequent one-shot scenes of him fantasising about blowing his brains out with a gun whenever life gets too much for him are a persistent reminder of his weary state of mind. Throughout, The Bad Doctor also makes use of cyclical imagery and recurring motifs to emphasise theme and mood to evocative effect.
But it's in those flashback scenes to the origins of Iwan's OCD that Williams' command of the visual complexities of the form is the most pronounced. These are illustrated in a darker style giving each interlude a nuanced and fitting intensity. It's here that we are introduced to those childhood rituals of his past that became inescapable compulsions, the accompanying abject terror of dire consequences that would occur if they were not performed, and their evolution, as Iwan moves into adulthood, into a fixation on occult forces taking control of his life. Williams exploits the potential of the comics page to its utmost to immerse the reader in the desperation his central character feels – overlaid imagery embodying his OCD intruding into panels to stress its imposition on his life, and a diagrammatical rendering of his illness leaving the reader in no doubt as to the unshakeable grip it has on him.
There's no pat ending here and that's as it should be because The Bad Doctor, by its very nature, was never a book about easy answers or simple resolutions. Replete with sometimes delicate, sometimes explicit observations about the foibles of human nature and the bureaucracy of healthcare, The Bad Doctor combines wickedly black humour with subtle characterisation that never fails to engage the audience's empathy. Graphic medicine with true heart, this is a testament to the value of the Myriad First Graphic Novel Competition in nurturing exciting new creative voices, and a most impressively crafted long form debut from Ian Williams.
Ian Williams (W/A) • Myriad Editions, 23rd June 2014, £12.99