Clandestine first love with a papier mache twist is the order of the day in this remarkable debut graphic novel from creator Gareth Brookes.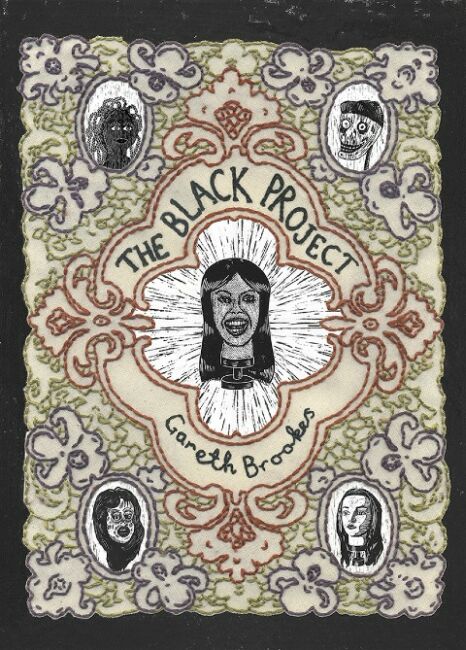 No doubt all of us can hearken back to the period in our lives when we were stranded in that strange chronological No Man's Land between childhood and pubescence. In The Black Project Gareth Brookes gives us a deliciously distorted coming-of-age story that brings together his unique design sensibilities for the comics page with a darkly distinctive narrative voice. His protagonist Richard is a loner whose quest to discover the mystical properties of the female form is pursued with a D.I.Y. mindset that is both deeply unsettling and yet almost admirably practical in its application.
Set in a composite suburbia somewhere in England in the early 1990s, The Black Project follows Richard as he seeks to create for himself the girl of his dreams from household and found objects. We observe this solitary soul through his intricate assembly of a number of successively more "realistic" fabricated female friends – Laura, Charlotte, Melissa and Jessica – all brought to life of sorts through raw ingredients that include the likes of papier mache, false teeth, shop dummies, bellows and a pair of grapefruits.
But, as Richard's obsession with his hobby intensifies, his relationships with his "girlfriends" come to often hopeless ends, his family life deteriorates, and his efforts to keep his malformed mannequin mates a secret from those around him take on an ever more desperate air. One final, reckless decision from this aficionado of the constructed companion will be the catalyst for events that will change his life forever…
Over four years in the making, and the winner of Myriad's First Graphic Novel Competition, The Black Project distinguishes itself not just for the deadpan morbid drollery of Brookes's narrative delivery but for its unusual and idiosyncratic artistic identity. Composed of pages fashioned in embroidery and linocut this is a project with a conspicuous and striking individuality. While Brookes is not the first person to work with either craft to make comics he's certainly in a rather exclusive and secluded subset of comics creators. It's that same carefully fabricated feel to each page – their sometimes ornate assembly in the style of Victorian samplers for example – that adds another subtle layer to this tale of tormented yearnings finding release through practical, physical invention. The visual juxtaposition of the ultra-realistic with the unrepentantly grotesque accentuating the absurdity of Richard's story, and grounding the book's more self-indulgent dark comedy in a humdrum reality that lends a strange legitimacy to its wilder flights of fancy.
A selection of interior pages from The Black Project showcasing the book's distinctive identity
In first person narrator Richard, Brookes has created a central figure who is resplendently melancholic. From the reader's perspective his pursuit of an outlet for his burgeoning sexuality is in turns agonising, awkward and utterly cringeworthy. Yet he retains not just our sympathies as a character but also, perhaps bizarrely given the nature of the book's central premise, our affection. And that's because at the core of Richard's characterisation is a central truth and realism that is recognisable to us all… even if most readers will probably pretend that it isn't. He's the perfect embodiment of a shared, near rite-of-passage, experience; a literary mechanism to uncomfortably but honestly convey that period of bemusement and bewilderment about the unanswered mysteries of the arcane world of the other sex. And while this innocently amorous everyman's solutions to this quest for knowledge are transparently extreme their origins will have a guilty resonance for us all.
It will be unsurprising to anyone who completes a read through of The Black Project that it began life as a prose project. Brookes's command of language excruciatingly evokes that confused kid's eye view of the world with a raw and self-conscious openness. It's acutely observational, with the manner in which the author captures the peculiar conventions of childhood social structures – the casual cruelty of children and the injustices of peer pressures for example – being particularly memorable.
http://www.youtube.com/watch?v=ceXo-3ASb0Y
Paul Gravett interviews Gareth Brookes at The Black Project's launch in September
It's here that the authenticity of the narrative voice shines out with a perceptive understanding of that specific child's logic that, however skewed it may seem, still makes perfect contextual sense. It's that matter-of-fact tone behind Richard's account of his exploits that makes the book's black humour so effective: "So I made Charlotte's vagina out of a red sock, which I sprinkled some glitter on, to make it more special" is an example of dialogue that is painfully funny and yet imbued with a childlike innocence that is self-evidently graceless but ultimately rather touching.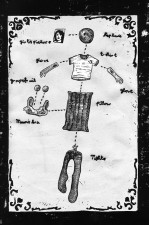 The book's conclusion may leave some readers conflicted, as the lines between social acceptance and compromising conformity blur and merge; a stark reminder that however eccentric Richard's behaviour has been it's still far more respectful and, dare I say it, healthy than that thuggish pack mentality objectification that passes as "normal" laddish behaviour, as practised by his social group. It's a beautifully understated ending with Brookes employing a knowing, almost weary, resignation to convey his message.
More than simply a bleakly amusing comedy about a gauche pre-pubescent Geppetto, The Black Project is a visual essay on that most secret world of sexuality we enter into when we first discover the unfamiliar urgings of oncoming adulthood. For those unaware of the small press work of Gareth Brookes this will be the perfect entry point into the wicked whimsy of his creative mind, but it also represents another palpable hit for Myriad Editions who, as we have been saying for a number of years now at Broken Frontier, continue to diligently assemble one of the U.K.'s most exciting new libraries of contemporary sequential artists.
Gareth Brookes (W/A) • Myriad Editions, £12.99, September 2013