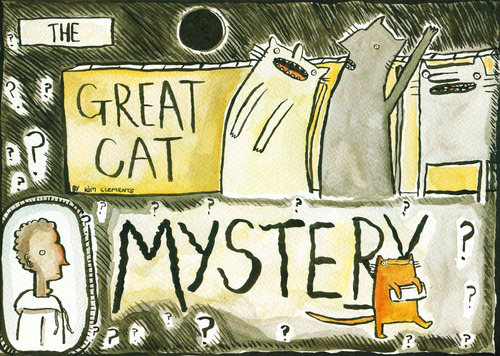 Free comics! It's hardly a difficult proposition is it? It's been a while since I last spotlighted accessible online work covering creators who have either appeared in 'Small Pressganged' in the past at Broken Frontier or are using digital delivery to self-publish for the first time. So here's an opportunity to read, enjoy, follow or bookmark the sites of a number of UK projects you may not be familiar with. And, if you like what you see, why not head over to the relevant artists' online stores and investigate their print comics further?
Craig's Comic Land – Craig Conlan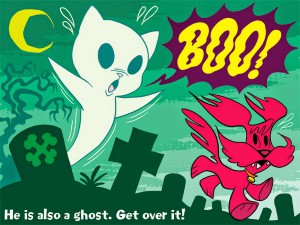 Craig Conlan is one of those small press creators I really should have covered a long, long time ago in this column. His first comics work was produced back in the '90s and he was published by the gone but not forgotten Slab-O-Concrete during that period. Conlan's comics have a substantial online presence on his blog with his creations Ghost Cat (a dead but cute feline protagonist who takes the Casper the Friendly Ghost premise to an extreme but logical conclusion) and Hairy Mary whose hirsute super-powers lead her into all manner of bizarre adventures alongside her meteorologically-based chum Cloud Nine. Beautiful cartooning, a dark wit and an exquisite use of colour make these essential strips to check out. Expect to see a full-length review of Craig's print output in 'Small Pressganged' at Broken Frontier in the near future.
Read Craig's Comic Land comics here. You can visit his store here and follow him on Twitter here.
Twister – Alice Urbino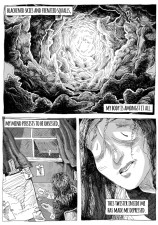 While I'm busy investigating Alice Urbino's Dimension series (for further coverage here at BF) I'm going to point you in the direction of the comics she's already posted online. The recent Comic Book Slumber Party: Fairy Tales for Bad Bitches one-shot prompted me to take a more detailed look at Alice's work and her tumblr certainly displays some intriguing short form use of the medium to convey personal experience, marking her out as someone to keep a close eye on. 'Twister' is a formidable use of visual metaphor to depict the despair of depression while 'S**t People Say to Chronic Fatigue Sufferers' is another evocative piece of graphic medicine, making its succinct but powerful point in just five panels. I would also recommend  'Finbar' – a poignant examination of loneliness, seclusion and emotional projection. Hers is a name I suspect we will be hearing a lot more from in the near future.
Read Twister and other comics here. You can follow Alice on Twitter here.
Culture – John Riordan

Sometimes a simple premise is the most elegant. John Riordan's Culture plays on the double meaning of its title to present the adventures of two microbes in a petri dish as they chat about the latest topical developments in the arts. Each entry comprises four panels following that traditional newspaper strip style of setting up the joke, building the humour and then delivering the punchline. To date, the subjects of mirth have ranged from the likes of U2's unwelcome interloper presence in your digital music library to Placido Domingo conducting Tosca. It's a very differently constructed and paced offering to John's longer form humour work like Hitsville UK but despite the constraints of the narrative boundaries he's set for himself Culture is as inventive, cutting and playfully witty as any of his previous work.
Read Culture comics here. You can visit John Riordan's online store here, buy Hitsville UK from the Great Beast store here, and also follow him on Twitter here.
The Great Cat Mystery – Kim Clements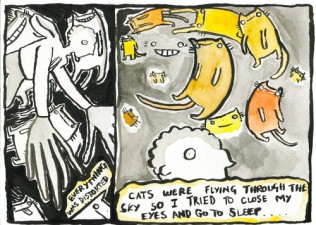 The Great Cat Mystery is the first full-length comics offering from Kim Clements, who also happens to be one of the winners of our recent 'Small Pressganged' third anniversary giveaway competition. There's a children's storybook feel to this tale of a man who follows a winking cat through a portal into a land where giant felines rule and oppress the few humans who reside there. That's particularly apparent in the cartoony art which has a dreamy all-ages appeal. While the story is more than a little freeform – and even a touch stream-of-consciousness in places – The Great Cat Mystery is full of deft visual tricks that reward a careful second reading. I love the sight gags here, the humour crammed into backgrounds, the use of warped perspective to create a sense of displacement and otherworldliness, and the main character's occasional knowing looks at the reader. Yes it's plot-lite, and the dialogue needs a little polish in places, but there's a concrete understanding here of what comics can do in terms of narrative presentation that other art forms can't. I look forward to seeing more comics work from Kim and watching her storytelling confidence grow and evolve in future.
You can read The Great Cat Mystery here. Follow Kim Clements on Twitter here.
For regular updates on all things small press follow Andy Oliver on Twitter here.