HCZF MONTH! Olivia Sullivan's latest print comics zine Systems is described as exploring "the world of botany, environmental landscapes and themes of wanderlust" as it "documents observations of the weird and wonderful". A regularly featured artist here at Broken Frontier, and one of our ever growing number of 'Six to Watch' artists over the years, Sullivan is one of the creators exhibiting online at Hackney Comic + Zine Fair. Her HCZF presence also extends to participation in the Abstraction in Comics panel where she will be talking about her boundary-pushing experimental work in the esteemed company of fellow panellists Gareth A Hopkins, Peony Gent and Miranda Smart.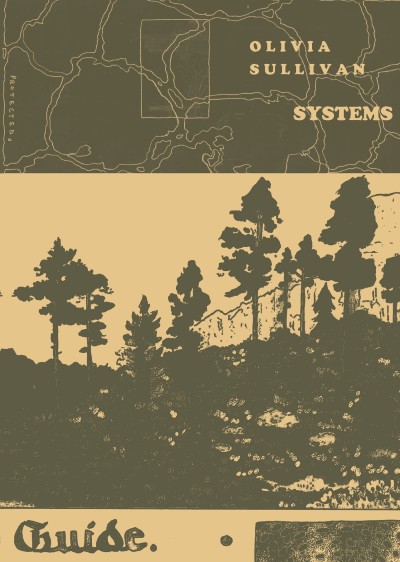 A couple of weeks back at BF I looked at Sullivan's Mutton Chops, her contribution to the digital horror comics series A Pocket Chiller, noting it was the closest to recognisable narrative that we had seen from her in some time. Systems sits on the other side of the spectrum of her practice – resolutely abstract, subversive in its approach to the sequential, and defining its own storytelling rules when it comes to graphic narrative. These observations about her work will, of course, appear repetitive to those who visit this site with anything approaching regularity but are worth underlining for those coming to us for the first time for our HCZF focus this month. If that applies to you then this previous overview of Sullivan's practice is worthy of your time in familiarising yourself with the output of a genuinely unique voice in comics.
Systems is suitably representative of the way in which Sullivan's comics have evolved since I first reviewed her work in I Drank Holy Water some years ago, a perhaps much more recognisably structured piece of autobio but once in which the seeds of her later direction are, in hindsight, intriguingly evident. There's more than a hint of the psychogeographical about the zine; a fractured trip through landscapes and environments that are hinted at and teased rather than explicitly depicted as the micro and the macro weave in and out of each other. It has that same dream-like quality that has become such a fixture of her latter work with its green monochrome pages juxtaposing motifs of the natural world and the organic with an indefinable quality that borders on the otherworldly.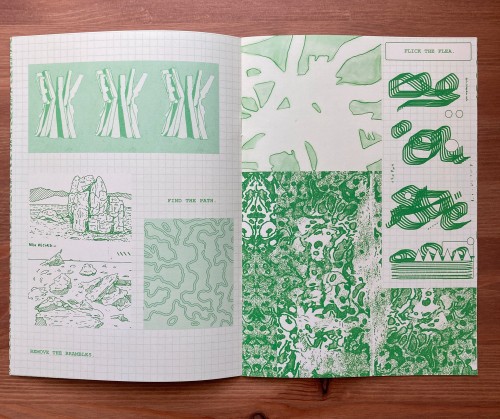 Fragments of thoughts and observations are scattered as brief snippets of text throughout, like half-remembered whispers floating across the page. With an Olivia Sullivan comic knowledge of strict authorial intent seems almost an unnecessary extravagance; we are here to experience as much as we are to infer, to absorb rather than to dissect, to immerse ourselves in the words and imagery without becoming slaves to preconceptions of their meaning and translation. This is why I continue to hold Sullivan's work in such high esteem. It emphasises how comics can ask us to both interact with and react to them in ways that no other art form can, and the singular interpretive relationship between audience, page and creator that they engender. Those looking to experience that for the first time for themselves are advised to visit her store via the online Hall One at Hackney Comic + Zine Fair.
Olivia Sullivan • Self-published, £4.00
Follow HCZF on Instagram (@hackneycomicfair) and Twitter (@hackneycomics) for updates, and head over to www.hackneycomicfair.com for more information about the event.
Review by Andy Oliver