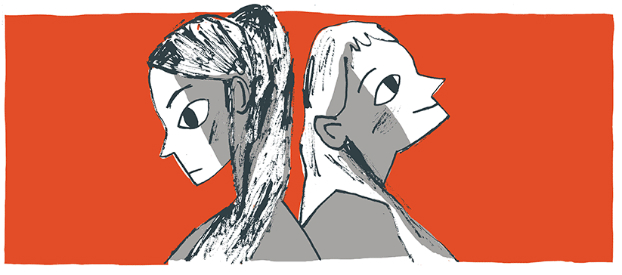 Over the last few years Isabel Greenberg has carved something of a niche out for herself with work that puts her own distinctive spin on the worlds of myth, legend and fairy tales. From the critically-acclaimed The Encyclopedia of Early Earth to Tall Tales and Outrageous Stories, her idiosyncratic approach to re-appropriating the folk elements of popular culture and giving them their own peculiar Greenberg-ian vibe has had consistently positive commentary here at Broken Frontier. Indeed, she was the winner of our 2013 Breakout Talent Award, signifying that both our staff and our readership that year had marked her out as a creator to watch.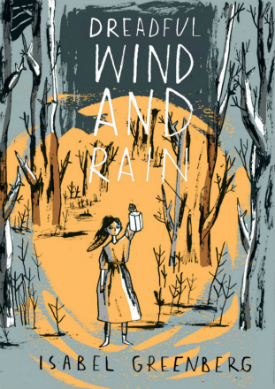 Greenberg's latest comic Dreadful Wind and Rain was a direct tie-in to her exhibition of the same name at Cecil Sharp House last year. An adaptation of the folk song 'Two Sisters' – the first version of which can be traced back to the 17th century, though many variations exist – it's published by esteemed London comic shop Gosh! Comics. You can buy it via their online webshop here or, it goes without saying, in the physical store on Berwick Street.
With a title like Dreadful Wind and Rain it's probably self-evident from the outset that this tangled tale of the tortured trysts between two sisters and their deceitful mutual suitor is not destined for the cheeriest of conclusions. Elder sibling Minnerie is the more serious and intelligent of the pair while the younger Bennorie has a childlike and frivolous attitude to life. When a traveller arrives in their village he woos both sisters, though neither realises they are in competition with each other until it is too late.
When Minnerie discovers the deception – and that Bennorie and the stranger are to be married – she elects to discard all the tokens of his love she received from him in the local river. But there an argument breaks out between the two sisters, resulting in Bennorie drowning in the flowing waters in ambiguous circumstances. For Minnerie, though, any hope of living happily ever after with her would-be lover is a vain one as fate has a cruel trick to play that will ensure that even from beyond the grave her sister will still have the upper hand…
Given that the folk song that inspired Dreadful Wind and Rain is essentially a moral object lesson – albeit a rather skewed one given who does and doesn't get their just punishment by story's end – it's quite remarkable how rapidly Greenberg succeeds in making the audience feel so invested in these characters in such a relatively brief period of time. Minnerie and Bennorie in their original incarnations are, to all intents and purposes, simply fictional ciphers – defined only by their archetypal roles – yet in just 18 pages she establishes a solid emotional connection between reader and main players.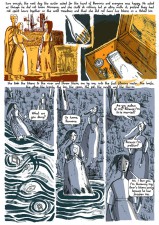 This, of course, is in no small part due to Greenberg's engaging presence as narrator even if, as you can see from the sample pages on offer here, it's narrator-by-proxy. As is her stock-in-trade, her informal, slightly chatty persona makes the reader feel intimately involved with events on the page. The ever present anachronisms, knowing asides, and incongruous, yet strangely comforting, modern colloquialisms ensuring that, whatever fantasy world she drops us into, it still seems relatable and relevant.
Dreadful Wind and Rain is published at a size just larger than standard US comics format giving Greenberg's busy panels a chance to breathe. It's one of her most impressive pieces of visual storytelling to date with the riso printing's four-colour feel adding an appropriately eerie atmosphere to her art, and her frequent use of the device of characters moving through the same panel (see below) giving a flowing sense of motion and immediacy, especially in the fatal river scene. The two uses of single and double-page spreads are also well judged, adding a certain dramatic gravitas on both occasions by breaking up an otherwise consistently multi-panel page structure and positively demanding the reader dwell longer on their pivotal content.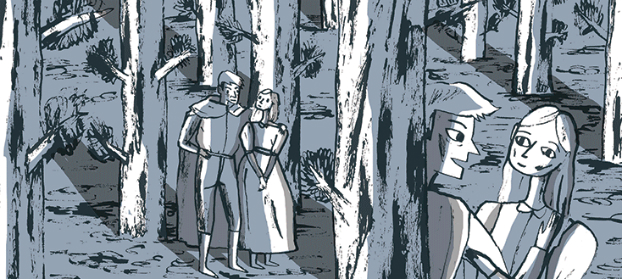 With its palpable sense of inevitable doom and moody, fluid layouts this may just be my favourite Greenberg offering to date – outside of the epic The Encyclopedia of Early Earth of course. Isabel Greenberg is one of the most important creative voices to have emerged from the new wave of British graphic novelists of the last few years and, in the ridiculously unlikely event that you haven't sampled her comics before, Dreadful Wind and Rain represents the perfect accessible entry point to her work and style.
For more on Isabel Greenberg's work visit her site here. You can order copies of Dreadful Wind and Rain from Gosh! Comics here priced £6.00. See an interview with Isabel on the book below.
For regular updates on all things small press follow Andy Oliver on Twitter here.