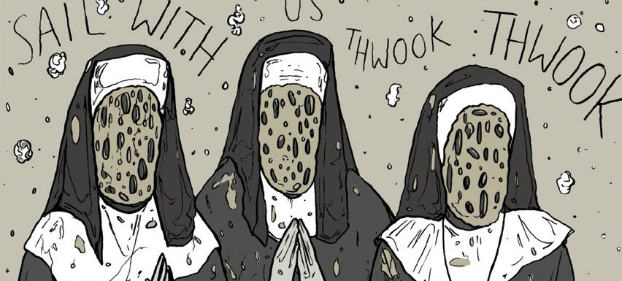 DEBUTING AT THOUGHT BUBBLE!
Artist Olivia Sullivan is one of two of our 2017 Broken Frontier 'Six Small Press Creators to Watch' whose exposure on the site so far this year has been limited to either anthology contributions or exhibition involvement. That's because, like fellow 'Six to Watch'-er Sabba Khan, Olivia has been focusing her time on a very special project over the last few months. This weekend at Thought Bubble you can get to see the end result when her first longer- form comics work SID launches at the festival. An entry in the graphic medicine strand of comics, SID underlines what a singular new comics talent Sullivan is.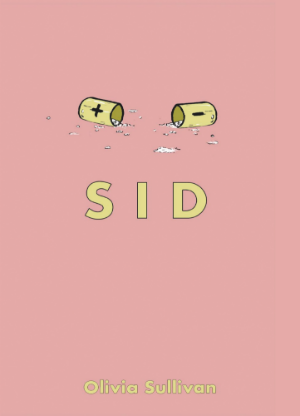 One of three debuting books from Good Comics this year SID stands out alongside Rozi Hathaway's Cosmos & Other Stories as the strongest book in their publishing line-up to date. The titular Sid, from whose perspective we see the world in all its skewed, distorted intensity is a troubled young man. He's unemployed. He's a loner. He's haunted by the lurking malevolent presence of the goat that butted him and made him soil himself on a family holiday years before. In short, existing in Sid's personal mindscape is such a complex and layered affair that it would make even the most committed follower of Descartes question that fundamentally held truth "Cogito ergo sum"…
Evoking similar themes of obsession and compulsion to those she explored in I Drank Holy Water last year, Sullivan's SID is a mindbending story of one man's dizzying descent into a most visceral abyss. It's a sprawling, bizarre account that is simultaneously oblique and alien, and yet powerfully personal and frighteningly recognisable too. Sid is an individual for whom agency and self-determination are broken constructs; he's human flotsam swept along in the narrative stream of his own mania and paranoia.
This is graphic medicine by way of Grant Morrison's Doom Patrol. Sid's reality is fractured and twisted. His journey through his own invented inner realms a torturous, almost detached one. Even the minutiae of his life quickly become involved and intricate narratives in themselves – drinking a flat soda evolves into an epic of sensory dissection, feelings of insignificance erupt into a visual essay on self-worth – as the seeming synaesthetic randomness of Sullivan's panels slowly begin to reveal the hidden truths that belie Sid's stream-of-consciousness ramblings.
Sullivan's use of language accentuates this sense of dislocation. The book is written in an observational way with the unseen narrator adopting a tone of the mildest bemusement that only serves to underline the confused pathos that permeates Sid's daily routine. It's a story that veers between the macro and the micro, the trivial and the profound, and then leaves the reader questioning whether there was ever actually any difference in these extremes in the first place.
Her use of colour is often, though not exclusively, autumnal in tone, adding a fascinating sense of the vibrant, the dormant, the transitional and the decaying to Sid's world – all the contradictions of his existence thematically summed up in her hues. When Sid's coping mechanisms do briefly kick in his respite from his turmoil is represented in soothing aqua blues.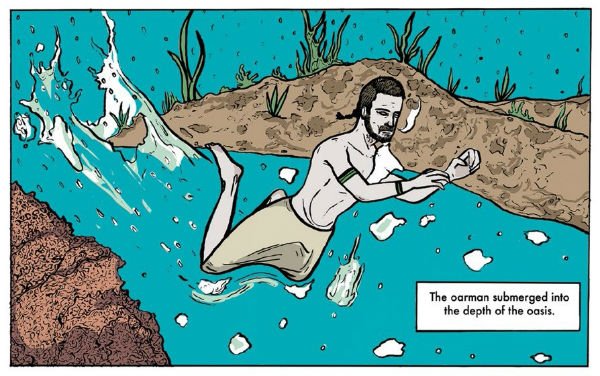 This carefully considered use of colour plays a vital role in establishing the fraught mood of the piece as does Sullivan's page structure – Sid falling through panels, for example, or the use of pauses and changes in perspective between them emphasising his helplessness and solitude. As his delirium becomes more fragmented and disengaged his distorted logic becomes almost comforting in its disconnection. SID is not so much a monologue about madness creeping into reality as one about reality creeping into madness.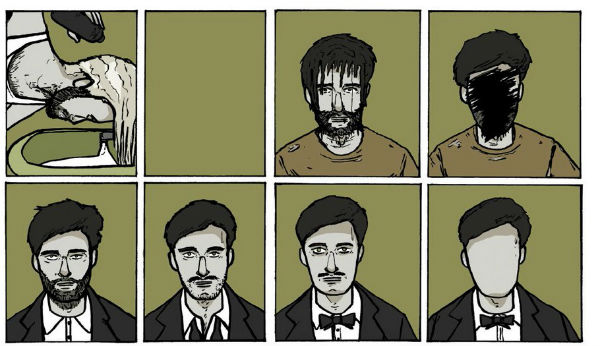 Since I first read her comparatively raw Dirty Rotten Comics offerings and her often very tactile early self-published work, Olivia Sullivan has struck me as an artist on a determined journey of creative self-discovery, constantly developing by refining and experimenting with her craft. SID is her finest offering to date – an intense, sprawling, psychological journey through a fractured mindscape from a truly unique new voice on the UK indie scene. The remarkable Olivia Sullivan speaks the language of comics with a dialect that is all her own.
For more on the work of Olivia Sullivan visit her website here and follow her on Twitter here. SID debuts at Thought Bubble where you can buy it from Good Comics at Table 36 in the Cookridge Street Marquee. You can pre-order SID from the Good Comics store here. 

For regular updates on all things small press follow Andy Oliver on Twitter here.